In Sea of Thieves, there are Tall Tales that serve as a story-driven adventure for the players. These Tall Tales are not required to play the game, but they provide an additional layer of immersion and excitement to the game. Along with each of these Tall Tales is an optional side quest to find the Hidden Journals documented by different crew members associated with the main protagonist or antagonist for each story.
In this guide, we're covering where to find the Tall Tales in The Cursed Rogue. If you were looking for guides to the main storyline, you could find those linked in the list below.
Assuming you're here to find the Hidden Journals, we'd like to begin with a few notes to help you. The first and most important thing to mention is that you can only obtain while The Cursed Rogue Tall Tale is active. If you find them while it's not active, it will not count towards the Commendation awarded for finding them. Secondly, you do not need to find these in order. Although the only way to find them without a guide is by using clues from the previous book, you can plan a faster route to collect them if you use this guide instead.
Sea of Thieves | The Cursed Rogue Tall Tale Guide | Hidden Journal Locations
Having mentioned all that, let's get started with finding these Journals! There is a straightforward way to understand this guide. Below, you'll find that we've provided the five islands on which you'll find these journals. You'll also find images that lead you to their general location and the landmarks you'll find them near. The list directly below is the entire list of islands where they're located.
Related: Where to Sell Villainous Bounty Skull in Sea of Thieves - Pro Game Guides
Crook's Hollow
Discovery Ridge
Kraken's Fall
Shark Bait Cove
Wanderer's Refuge
Now that you have the entire list, you can plan an itinerary and route for the islands. Since you're sailing to several different islands on your quest to complete the Tall Tale, now is a perfect time to pick up Voyages to complete on the side! More often than not, the voyages will land you on one of the islands you need to visit to continue the Tale. The guide below lists the Journals in order of how they appear in the story.
Shark Bait Cove Journal

Shark Bait Cove has a confusing layout for pirates that aren't familiar with it. It is rarely used on quests and Voyages, so chances are you'll need to use your compass more than once when walking through its many islets and natural growth. The area you'll be looking for is located on the inner section of the Southeast part of the island. There is a rowboat on the shore where the islet's peninsula connects. In that boat is your first Journal. When you read through it, you'll find it directs you to another island not too far away: Discovery Ridge.
Discovery Ridge Journal

We strongly recommend you approach Discovery Ridge's Northeast shore to find this Journal quickly. You'll find it right on the beach, inside a washed-up and beaten rowboat. As shown in the image to the right above, it is just a few steps Southeast of two lit torches. Reading this Journal will lead you far away, to the middle of the map: Kraken's Fall!
Kraken's Fall Journal

A pile of skulls almost disguises the Journal on Kraken's Fall. Still, it's easy to find because it's in the center of the island. If you walk under the central archway and follow the path to several fence posts with green or white lights dangling from them, you'll find this Journal nestled behind a pile of skulls. If you can't see the pile of skulls anywhere, you could also keep your eyes peeled for the cross with a skull through it held up by them. After reading it, you'll be headed back across the map to Wanderer's Refuge.
Wanderer's Refuge Journal

We found this Journal the most frustrating because it is cleverly hidden some wooden posts attached to a wall. You will need to walk near the highest point on the island, where you will find plenty of stone rubble from broken down structures. Amongst this rubble and next to three palm trees is the Journal. The image above shows you that it is flush against the wall, so you will have to really look for this one! When you read this one, you'll find it leads you to the final Journal's destination: Crook's Hollow.
Crook's Hollow Journal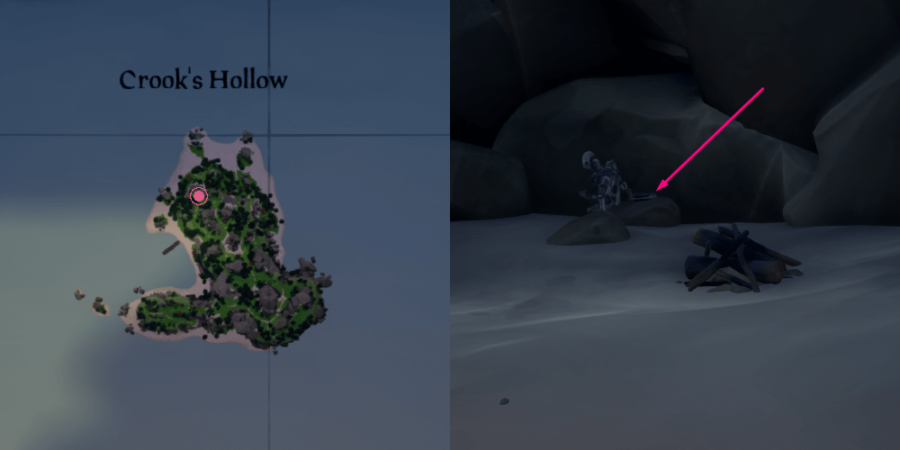 The Journal on Crooks Hollow can also be tough to find since it is inside a cave system. If you're unfamiliar with this cave, the easiest way to approach it is to go the opposite direction of the Vault door with the Scarab paintings. You will find this book at the end of the cave, next to a skeleton and a campfire, set near the Endless Lizard rock painting. This Journal is in the same exact location as one of the possible locations for the Skeleton Chest! That's two birds with one stone if you ask us.
Related: All Beacon Locations in Sea of Thieves - Pro Game Guides
What's Next
When you have found all the Journals, you'll unlock The Hunter's Trail Commendation! This is one of the eight Commendations you must achieve to truly complete The Cursed Rogue Tall Tale and obtain the Commendation. There are several Commendations awarded along the way as you complete the main part of this Tall Tale for the first time. Besides those (and the one you just achieved), there is only one other Commendation you need to achieve, and it requires you to complete The Cursed Rogue five times. Our guide covers all possibilities for what islands may hold the Tall Tale's items, so feel free to go back to the start and use it again!
Want to start a Ritual Event in Sea of Thieves? Use our guide to see How to Get a Ritual Skull!