Shores of Gold is the ninth and final installment in the main Tall Tale questline! There have been laughs, tears, betrayal, revenge, murder — so many elements that have made this a fascinating story. Now that you've completed the other Tall Tales, you've finally obtained the Shroudbreaker and the Stones needed to finish it. Me hearties, it's time to finish the questline and find your fortune on the Shores of Gold!
Sea of Thieves | Shores of Gold Tall Tale | How to Find the Shores of Gold
In this Tall Tale, you'll find that finding the shores is just the beginning of your final pursuit for fortune. However, before you begin to let greed consume you, we have a few critical points to mention for your search.
Related: Sea of Thieves Fishing Guide: How to Catch and Sell Fish - Pro Game Guides
If you have already found the Shores of Gold and are instead looking for help with the puzzles and riddles, you can find those guide sections linked in the list below. Alternatively, if you were looking for the guide to the Hidden Journals, you can find those linked below as well. Unlike the other Tall Tales, there are 10 Journals to find on this adventure, so it's best to get started looking for them as soon as you make it to the island.
You might have noticed that there are more parts to this Tall Tale guide than the others. Shores of Gold is a long adventure where you'll spend a significant amount of time separated from the rest of the map. We've broken it down to easily follow along without getting confused between vaults and the tasks you have to complete to solve them.
Having said all that, let's finally start this Final Tall Tale!
Step One: Start the Adventure!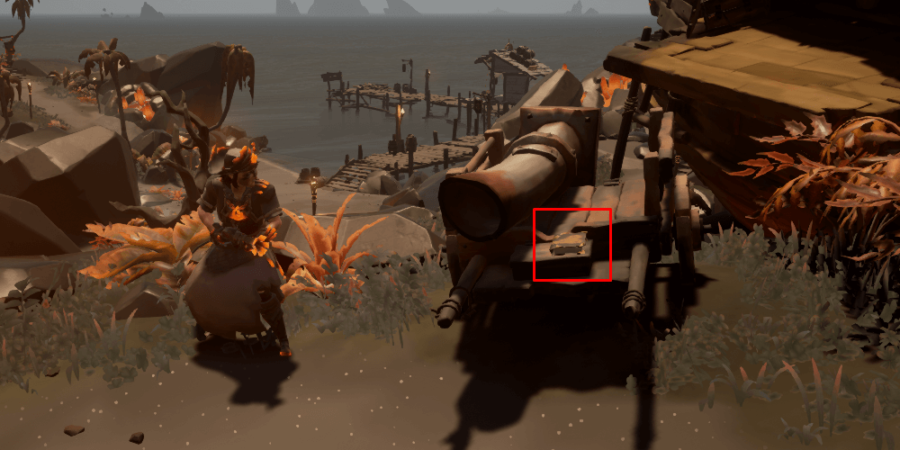 To start this adventure, you'll be headed to The Devil's Roar. On this portion of the map are the most dangerous and harrowing islands and events. At Morrow's Peak Outpost, you will find Grace standing outside the Tavern. When you interact with the Quest Book next to her, she will go into a dialogue that makes you question her sanity. Still, she helps you ready yourself for the trip North by handing over the Shroudbreaker with the Stones attached to it.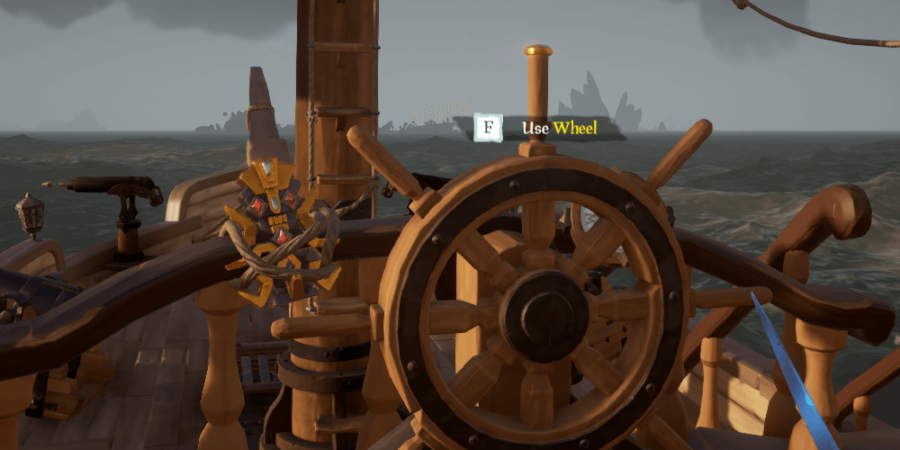 It's at this point that you'll want to sell any treasure you have and kiss your loved ones goodbye because this trip is wrought with peril and danger. Once you're sure you're ready, set sail North. Far North. The exact Map Block you're headed to is Y3. If you look at your map, you'll notice this block is void of any island maps. That's because the Shores of Gold are uncharted.
Step Two: Sail to the Shores of Gold.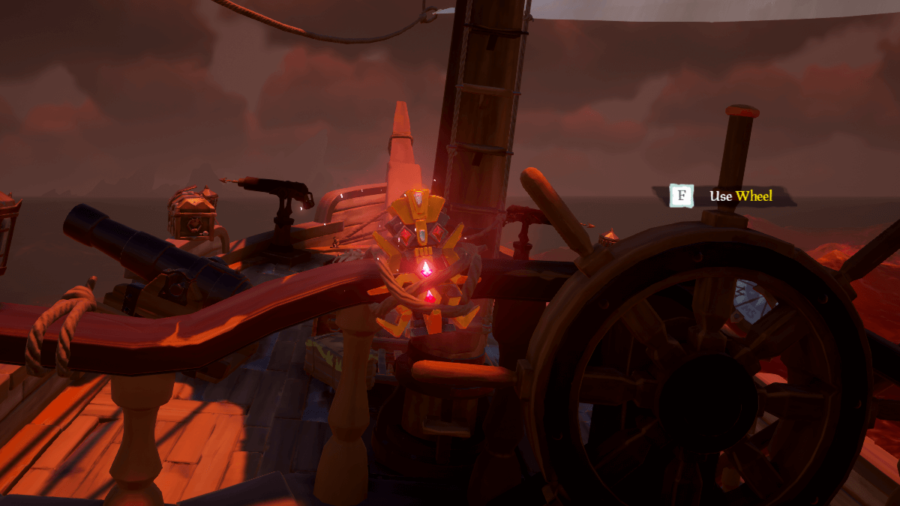 When you breach the uncharted section of the map, you'll notice very ominous audio and a disparaging red tint. Usually, at this point, you'd be taking damage to your health. Still, as you can see in the image, the Shroudbreaker has enabled a forcefield around your ship.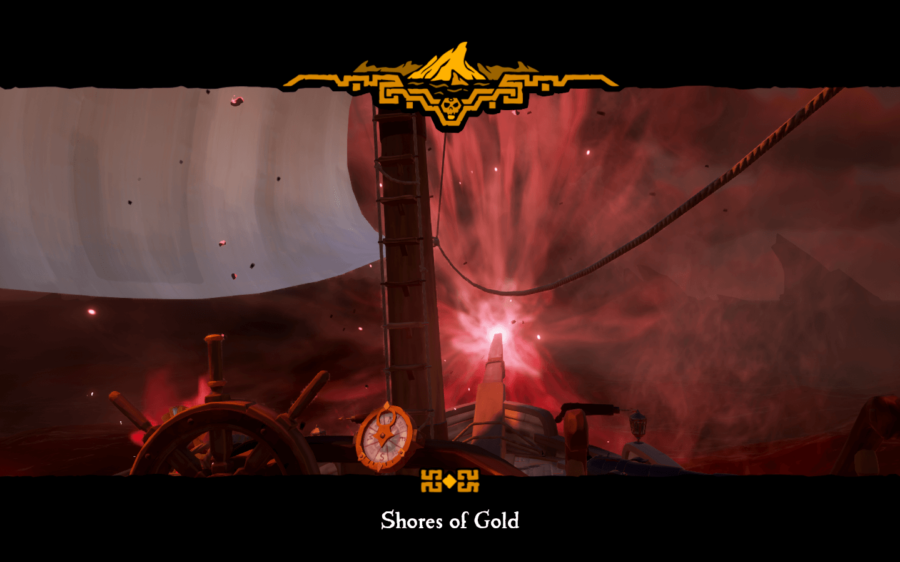 When you get further in, things suddenly start to get more intense. For most people, this is a good sign to turn back and save their skin. Not for you, though! Your Ship and your Heart are mighty vessels! Stay vigilant and true to the course, brave pirate! Fortune awaits!
Related: How to Get Curses in Sea of Thieves - Pro Game Guides
As you approach the island, you'll, of course, notice that the red shroud has completely disappeared. The Shores of Gold aren't made of gold, but they certainly have a gold hint. You've braved treacherous sea to get here, so take a break when you finally make it. You'll need brain food and energy for the rest of this Tall Tale.
Step Three: Park on the North Side.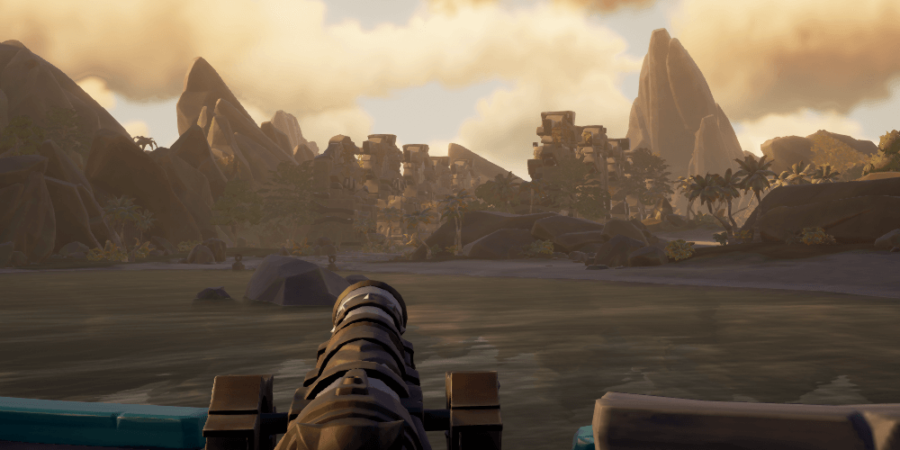 This is a vital step for this adventure. You can later move your ship if you want to skip this step for now, but you'll find that parking on the North is required later when you need the right angle to fire yourself out of the cannon. On the northern side, you will find a small bay that is the perfect place to anchor, as it gives you a view of the large, Ancient statues of people in the center of the island.
Step Four (Optional): Take a Walk Around the Park.
Briggsy made a crude map of the Shores of Gold in the Quest Book, but we recommend walking around the island at least once to get a lay of the land. Given how long they intended this Tall Tale to be, it's extremely helpful to get a general idea of where to go after each step. The list below provides a short description of the island's key locations, not including the Vaults that you need to solve.
The Compass Room:

On the western side of the island, three sections of land stick out.

The bottom one is the West vault, the top one is the North Vault, and the middle one contains the Compass Room. After you finish each Vault, you will need to bring the Medallion you receive to this room and place it in its appropriate slot.
Briggsy's Sloop: This is how Briggsy reached the island. Unfortunately for her, it was destroyed, and she, for a short time, found herself stranded on the island.

Her sloop is the best focal point on the island. You can easily find any other spot when you compare its relative direction and distance to the sloop on Briggsy's crudely drawn map.

The Statues: These statues are great to use as a focal point of the island, and they also come into play later. Without spoiling too much, you're going to end up firing yourself onto a couple of these!
Related: How to Get An Ashen Key in Sea of Thieves - Pro Game Guides
What's Next
In the Quest Book, you'll find that Briggsy went through and conquered each of the four island vaults. She wrote down and left clues as to how to solve them. Briggsy may have been a villain before, but by the time you finish this Tall Tale, you'll be eternally grateful for her explorative personality. From here, you have several options. You can jump right into solving the Vaults with the following links: North, South, East, and West.
We strongly recommend you start searching for the Journals now if you want to find them. If you begin your search now, you can find the first five in less than 10 minutes, and it will provide you a much-needed better idea of the island's layout. You can follow this link to begin searching for the Journals.
Did you know you don't get the Pirate Legend title by finishing this Tall Tale? Use our guide to find out how!