Customizing your pirate with fearsome garb is a surefire way to spark all manner of conflicting emotions in other Sea of Thieves players. Should they be terrified of you? How can they be scared when you look so spectacular? Ugh, such a whirlwind of emotions! One addition to Sea of Thieves' costume department is the Wrecker Wrangler costume. Here's how you can aquire it.
Where to get the Wrecker Wrangler costume in Sea of Thieves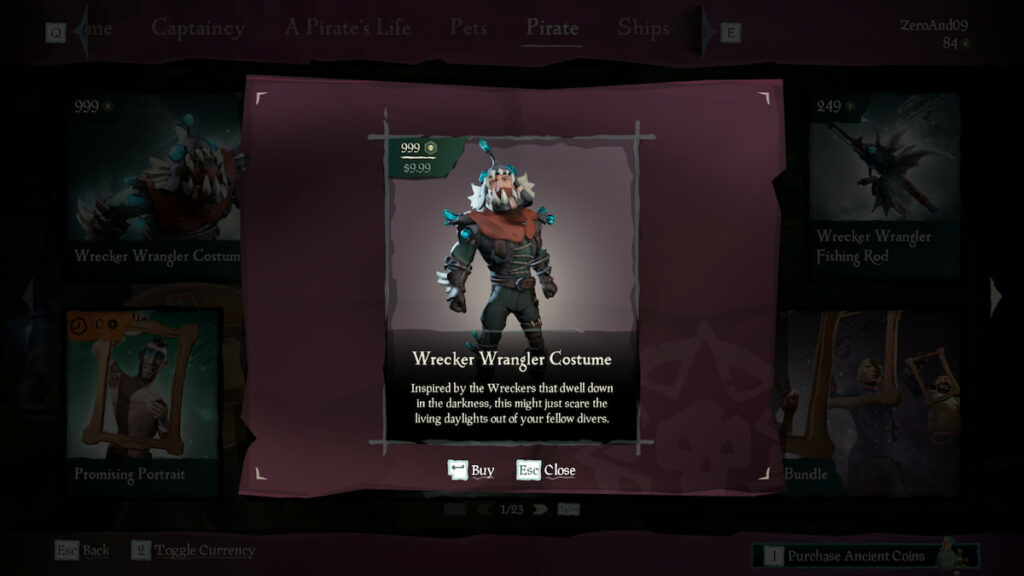 The Wrecker Wrangler costume is available exclusively in the Pirate Emporium. It costs 999 Ancient Coins, which equates to $9.99. Its description reads, "Inspired by the Wreckers that dwell down in the darkness, this might just scare the living daylights out of your fellow divers."
Related: All New Features & Changes in Sea of Thieves Season 7
For those looking to complete the Wrecker Wrangler cosmetics, there is also the Wrecker Wrangler Weapon Bundle for $5.49 and the Wrecker Wrangler Ship Bundle for $22.99, with optional items like an upgraded figurehead and sails for $8.19 each.
If you're looking to take on a downright terrifying appearance inspired by a creature of the deep, you can do a lot worse than this bundle. And if it's not your thing, That's totally fine. Sea of Thieves has something for everyone, so long as they're willing to pony up the cash.
For more Sea of Thieves goodies, check out Where to Sell Crates and Gunpowder Barrels in Sea of Thieves on Pro Game Guides.