The High School Years Pack has officially been revealed for Sims 4, giving teen Sims the opportunity to go to High School and go through all the highs and lows of being a High School student. The new Sims DLC adds new gameplay features, new settings, and new Sim items.
Sims 4 High School Years Release Date
The High School Years DLC pack is scheduled to release on July 28, 2022 at 10am PT for $39.99. The DLC Pack is available to pre-order on Steam, Origin, the EA App, PlayStation, and Xbox. Any player who purchases the pack before September 8, 2022, will also receive Sim items: Groove Tube Wireless Speaker, Spine Reticulating Gamer Chair, and Tri Hard LED Panels.
Gameplay Features
Based on the Sims blog post and the trailer, there will be many new gameplay features, including interactions, traits, activities, and lifestyles based on the High School experience. Here are all new gameplay features we know about so far.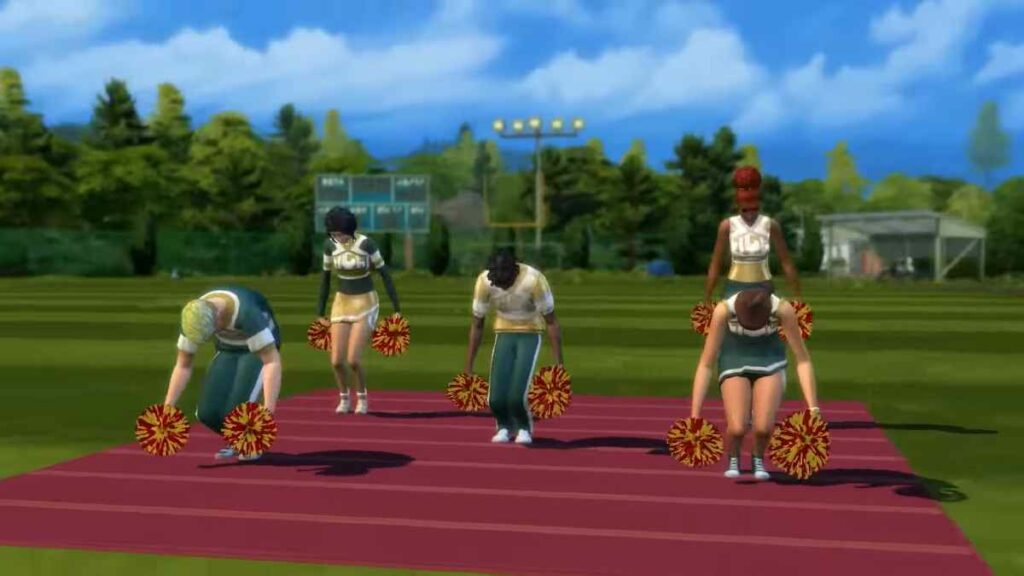 Build lifelong friendships, develop crushes, and go on dates.
Explore and develop Sim identities throughout High School with more choices included in base game.
Paricipate in extra curricular activities like football, cheerleading, chess, computer club, and more.
Natural body hair growth, trimming, and grooming options.
Pull pranks and gain Mischief skills.
Sit cross-legged on bed, sneak out for parties through the window or trellis ladder, and new pillow fight interactions.
Become a Simfluencer and sell outfits on "Trendi"
Perform Promposals, plan Prom, prepare for the night, and engage in Prom activities like dancing and voting for royalty.
Graduate High School and discover how the story unfolds.
Sims 4 High School Years New World
The High School Years Pack will introduce a whole new world called Copperdale. Home of the Copperdale High School and seven unique community created lots, the new world in Sims 4 is the perfect place to experience High School.
Copperdale community-created lots include the Library by xfreezerbunnyx, the thrift shop and boba shop by MsGryphi , and the High School principal's mansion by JOL1990. One of the other lots revealed is Plumbite Pier, which features an amusement park with a haunted house, Ferris wheel, and Tunnel of Love.
New Sim Items
Although all items in the DLC have not been revealed, the trailer and blog post reveals some of the items that will be added with the High School Years Pack. Sims will have expanded outfit options with a Depop Collab featuring real designs from Depop sellers. Sims will also have lots of Prom outfit options, as well as new styles for High School students.
The trailer shows off many new items for bedrooms like book clutter, wall decorations, and High School-themed items like awards, school pride signs, calendar planners, and more to turn a room into one fit for a High School teen.
You can check out the official Sims 4 High School Years trailer below!
For more Sims guides, check out Sims 4 Werewolves – What they look like, release date, & everything we know on Pro Game Guides.