Become part of a team of superheroes with the opportunity to transcend reality in this Roblox game heavily inspired by many of the villains and protagonists of the Marvel franchise. Your goal? To become the ultimate hero and put an end to the evil plans of some of the most powerful enemies the multiverse has ever seen.
What better way to do that than by using codes to get you the Boosts you need! With our codes lists below, you can apply multipliers to your game that help you collect resources faster, hit enemies harder, or just boost your overall chance of getting the best equipment possible! You might already be a hero, but these codes can help turn you into a superhero!
While you're using our codes below, don't forget to check out our other codes lists for similar Roblox games. We have the latest codes for great games like Tangled-Web, Heroes: Resurrection, and Heroes: Online World. Or, if you want to explore other universes full of heroes, you can get use our codes list for Anime Dimensions!
All Multiverse Fighters Simulator Codes List
Updated June 21, 2022

Added new code
Multiverse Fighters Simulator Codes (Working)
Here's a look at all the working Multiverse Fighters Simulator codes.
MyCabbages—Redeem for a 20 minute Luck Boost (New)
20klikes—Redeem for 30 minutes of x2 money
sorry4shutdowns—Redeem for 30 minutes of +5 luck
Multiverse Fighters Simulator Codes (Expired)
These Multiverse Fighters Simulator codes no longer work.
WakondaForever—Redeem for 30 minutes of 2x Shiny Chance
IAmSpeed—Redeem for 20 minutes of x2 damage
OhSnap—Redeem for a 20 minute Shiny Boost
IAmIronGuy—Redeem for a 20 minutes Damage Boost
a-men—Redeem for a 15 minute Damage Boost
10klikes—Redeem for a 15 minute Shiny Boost
doctorkerocyte—Redeem for 10 minutes of +5 Luck and 2x Shiny Chance
5klikes—Redeem for 20 minutes of 2x Damage
How to Redeem Multiverse Fighters Simulator Codes
Redeeming codes for free rewards in Multiverse Fighters Simulator is easy.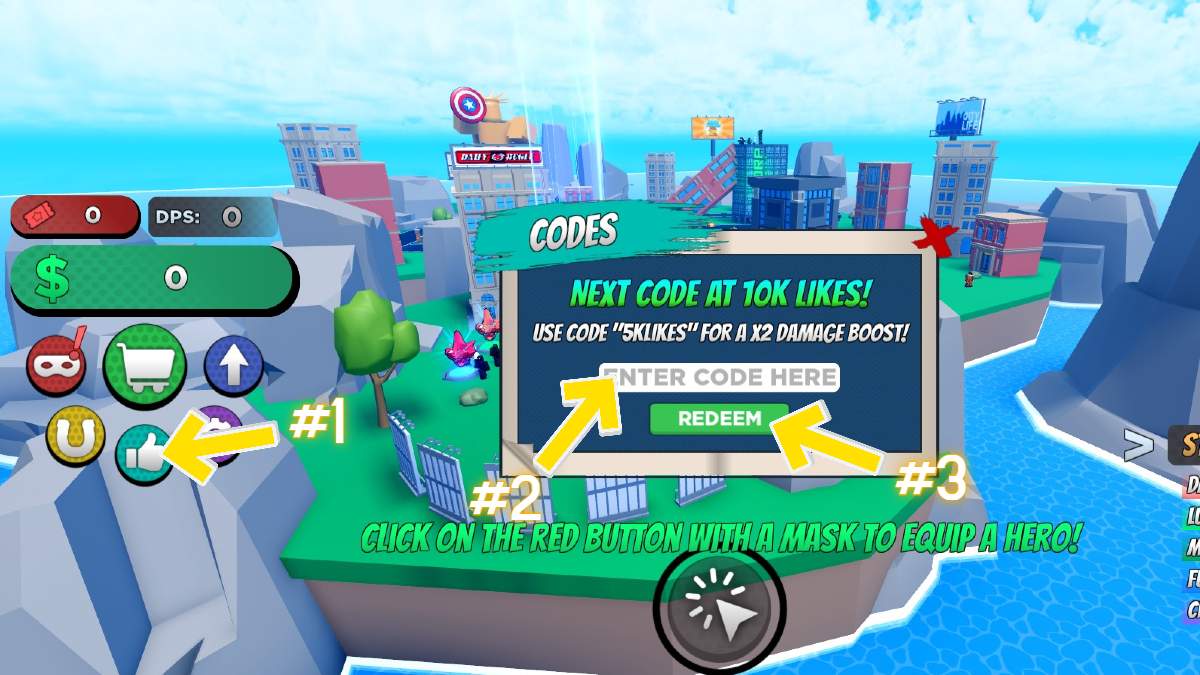 In the game, press the Thumbs Up button on the left side of the screen.
In the text box, enter the code exactly as it appears in the list above.
Press the Redeem button to claim your reward!
How can I get more Multiverse Fighters Simulator codes?
The developers for Multiverse Fighters Simulator are frequently active in the player community and provide updates for the game whenever they're available. Codes are not common, but historically, they add more when there are major updates or shutdowns for the game. While this page is the easiest way to get the most updated list of codes, you can monitor the game's official Discord channel to get them as soon as they drop. Alternatively, you can follow the @AspireWorksSims (the developer) on Twitter.
Why aren't my Multiverse Fighters Simulator codes working?
The most common cause with invalid codes in any Roblox game is that they were entered incorrectly. Fortunately, Multiverse Fighters Simulator codes are not case-sensitive, which makes it less likely for this to be a problem.
Still, the game notifies the player if they entered and expired code. If you tried a code and it doesn't specifically say that its expired, it means there is some other issue. To avoid typos, copy and paste the code from our site into the game. If you're sure you entered it correctly and it doesn't say its expired, you have most likely already claimed the code at some point.
What is Multiverse Fighters Simulator?
Multiverse Fighters Simulator is another popular combat-based simulator game that draws inspiring from many Marvel comics. In it, you can play as heroes like Spider-Man and defeat powerful villains like Doctor Octopus (with different names, of course), all while leveling up your character to unlock their ultimate potential!
If you're looking for codes for other games, we have a ton of them in our Roblox Game Codes post! You can also get a bunch of free stuff via our Roblox Promo Codes page.