Prepare to sail the Indian Ocean and battle scallywags of all types in Ubisoft's Skull and Bones. This seaworthy title launches on November 8, 2022, and pirate fans will be delighted to experience the sailing and ship combat from Assassin's Creed IV: Black Flag. But Ubisoft has made the title available for pre-order and announced a premium edition. This may leave you wondering how to pre-order the Skull and Bones Premium Edition and what it comes with.
What is included in the Skull and Bones Premium Edition?
For those looking to get everything Skull and Bones offers, the Premium Edition is the way to go. This is the deluxe version of the game and the alternative to purchasing the standard edition. Here is what is included in the premium edition of Skull and Bones.
Related: What is Skull and Bones? Release date, Pirates, and more!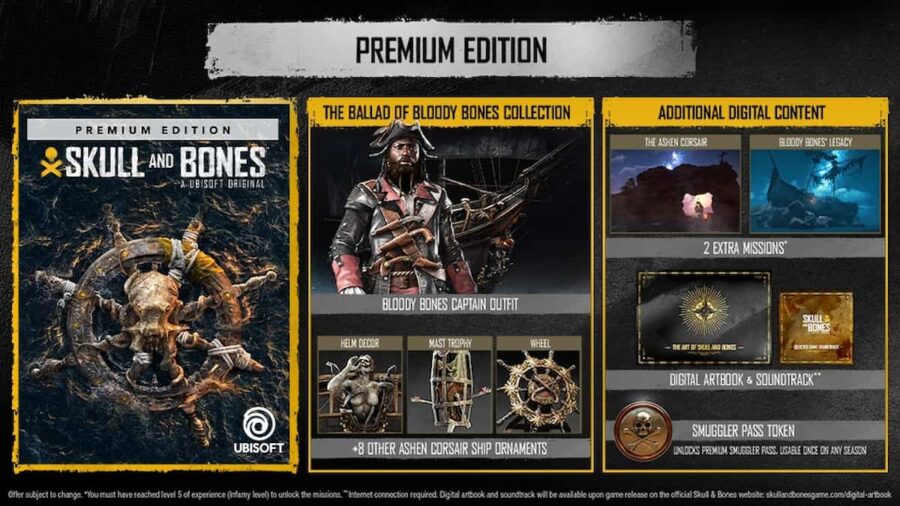 Skull and Bones Game
The Ballad of Bloody Bones Collection

Bloody Bones Captain Outfit
Helm Decor
Mast Trophy
Wheel
8 Ashen Corsair Ship Ornaments

Additional Missions

The Ashen Corsair
Bloody Bones Legacy

Digital Artbook
Digital Soundtrack
Smuggler Pass Token
How to pre-order the Skull and Bones Premium Edition
The Skull and Bones Premium Edition is available across multiple platforms, including console and PC. Here is where you can pre-order the premium version of Skull and Bones.
For more information on Skull and Bones, check out Skull and Bones vs Sea of Thieves, compared and Will Skull and Bones get DLC – Is Skull and Bones a live service game? on Pro Game Guides.