Stardew Valley's Treasure Chest: one of the most lucrative finds and also one of the worst gifts. Despite the fact that it's worth 5,000g and is used in crafting a pretty neat pirate hat, it's a universally hated item amongst all of the villagers. Still, it's worth finding—especially if you need some quick cash. There are four different ways you can uncover treasure in the game, and they're all detailed below.
How to get Treasure Chests in Stardew Valley
Artifact Trove
Aside from the secret note, this is one of the easiest ways to find a Treasure Chest in the game, as each Artifact Trove gives you a 3.7% chance of getting a Treasure Chest.
Getting Artifact Troves isn't too hard once you've unlocked the Calico Desert by repairing the bus station (by either completing the Vault Bundle or buying the 40,000g Bus Repair form from the Jojo Community Development Center).
In Calico Desert, you can get Artifact Troves from the Desert Trader by giving them 5 Omni Geodes. In the mines, Skulls will also drop Artifact Troves when you kill them.
On Ginger Beach you can get Artifact Troves from Supply Crates once you've upgraded your farmhouse at least twice. They'll wash ashore on the Beach Farm. You can also dig them up from Artifact Spots within the Ginger Island Dig Site.
Artifact Troves usually drop artifacts (hence the name) with the exception of the Golden Pumpkin, the Pearl, and the Treasure Chest. Each item affiliated with Artifact Troves has an equal chance of appearing.
Visit the Blacksmith and pay the 25g fee for him to crack them open and see what you get.
Fishing Treasure Chest
Once you've passed Fishing Skill level 2, you can technically land a Treasure Chest by filling the separate treasure chest progression bar that pops up during the fishing mini-game. Filling the treasure chest bar doesn't mean that you'll inherently get the Treasure Chest item itself, but you will win at least one of 75 items.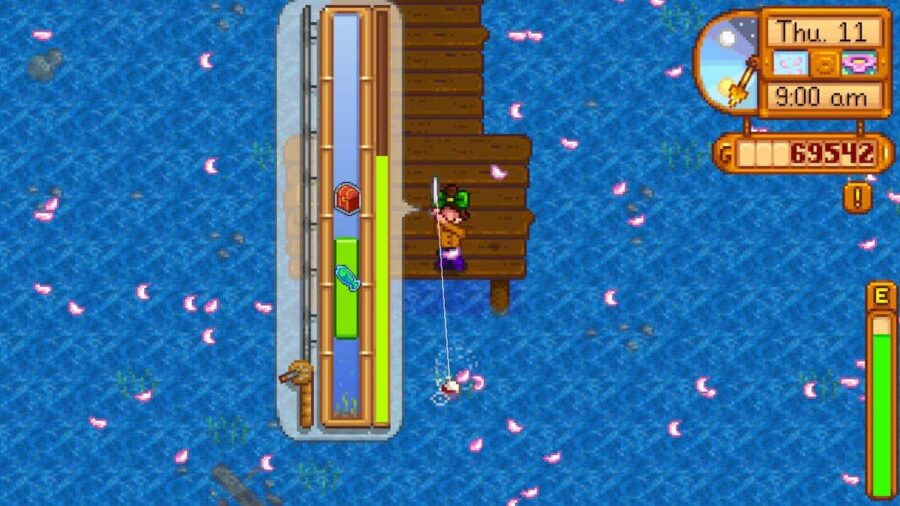 You have a 0.24% chance of pulling up the 5,000g Treasure Chest by fishing and completing the treasure chest mini-game. This number does not seem to be influenced by lucky days or luck buffs, like eating lucky foods.
Secret Note #16
This is the one method that guarantees you a Treasure Chest if you follow through. The note itself contains an image of the train tracks by the spa on the north side of town with a giant red X.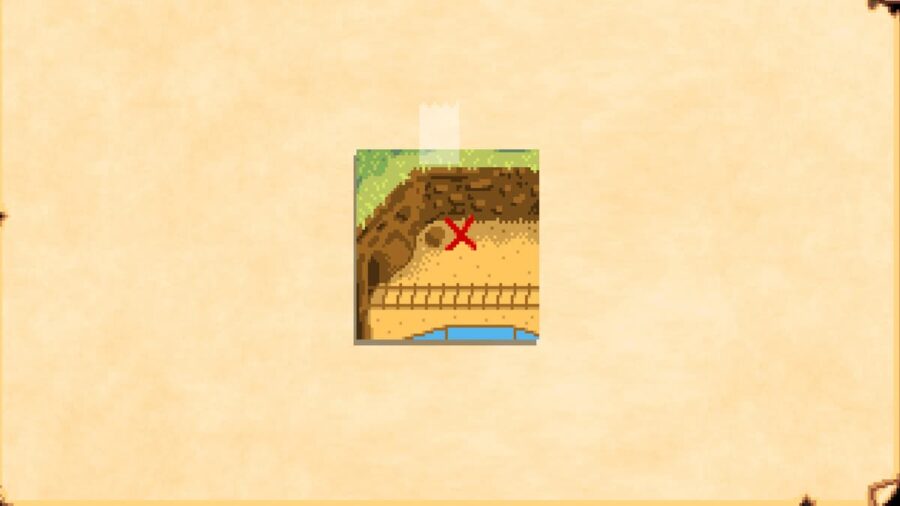 If you go to that location and dig with your Hoe, you will get a Treasure Chest.
Spook Fish (Fish Pond)
The Spook Fish is a little tricky to catch just because of the environment needed for it to appear. It only appears in the winter during any time of day. Unless you have specific bait, you can only catch the Spook Fish by fishing in the submarine during the Night Market (a beach event that takes place during evenings on Winter 15 to 17). By using this method, you'll have a base 16% chance of catching a Spook Fish that increases to 18% if you have a Curiosity Lure.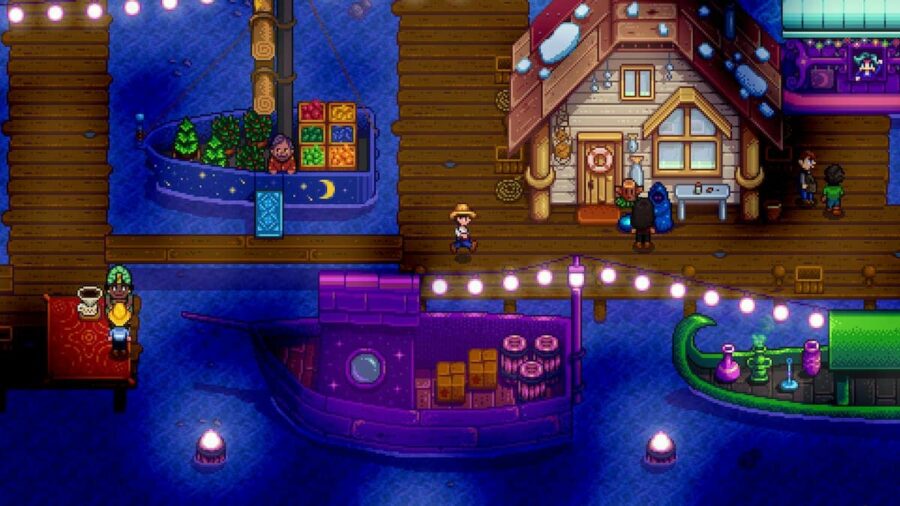 If you have Magic Bait, it's possible to catch a Spook Fish by going to the furthest left pier on the beach. On the pier, you'll go as far down and to the left as possible and fish facing left. This gives you a 3.3% chance of catching a Spook Fish that increases to 6.8% with a Curiosity Lure.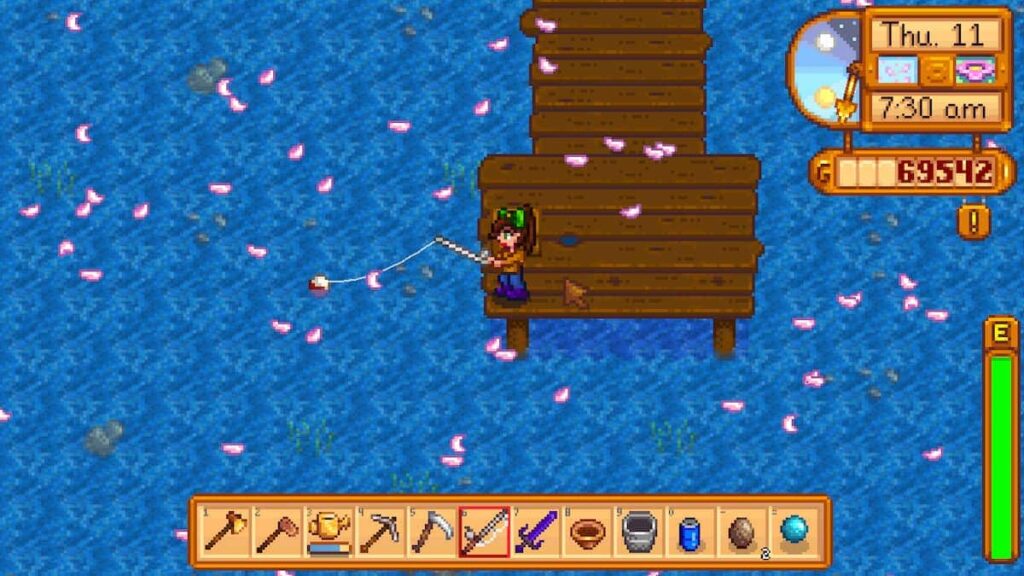 Aside from the difficulty of catching a Spook Fish itself, most of the time the Spook Fish will either drop Roe or nothing at all. If you're really lucky, however, you have a 0.3% chance of catching a Treasure Chest by completing the treasure chest mini-game that can occur while fishing.
The easiest way to get a Treasure Chest off of a Spook Fish is by using the Fish Pond, which you can place on your farm. Treasure Chests will not begin to drop until you have at least nine Spook Fish, so make sure to complete at least three fish quests to increase the capacity of your fish pond.
While X usually marks the spot, using these tips and tricks can make sure that you're pulling up as many Treasure Chests as you can handle. Just make sure you don't give them away as gifts (unless you want your villagers to hate you).
Looking for more Stardew Valley content on Pro Game Guides? Check out the Stardew Valley Universal Gift Guide or How to change professions in Stardew Valley.