The Tears of Themis A Wish in the Light event runs from Sept. 21, 2022, to Oct. 1, 2022, and commemorates Vyn Richter's birthday celebration. During the event period, you must help Vyn complete his birthday Travel Wishes by completing various Travel Events over a designated amount of time. This event is open to all players who have completed Vyn's Personal Story 1-1.
Since the Travel Wishes are time-gated, we highly recommend that you start as soon as possible. It takes six days to collect all Wishing Notes required to complete these tasks, and each requires some waiting time in-between to complete.
How to do Vyn's birthday Travel Wish tasks in Tears of Themis
Head to the event menu on the upper right of the screen to immediately prompt the first part of the event story, where you and Vyn recall making birthday wishlists for each other. Once that's done, you can start working on Travel Wish tasks. These need to be done in the exact order listed in the event menu.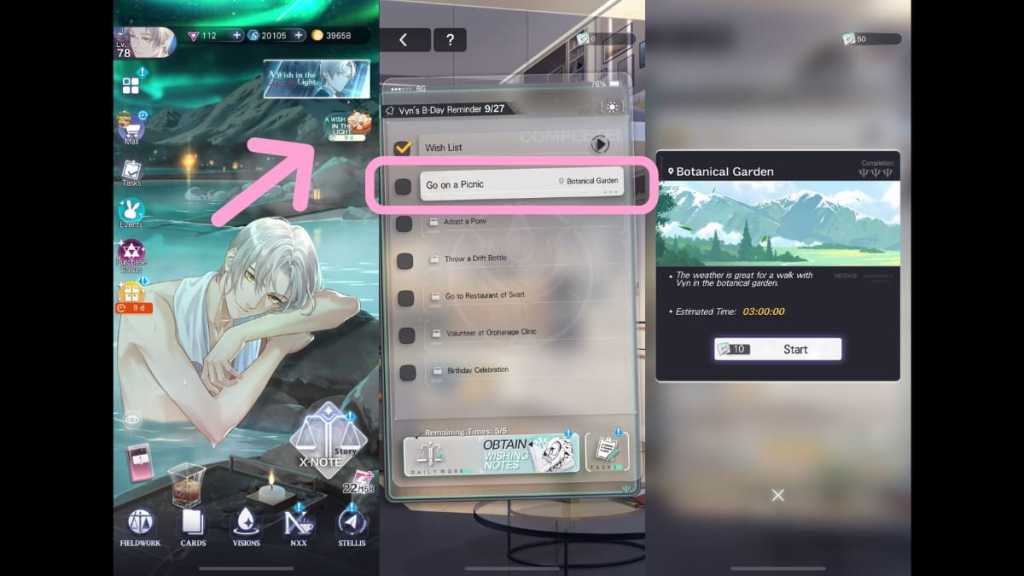 Click on a Travel Wish task and click Start to initiate it. Each segment will cost approximately 10 to 20 Wishing Notes. Upon starting a task, you'll see that there's a timer at the bottom left of the screen, as well as two types of Travel Events.
Magnifying glass icon—observation of the scenery. Reduces time by 10 minutes.
Person icon—chat with Vyn. Reduces time by 20 minutes.
Related: Tears of Themis Vyn's Birthday Preparations event guide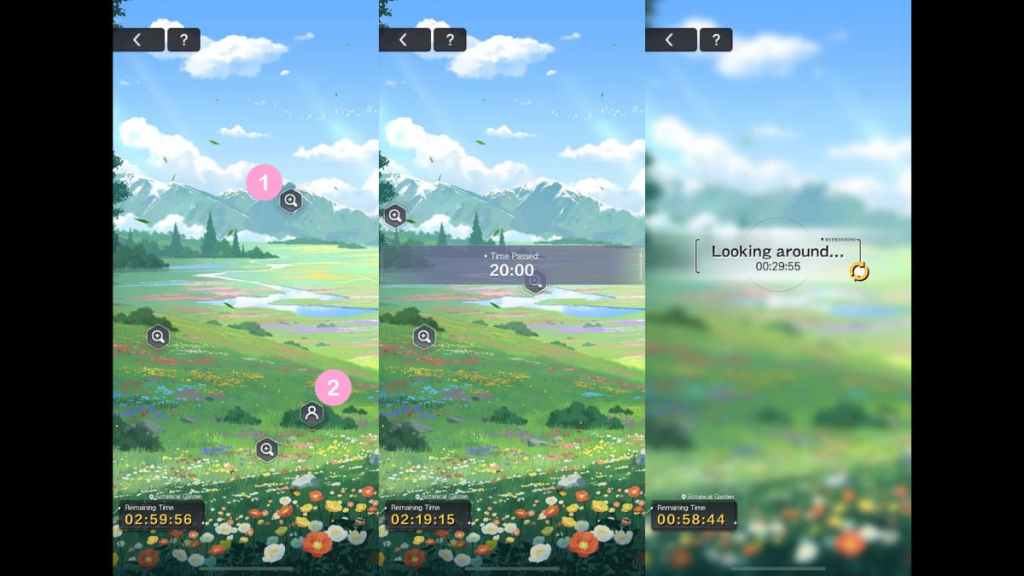 You need to do all of the Travel Events to reduce the remaining time at the bottom left of the screen. After exhausting all of the Travel Events, you must wait 30 minutes for a new set to appear again. Keep in mind that the game will not remind you that the 30 minutes are up, so you need to check back if you're in a hurry to complete the task.
The timer is based on real-life time, so every second that passes will also reduce the remaining time for the segment you're working on. Once the timer has been exhausted, the segment will be complete. As a result, you can technically complete Travel Wishes by letting the hours pass naturally. However, since some tasks take five hours or more, it may be more convenient for you to complete Travel Events every 30 minutes to help reduce the waiting time more quickly.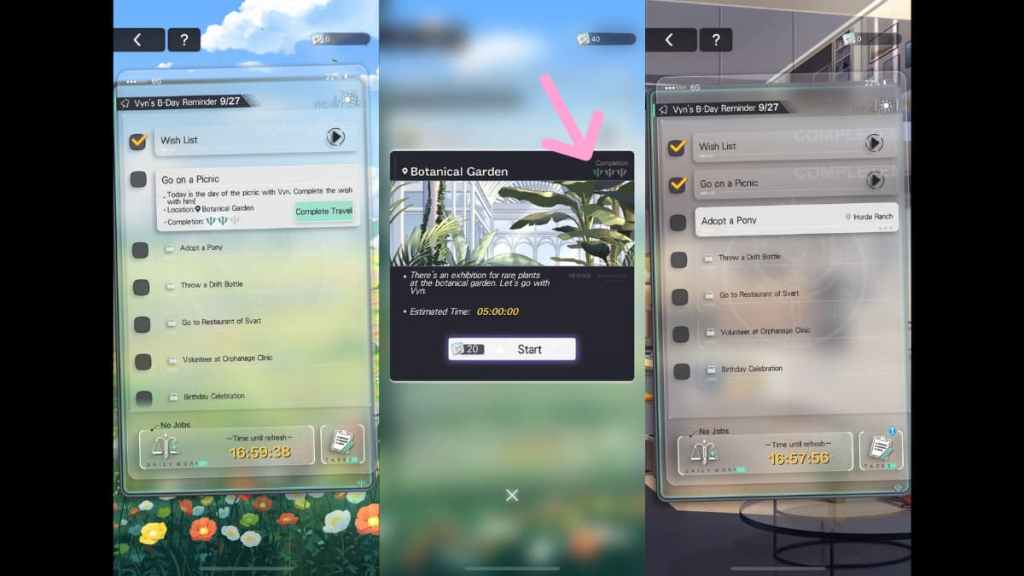 Each Task is divided into three segments, indicated by the Adjudicator symbol beside the word Completion. You need to complete all three segments for a Task to be counted as complete. Once a Task is done, you can experience the next part of Vyn's birthday story (with voiced dialogue!) and unlock his next Travel Wish.
Related: How to get Vyn's birthday rerun R card and Invitation in Tears of Themis
How to claim rewards in Vyn's A Wish in the Light birthday event in Tears of Themis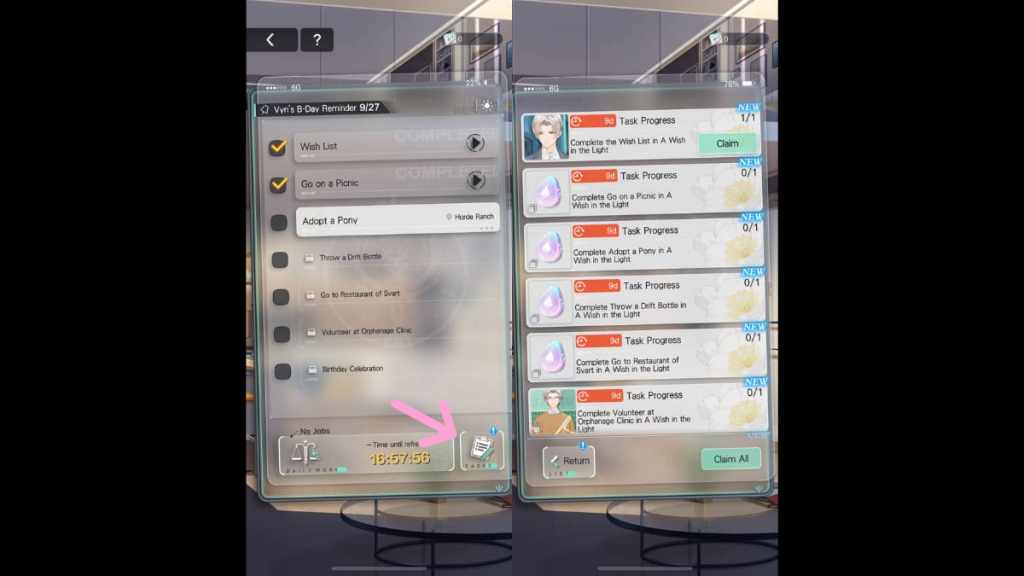 Click on the Tasks menu at the bottom right of the event page to claim rewards for all of the Travel Wish tasks that you have completed. Key rewards include the following:
Vyn's birthday R card "Falling"—obtain five copies by completing Travel Wishes.
Vyn's "In the Light" birthday outfit—complete the "Volunteer at Orphanage Clinic" Travel Wish, which is the second to the last one.
Vyn's Bedroom background and A Wish in the Light Badge—complete the last Travel Wish called "Birthday Celebration."
For more on Tears of Themis, check out our guide on How do birthday banners work in Tears of Themis to help you allocate your S-Chips in this event.