Tears of Themis values birthday celebrations a lot. In fact, the other members of NXX always get a year-exclusive birthday event, complete with a story and an exclusive banner, whenever it's their special day. Naturally, your birthday is equally important. Here's everything you need to know about the Birthday System guide in Tears of Themis.
What happens when it's your birthday in tears of Themis?
If you log into Tears of Themis during your birthday, NXX will be there to celebrate it with you. Aside from personalized birthday greetings, you can receive a total of four presents containing the following:
Tears of Themis x1
Energy Drink Family Pack x1
Skill upgrade materials for the male lead that gave the present to you
Birthday presents can only be received once a year. The Birthday System refreshes on Jan. 1 UTC+9 of the following year. Attorneys born on Feb. 29 will receive their birthday greetings on Feb. 28. If you forget to log in on your birthday, you can still claim the gifts from your inbox in the next seven days.
How to claim my birthday gift in Tears of Themis?
Your birthday gifts will be given as an item. To obtain the things inside, you need to go to Inventory and the Consumables tab. Then, tap the birthday present.
Related: Tears of Themis cancels JP dubbing for Main Stories and Event Stories
I missed my birthday in Tears of Themis, what do I do?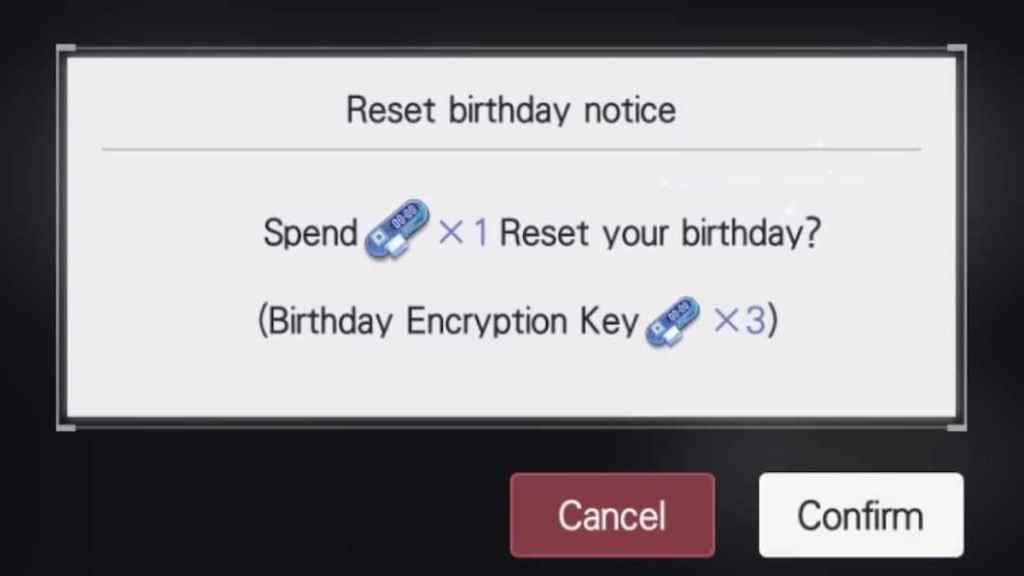 HoYoverse implemented the Birthday System on Oct. 13, 2022, for the global version of the game. If your inputted birthday is before this date, don't worry—you don't have to miss out on this year's birthday celebration.
HoYoverse has also given every Attorney two Birthday Encryption Keys to use along with implementing the Birthday System. This item changes the birthday you've set on your profile. With two Birthday Encryption Keys, you change the date to a day between Oct. 13 and Dec. 31 and receive your birthday greetings. Then, use another key to change it to your real birthday once you've claimed your presents.
For more Teams of Themis guides, check out some of the other articles we have here at Pro Game Guides.