The Tears of Themis Secrets of the Tomb Museum Mini-Game event runs until May 23, 2022, and is open to all attorneys. It involves a memory tile game that you can play twice a day. It's highly recommended to participate every day to get all the rewards, including S-Chips and an event-limited Cat Sphinx Badge.
Access the event by heading to the event menu and selecting the Secrets of the Tomb banner that features a Cat Sphinx.
How to Play the Secrets of the Tomb Museum Mini-Game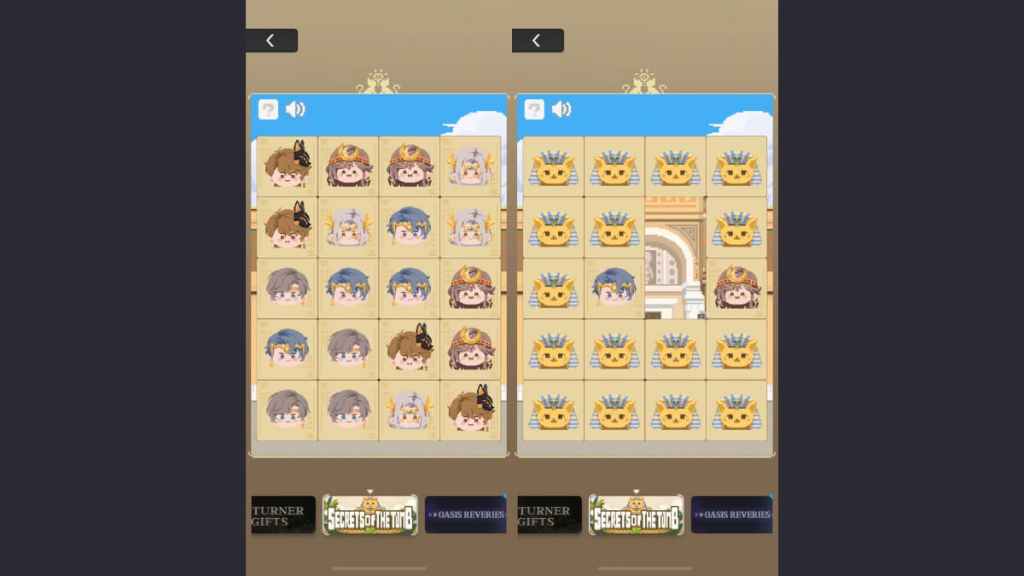 A dialogue will prompt after entering the event for the first time. After completing it, you can start playing through the Khaimit Museum Mini-Game. Click Start to initiate a memory game. The game will flash a board containing all the tiles facing up before facing them down. Your goal is to click two matching tiles at a time until there are none left.
There are no consequences for matching the wrong tiles—you can try again as many times as you like until you complete the Mini-Game. The placement of tiles is random in each round. If you're not keen on guessing, you can take a screenshot of the tiles facing up and reference the image as you play.
Rewards
You can only play the Mini-Game twice per day and need to play 20 times to get all the event rewards. Each round will reward you with 3,000 Stellin, while key rewards include the Cat Sphinx Badge at 14 completed attempts and 100 S-Chips at 20 completed attempts.
All rewards will be sent to your in-game mail and must be claimed within seven days, or they'll disappear forever.
How to Get Khaimit Experience Tickets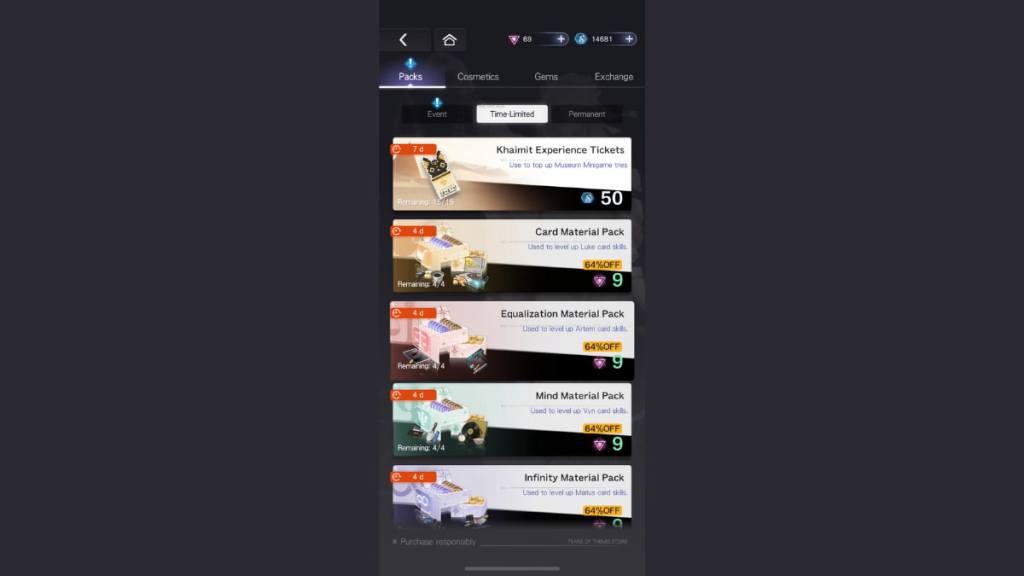 If you miss a day or two, you won't be able to get all of the rewards. But you can make up for any missed attempts by purchasing Khaimit Experience Tickets from the mall. Head to Packs and select Time-Limited to purchase Tickets.
Each Khaimit Experience Ticket costs 50 S-Chips, and you're limited to purchasing 15 throughout the event period. Due to the cost, it's not recommended to buy Tickets unless you want the event Badge.
Check out our guide on How to unlock Shadows of Resurrection Collection Stories in the Tears of Themis Secrets of the Tomb event to discover more about the Rubis Museum's treasures.