Terra Nil is a terraforming sim-style world-building game in which you use machines to alter the landscape to bring life back to a barren landscape. Available for PC via Steam and mobile through the Netflix app, the game starts out relatively simply with quite a linear structure. But as you advance, the challenges become more complex. If you're starting to have some difficulties, read on for our Terra Nil Polar Region walkthrough.
How to complete the Volcanic Glacier Polar Region in Terra Nil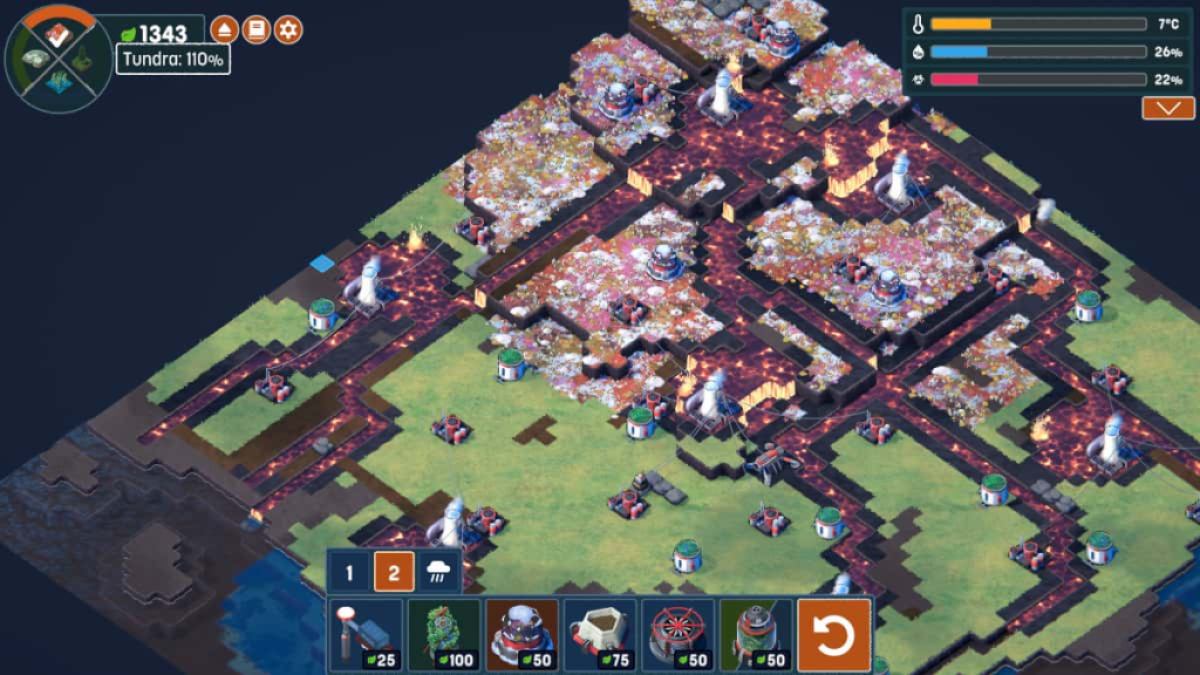 While this guide walks through the process slowly, you may want to read it through completely before you tackle a level, as some of the later details are easier to plan for (such as animal habitats) if you have them in your mind from the beginning. But if you follow this guide, you should have enough resources to complete the region with little difficulty.
The snow presents a problem in the beginning, as it makes it more difficult to meet your initial greenery goal. Use Seismic Detonators, first starting on hills to see how far you can get the lava to flow downhill (you'll need the lava later), and then others that are nicely strategically placed to give the best reach. You can also consider using Excavators to give the lava a bit of extra encouragement, but it is nowhere near as financially efficient as the seismic detonators.
Clearing the snow to save resources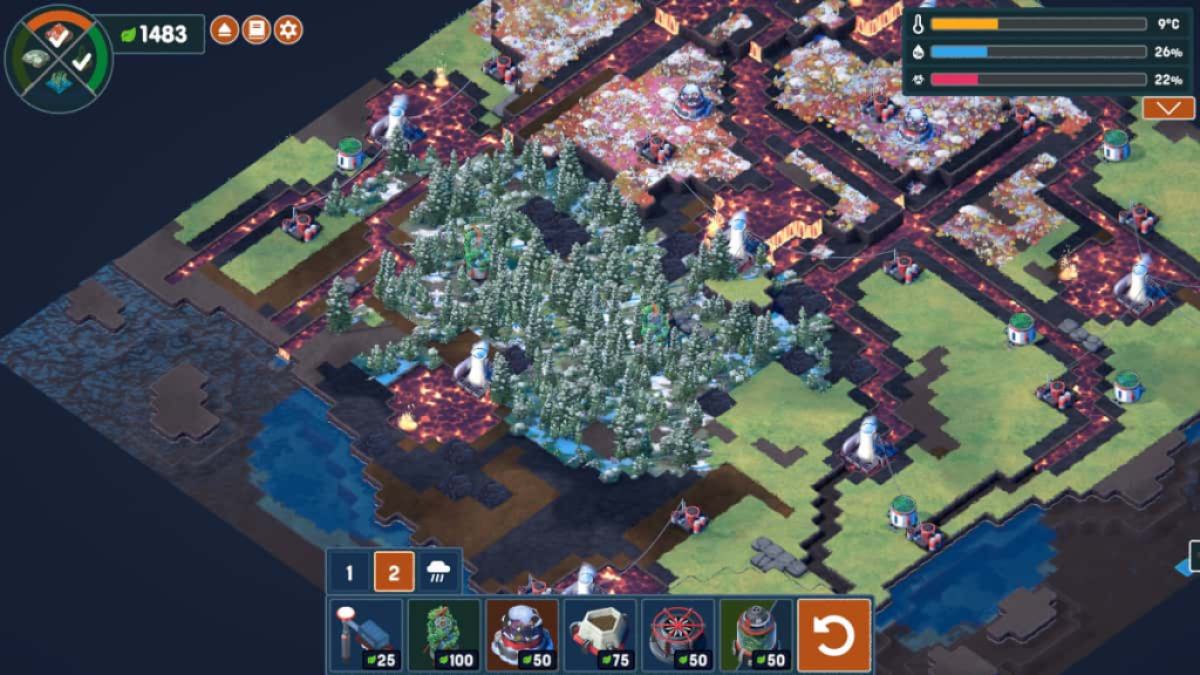 Your aim here is to get the temperature up to zero, as then the snow will melt away completely. This makes it much easier to effectively use Toxin Scrubbers and Irrigators to cover the land in greenery, so place Geothermal Plants wherever you need them to reach your 100 percent coverage goal. Note that if you can get the temperature up to 10 degrees before you start, it is a big help, as you get the resources bonus for Irrigators between 10 and 35 degrees.
With your greenery target complete, you now have four biomes to manage. Note that Tundra can only be created on hills, so get this done first. Ideally, you want it to spread just far enough to hit the flat ground, as you'll need controlled burns from Solar Amplifiers to create the ash you need to start on the Boreal Forest. This means you can burn much of your remaining greenery on the lower lands, leaving your Tundra percentage intact on the hills.  
Completing the four biomes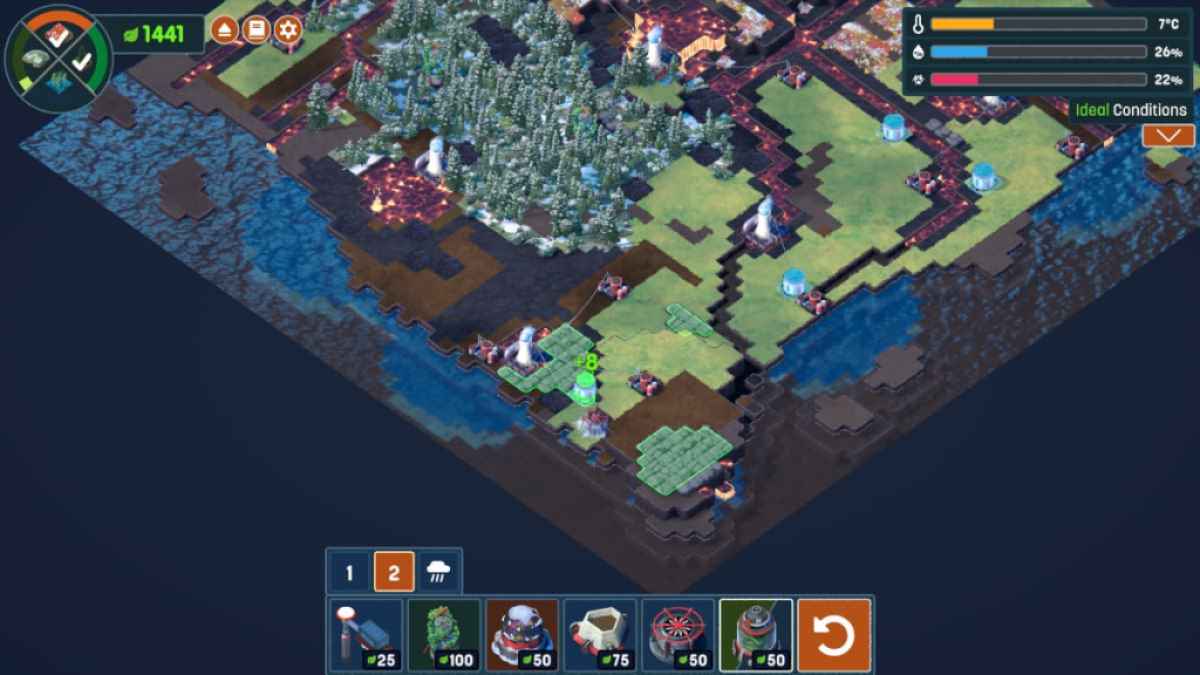 Next up is Lichen, which will only grow on rocks. This is where your new Igneous Heatsinks come into their own, as you can place them to turn your lava into rock without affecting the power plants. Once placed, place Algae Greenhouses on each area of stone until you reach your Algae target. Note that as long as your temperature is below 30 degrees, you'll also get bonus resources from them too.
When deciding which lava areas to rock over (if you have choices), consider that your final biome, Kelp, is going to need to be moved from your rocks to the sea via Monorail, so the closer to the sea these rock areas are, the simpler it's going to be to get the job done. Also, note when planning that each Algae Greenhouse needs to be placed on an Irrigator. On the plus side, the range the greenhouses cover is pretty big (the area pictured was 17 percent of the biome target from a single Irrigator).
Creating enough kelp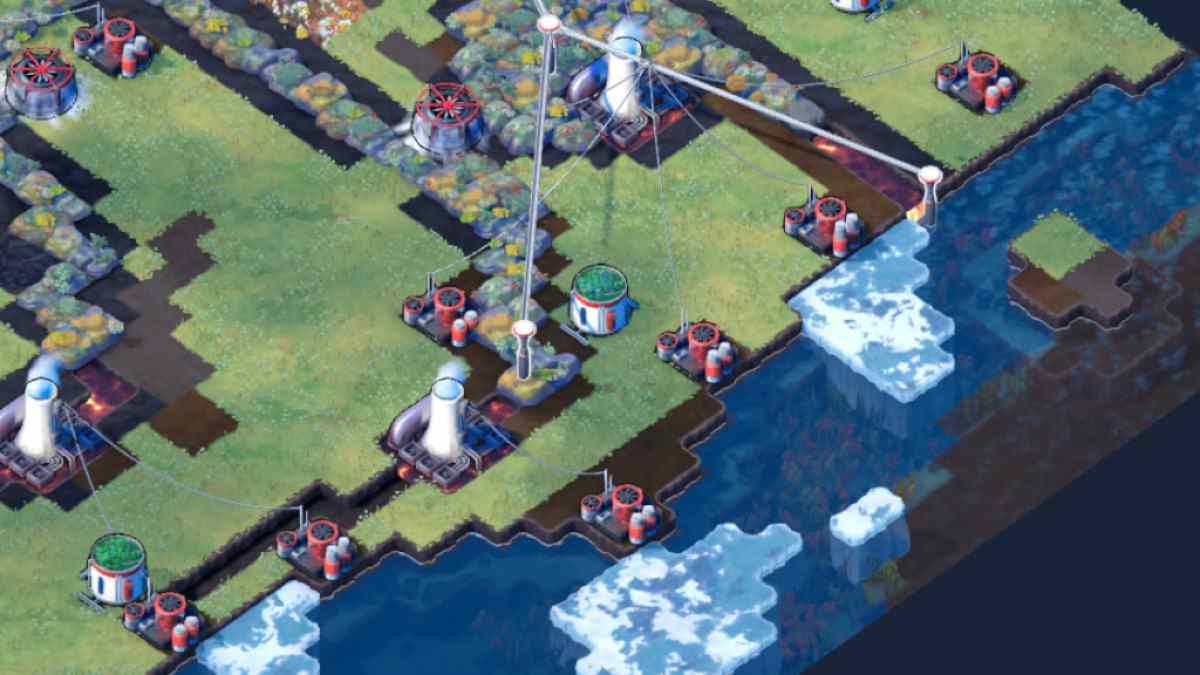 This means it can be cost-effective to strategically place one just to use it as an Algae Greenhouse, but you should be able to simply use the ones you already have. However, beware that you can't place Irrigators on Tundra, so if you have a lot of lava on the hills where you created the tundra you may struggle to convert the rock there to Algae. Note that using Igneous Heatsinks will lower the temperature, but don't worry about this.
Finally, you need to transfer that algae goodness to the sea to create Kelp. If you haven't done much to clear the pollution from the sea, you may need to add a few Toxin Scrubbers along the coast to do so, cleaning the water as close as you can to where you have rocks. This is because you'll need to place Monorail stops on them, and hopefully, these will be on rock paths that lead from the sea inland to the lava pools you paved over, making the monorail process relatively painless. Note that Kelp won't grow on ice patches, so raise the temperature a little if you need to.
Surveying all six polar animals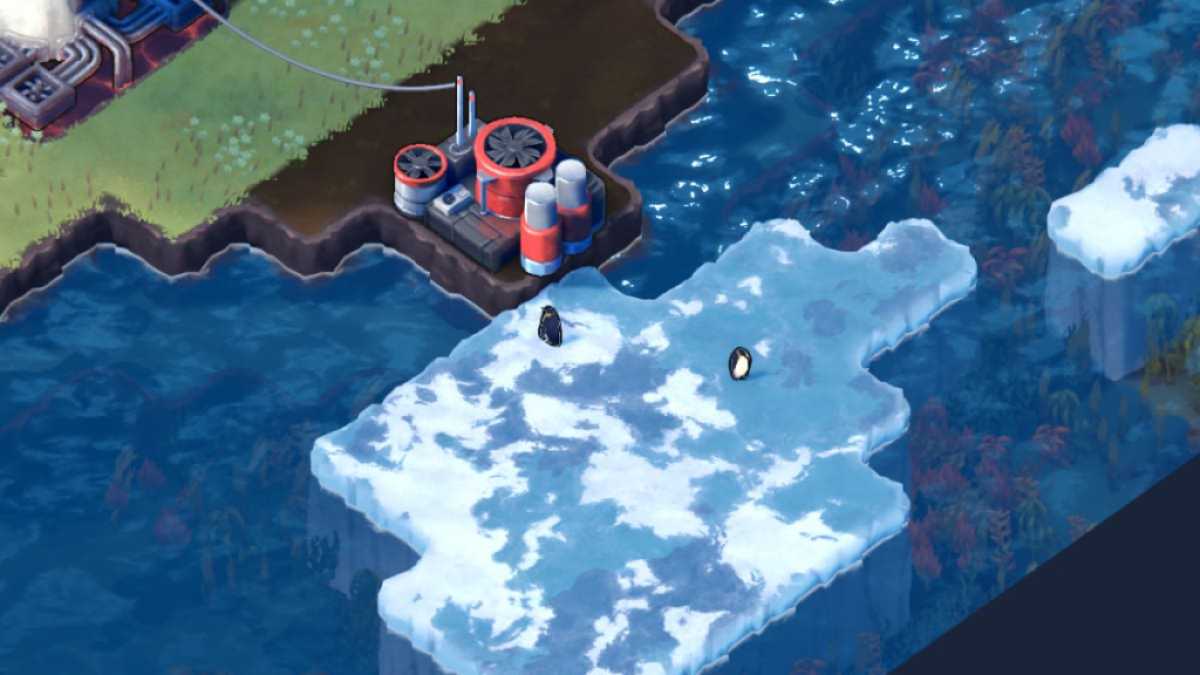 The animals you choose to survey are going to depend a lot on your map and circumstances, but the key thing to consider is temperature. You'll only want to go through the temperature gears once, so keep an eye on ice sheets expanding too far.
Starting with the easier creatures, Penguins need just 16+ ice sheet tiles and 10+ ocean tiles, while Snowy Owls are usually the easiest to survey, needing just 10+ forest tiles and any tundra. Narwhals need it very cold (-10 degrees, as well as 20+ ocean tiles and four ice sheets), so if you just want to concentrate on lowering the temperature, that is a relatively easy way to get three animals surveyed.
Polar Bears, Arctic Foxes, and Elk all need snow. You can do this using the Flash Freezer. Both Elk (6+ lichen tiles and 20+ snow tiles) and Arctic Foxes (10+ snow tiles and 10+ tundra tiles) are usually relatively easy. Polar Bears (16+ snow tiles, 6+ ocean tiles, and Elk) can be a little tricker, although ice seems to count as ocean tiles for the survey. Note that you'll need to survey Elk near the sea to have any chance of getting Polar Bears. But also remember you only need three animal types to progress, so you can always fill in the gaps on a later playthrough.
All that's left is to recycle your machines. This works exactly the same as in the Tropical Region, so while a little time-consuming, it should be relatively straightforward, especially as you'll already have some of the Monorail built and way more stone to work with to create your routes. Also, remember the game will point out what you're missing when you reach 90 percent recycling, so if possible, leave areas that are harder to see clearly (such as forest areas) until last to avoid finding you've left something small on the other side of the map!
Looking for more Terra Nil guides? Check out our Terra Nil Continental Region walkthrough right here at Pro Game Guides!