Terra Nil is an ecology game on Netflix where you attempt to convert a barren landscape into a green and prosperous area of nature. After you load up the game and select a Profile (essentially a save game position, as the game will auto-save but you can have several saved at once), you will need to choose an approach. But as a new player, which approach is best when you're playing Terra Nil?
How to choose an Approach in Netflix Terra Nil
The approach can be seen as setting a difficulty level, but it isn't quite as straightforward as that. Each approach has some overlap, so it's a case of deciding how much help you need in a particular playthrough. A game is going to take you at least an hour or two to complete, so setting the challenge level right is an important decision. However, note that you can also edit most settings after you've started a game and also switch to Zen mode (see the Customize section below).
Gardener
You start with 1,500 resources and the things you build are all half-price compared to Ecologist mode. When you run out of resources you can recycle items to gain some extra spending power, which means you'll have extra ways to keep a game going. You are also set lots of unlock objectives, which give you an idea of how to start out. It's essentially easy mode, so you'll also receive hints and tips, and tutorials.
Ecologist
You start with fewer resources (1,000) and building costs are the standard price. You won't be able to recycle your building if you run out of resources, which means it is very possible to fail a run-through. But you will still get the early game short-term objectives to aim for, buildings are slowly made available, so you don't get information overload, and the tutorials are still in operation. This is the standard game mode, which will offer a challenge without being too difficult. If you've played this style of game before and like a challenge, you can start in this mode. If you've played the free Demo on Steam, this is the same mode.
Environmental Engineer
Once you've played through and won on Ecologist mode a few times, you'll want to up the challenge as an Environmental Engineer. This is the hardest approach, as while you'll still start with 1,000 resources all building costs are 125 percent of the prices while playing as an Ecologist. There is no free recycling if you run out of funds, you get no unlock objectives to steer you, and all hints and tutorials are removed. This means you start seeing the entire map and have access to all six early game buildings, while your first objective is to reach 100 percent green coverage.
Can I customize settings after starting a map in Terra Nil?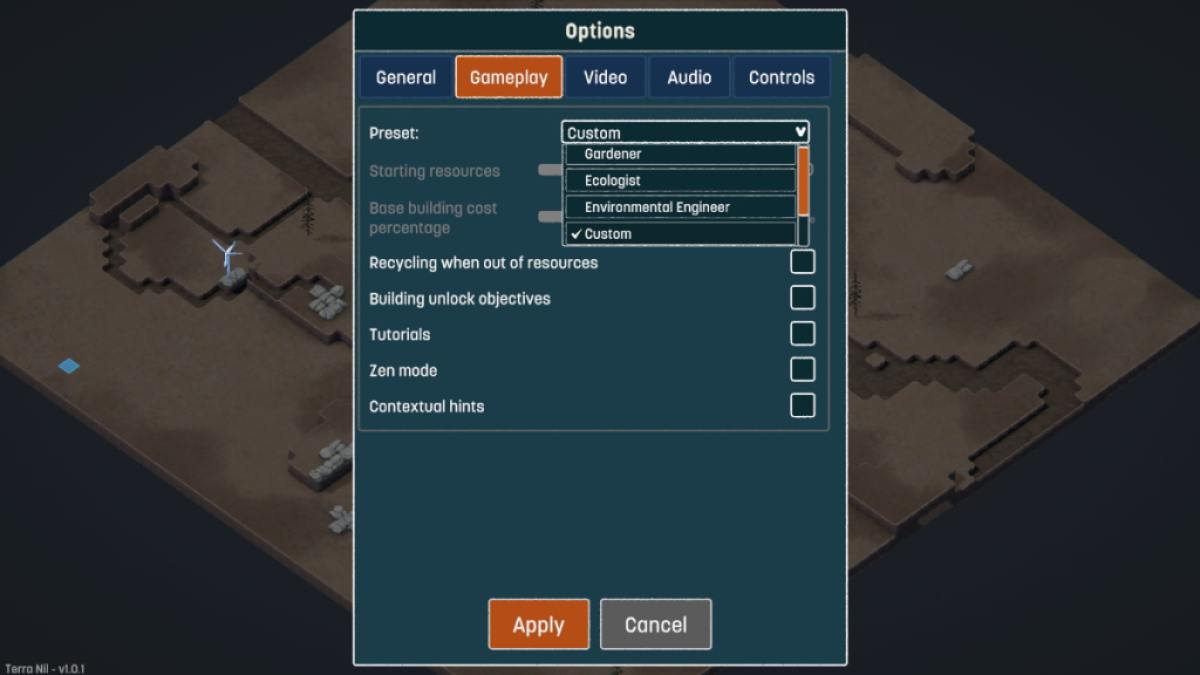 You can customize most settings once you've started a map in Terra Nil in the options menu. If you start a map and realize you want to change things a little, follow these steps:
Click the settings cog at the top of the screen and select Options.
Select Gameplay.
Choose Custom from the Preset dropdown.
You can't change your starting resources or costs once the map has been made, but you can enable or disable recycling, and unlock objectives, tutorials, and hints.
What is Zen mode?
You can only activate Terra Nil's Zen mode in the Preset custom menu after you have started a map. This removes all costs for your machines, meaning you will not have to worry at all about payment. This makes the game even easier than Gardener mode, so is great if you just want to relax and create a beautiful landscape without the pressure of keeping to a budget.
Terra Nil is available to buy for PC via Steam and is available to play for free for Netflix subscribers via the Netflix app on both Apple and Android devices.
If you want more help with Terra Nil, we've got you covered! Also, check out All animals in Terra Nil and how to attract them and Terra Nil Polar Region walkthrough here at Pro Game Guides.