Making a sawmill in Terraria is fairly simple and can be accomplished very early on in a playthrough. This crafting station is quite useful as you can use it to make a number of new vanity and utility furnishings. These new furnishings include things like a loom, which let you craft silk and various clothes, and beds, which let you set a new spawn point.
First, you'll need the prerequisite materials. You'll need 10 of any type of wood, two of either iron or lead bars, and a single chain. Keep in mind that the chain itself requires one iron or lead bar to make. So in total, you'll need three iron or lead bars.
Gathering the Components
Getting wood is by far the easiest part. Since you can use any type of wood, all you need to do is chop down a tree or two.
Iron and lead (depending on which ore your world has) can be found in a number of places. You'll most commonly find them in their ore form underground, though you may also luck out and find a pocket or two on the surface. You need three ore per bar, so you'll need nine total. Once you have the ore needed, bring them to a furnace and smelt them down to their useful bar form. Alternatively, you may also discover the needed bars of iron or lead in one of the many random chests scattered around the world.
Once you have your bars, you'll need to make that chain. You'll need an anvil to do this. If you don't already have one, you can make one for five more iron or lead bars, you can buy one from the Merchant NPC for 50 silver, or you can scavenge for Underground Cabins in hopes of finding one. Remember that in order to use any crafting station, you must be standing near it with your inventory open.
Related: Terraria: How to Make a Bed
Crafting a Sawmill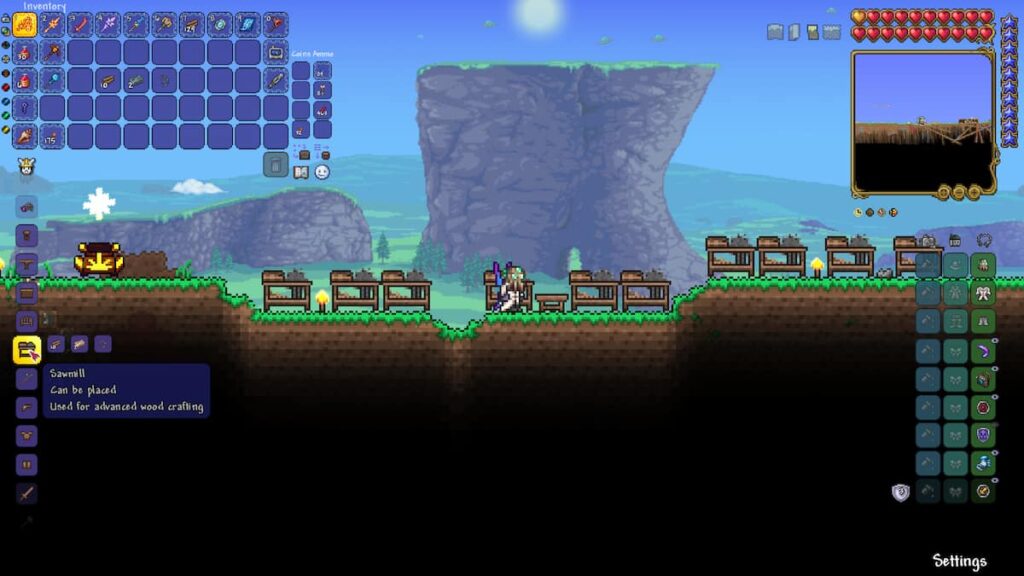 With your chain, two iron or lead bars, and 10 wood, you can now craft a sawmill! Just go on over to a regular workbench, search for the sawmill on your inventory crafting wheel, and make yourself your newest crafting station. Now you're free to begin crafting a plethora of fabulous furnishings as you please!
For more info on Terraria, check out some of our other Terraria guides!