Tower of Fantasy is filled with stuff to do. Its shared open world allows players to explore the world freely, battle monsters, solve puzzles, and complete quests. When exploring, one of your best tools is the Jetpack, which can be upgraded. This may leave you wondering how to advance your Jetpack in Tower of Fantasy.
How to advance your Jetpack in Tower of Fantasy
To advance and upgrade your Relics in Tower of Fantasy, you must use Jetpack Relic Shards. These can be obtained from SR Relic Shard Boxes. It will take many Shards to upgrade the Jetpack, especially if you want to upgrade it. When you are ready to upgrade the Jetpack, open the Relic menu and select it, then choose Advancement.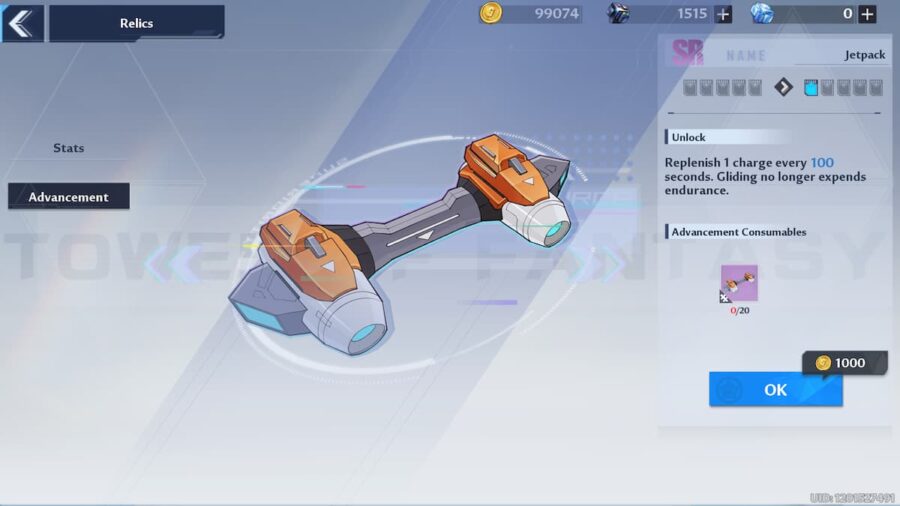 There are five levels to go through when upgrading the Jetpack in Tower of Fantasy. Each one will provide additional bonuses to the Jetpack, allowing you to explore further and better with this Relic. As the Jetpack is one of the most used Relics, it is well worth upgrading.
While the Jetpack is a great tool for exploration, it has a long cooldown at first. By upgrading it, you can reduce this and ensure you can use the Jetpack more often. Combine it with the Cybernetic Arm to increase your exploration ability as well.
For more information on Tower of Fantasy, check out Which SSR Relic should you pick first in Tower of Fantasy? and How do Relics work in Tower of Fantasy on Pro Game Guides.