Tower of Fantasy's Rebirth of Clemency event celebrates the game's first limited banner, featuring SSR Simulacra Nemesis and her accompanying weapon, Venus. The event runs until Sept. 1, 2022, and is open to all players who have unlocked the Special Order gacha system after completing the game's tutorial.
What is the Rebirth of Clemency event in Tower of Fantasy?
This event is a limited banner featuring the SSR Simulacra, Nemsesis. You can pull for her on rate-up during the event period using Red Nuclei. Unlike Gold and Black Nucleus Cache banners, the limited banner offers you the opportunity to get the featured SSR on rate-up. One Red Nuclei is equal to 150 Dark Crystals.
Limited banner characters don't always make it to the standard banner after their run. After this event, you likely won't be able to pull for Nemesis anymore—at least until her limited banner comes back, or until the developers decide to place her in the standard banner.
Related: How to claim free Discord Nitro & Special ToF Avatar Pack in the Tower of Fantasy x Discord event
Does the Rebirth of Clemency event guarantee an SSR Nemesis?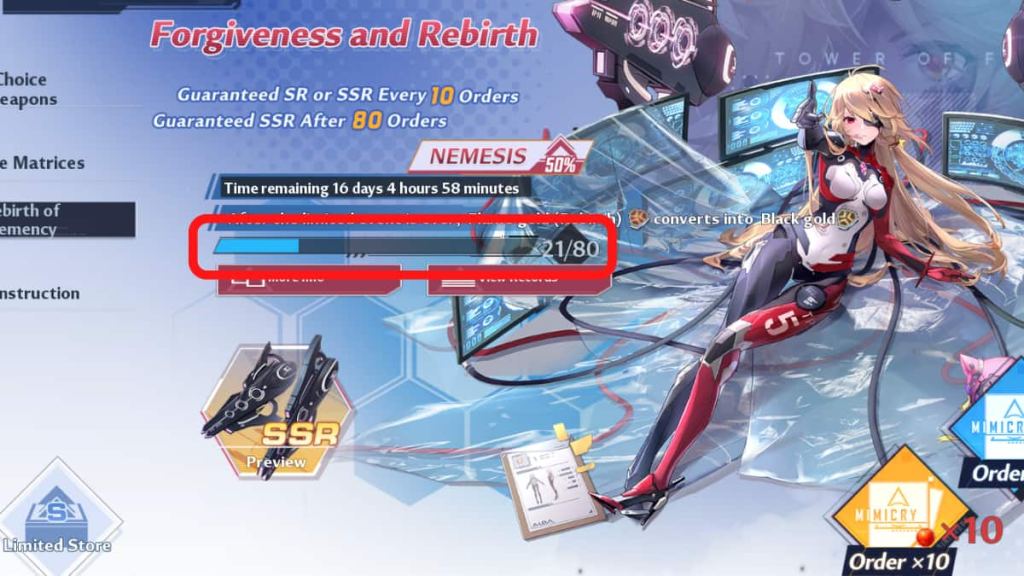 SSRs can be pulled at a 0.75 percent chance in the Rebirth of Clemency event limited banner. Once you pull for an SSR, there is a 50 percent chance for it to be Nemesis and a 50 percent chance to be a standard banner character. You are guaranteed an SSR after 80 pulls, but you are not guaranteed a Nemesis through this method. Pity does not reset until after the 80-pull pity.
For example, if you get an SSR at 40 pulls, pity will not reset. You will still get your guaranteed SSR at 80 pulls. Once this guarantee has been obtained, the pity counter will reset, so you can get another guaranteed SSR after 80 more pulls. You can track your pulls by checking the counter in the middle of the screen.
How to get a guaranteed SSR Nemesis in the Tower of Fantasy Rebirth of Clemency event
You will get one Flame Gold as a bonus reward for every Red Nucleus you spend in the Rebirth of Clemency limited banner. You can spend this currency in the Limited Store, which includes the SSR Nemesis's weapon, Venus. It costs 120 Flame Gold (equal to 120 pulls) to purchase Venus, including both the weapon and Simulacra.
You need to exchange the Flame Gold you earn within the event period. After the event ends, all Flame Gold will be converted into Black Gold, and the Limited Store will no longer be available. Black Gold can still be used in the Weapon Store, but it can only be exchanged for Simulacra you already own.
Check out our guide on How does the pity system work in Tower of Fantasy? for an overview of the pity system across all banner types.