Even when carefully planning out your pulls in Tower of Fantasy's Special Order gacha, it's inevitable for you to end up with duplicate Simulacra. Luckily, you can use these dupes to make your weapons stronger by amping up their base stats and unlocking passives.
What to do with duplicate weapons and Simulacra in Tower of Fantasy?
Duplicate Simulacra turn into Fusion Cores specific to their associated weapons. For instance, Echo's weapon is the Thunderous Halberd. If you pull a duplicate Eco in the gacha, you'll get a Thunderous Halberd Fusion Core. This can be used to advance your existing Thunderous Halberd up to six times.
How to use Fusion Cores to advance weapons in Tower of Fantasy
To do this, open the menu by clicking the ESC button on PC or the honeycomb icon on the upper right of the screen for mobile. Select Weapons. On the lefthand panel, select Warehouse, and choose the weapon you want to advance, then click Upgrade on the bottom right of the screen. On the Upgrade page, select Advancement on the lefthand panel to use your Fusion Cores.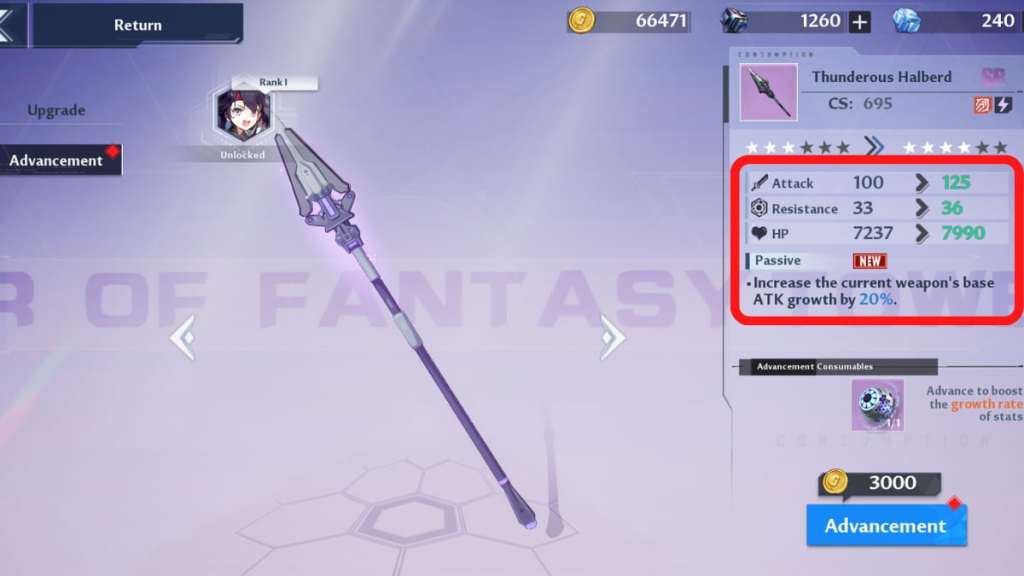 It costs one Fusion Core specific to the weapon you're advancing and some Gold to make one advancement. You can view the stat increase and additional passive on the right of the screen to see what changes your weapon will go through. Each advancement will add a star to your weapon, and it can only have a max of six.
Passive bonuses stack, so the more dupes you have, the stronger your weapon will be. However, this isn't necessary for non-competitive gameplay. If you stay away from PvP, you don't need to aim to six-star your weapons.
Check out our guide on How to claim a free SSR in the Tower of Fantasy Starpath Navigation event to get a powerful weapon for free.