Updated September 3, 2023

Added a new code!
You don't have to be a pro golfer to hop into Ultimate Golf. This fun mobile version of the sport allows you to compete against other online players or friends in a quick-paced style to see who can get the ball in the hole the fastest. You can customize your golfing gear and accessories by earning coins for playing games and getting your name up in the leaderboard by winning trophies.
You can also earn some free prize bags and items by entering in-game codes. Developers usually give out codes for players to claim free items that can get them a headstart, and they are super quick and easy to enter. You can earn more free rewards for games like this such as Golf Swing Simulator Codes or Golf Simulator Codes.
All Ultimate Golf Promo Codes List
Ultimate Golf Promo Codes (Working)
Cooper—Redeem for a free Golf Bag featuring five in-game accessories rewards
welcome0422—Redeem for a free Golf Bag featuring five in-game accessories rewards!
Ultimate Golf Promo Codes (Expired)
jared23—Redeem for a free Golf Bag featuring 18 in-game accessories
erelic23
zach8
THEBEAST23
ZACH22
BOOSTME
ZENDO77
YAY10K
Full18
Blossom23
Lemonade18
Marv31

SEZAZD3X
SWING
Related: Roblox Super Golf! Codes (July 2023)
How to redeem codes in Ultimate Golf
Redeeming promo codes in Ultimate Golf is a quick and easy process.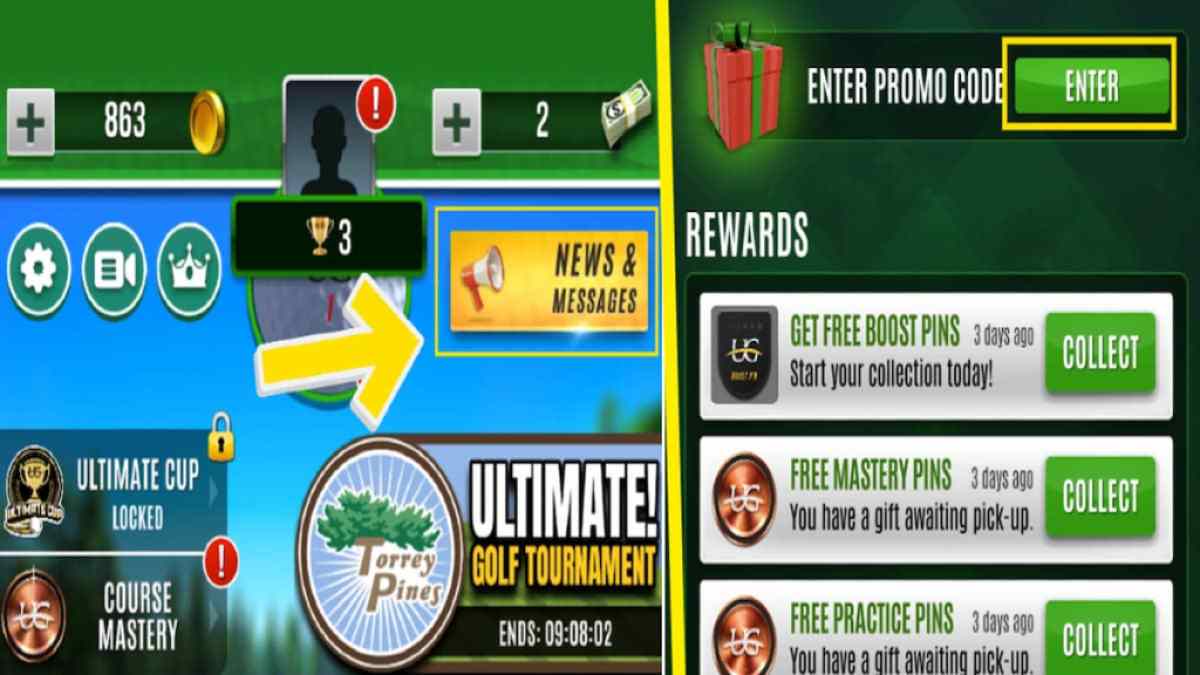 In the game, press the News & Messages/Rewards & Promo Codes button on the top right side of the screen.
In the Ultimate News menu, press Enter Promo Code on the top of the screen.
Type your promo codes into the textbox exactly as shown in the list above.
Press Submit to enjoy your rewards!
How can you get more Ultimate Golf codes?
Developers usually add codes during an update, event, or as a goal is met, such as a specific number of likes reached. Some developers will place them directly in the game's image or description to notify players when they are available. However, I like to follow them on their social media pages, such as Twitter or Discord, to stay updated more frequently. You can follow this experience on their Twitter, @UltimateGolfApp. For your convenience, you can also bookmark this page and check back whenever to see when new codes are added.
Why aren't my Ultimate Golf codes working?
There are various reasons why your codes may not be working correctly. The most common reason is that the codes may have already expired. Since codes are regularly cycled in and out of the game, they can expire with little to no notice. We try to keep our lists updated, but if you notice a change before us, feel free to leave a comment below, and we will try to fix it as soon as possible.
It is also important to double-check your spelling when entering codes. They are almost always case-sensitive, meaning the slightest typo could make them appear invalid. Ensure you are entering them exactly as shown in the list above, or if the game allows, I like to copy and paste to avoid any issues.
Other ways to get free rewards in Ultimate Golf
There are plenty of ways you can earn free rewards in Ultimate Golf, even besides just entering promo codes. On the main page, you can press the Free Rewards button to claim a Daily Free Bag full of items. Here, you can also watch some quick videos to earn some coins and rewards as well. Don't forget to keep an eye out for events happening in the game. They usually come with battle pass rewards that you can claim while you play as well.
What is Ultimate Golf?
I've always enjoyed sports, but sometimes I enjoy them even more when I can play them from the comfort of my couch, bed, or wherever I am. Ultimate Golf is a great mobile game you can play on the go and doesn't require you to be good at golf in the slightest. Compete against other online players in special matches, tournaments, and more modes as you play at your own pace and race to see who can get the best score and put first. Earn coins for each game to purchase fun accessories to customize your golfing gear and stand out. You will also earn trophies for each game you win and get your name on the leaderboard against other players.
If you're looking for codes for other games, we have a ton of them on our General Games Codes page! And in the meantime, take a look at the latest news to stay up-to-date with all things gaming.