So you were just carried by a massive bird to an unknown world or location, what now? Well, it's time to build a shelter, and here we are going to teach you the proper way to do it in Valheim!
How to make a shelter in Valheim
First, if you want to make a shelter in Valheim, you will need a hammer and a stone ax; the hammer you can make with three pieces of wood and two stones.
Getting both starting out is easy but a pain, as you will need to scourer the ground for branches and stone. Because of this, we highly recommend turning your vegetation quality all the way to low, as shown below to make your life easier.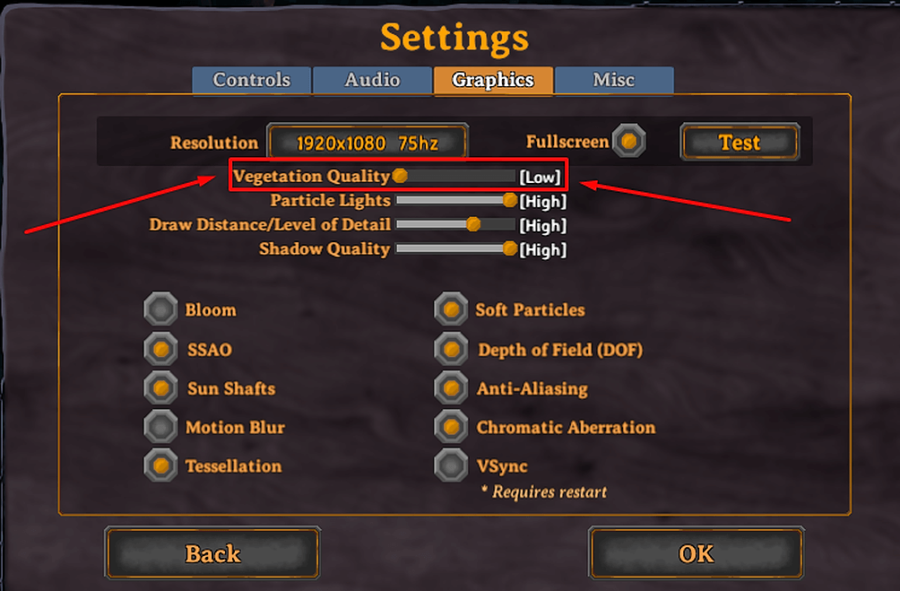 That said, along with three wood and two stone, you will also need to get an additional five wood and four stone to make your stone axe, so get gathering! Once you get both the stone axe, and hammer crafted, you will be able to move on to the next step, which is to start building your shelter.
How to build a shelter in Valheim Step by Step
Start by finding a nice semi-flat spot to build, if it's not totally flat, don't worry about it; you can make a tool called a hoe which will allow you to flatten it later.
When you find the spot you want to build at, grab your hammer and right-click it; after this, find the crafting tab, and locate the workbench icon and then place it. You will also want to make sure it is place in a spot similar to where ours is in the image below, but on ground level; this will be important later.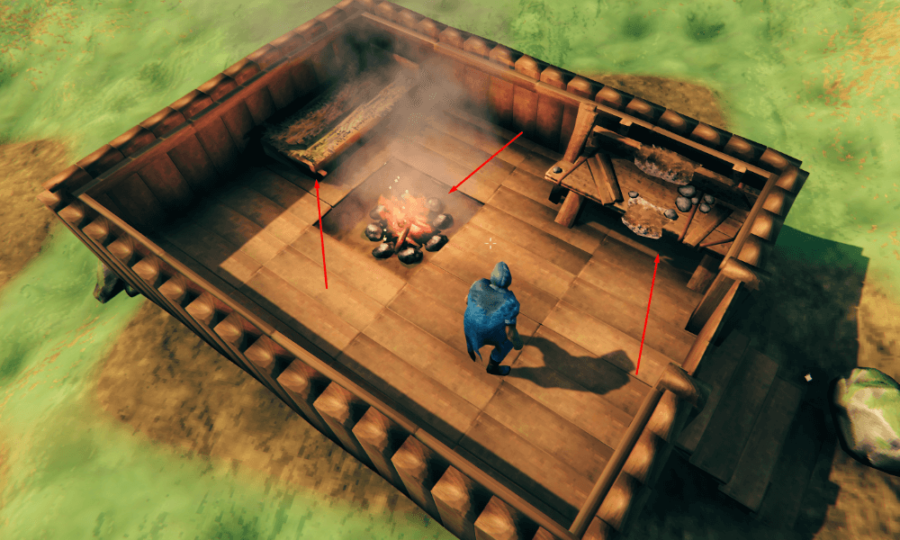 After placing the workbench, start putting wood walls down as shown above; these will cost two pieces of wood a piece, so make sure to chop enough beech trees down with that stone axe you made earlier.
If done right, you should have something that looks like what we have in our image above; if it's not, don't worry about it, as you will probably need something a little larger depending on your group size.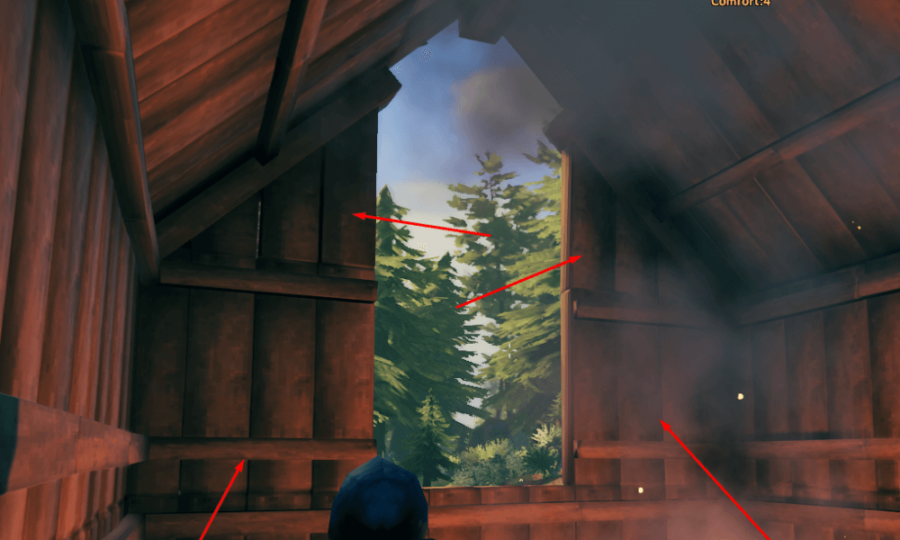 After getting both the floors and walls done, you can start adding a campfire and your bed. You will have to place a campfire on the ground level, so the ideal way to have a campfire in your base is to have an opening with your floorboards.
To do something like this, just find a good spot in your base ( ideally the middle part), and dismantle the floor, and then place the campfire. Next, you will need to place your bed near but not too close to make getting to the bed a chore and avoid getting burnt; it's not fun, trust me.
Related: How to build a forge in Valheim
When you get that done, you can then move on to your thatch roofs and ventilation, which both are essential for proper comfort levels. That said, to build thatch roofs, we prefer raising the walls two high, then we place 45-degree thatch roofs along and snaped to the top of the walls on both sides of the base so that they are connected perfectly.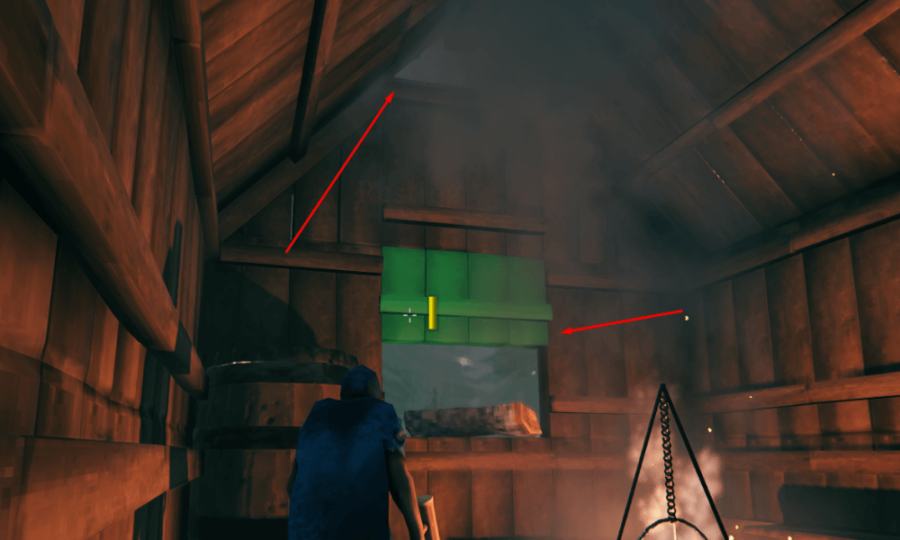 Once the roof is done, we close the front and back of the base up by building 45-degree wood walls on top of standard wood walls on both sides. Then for ventilation, we leave the top part open and then make a small window of sorts; you will also want to leave the top part where the roof meets the wall at the front of the base open.
To make a window, just place two small windows on top of each other and dismantle the bottom one. After that, you will have a fully secured shelter with just enough ventilation and comfort.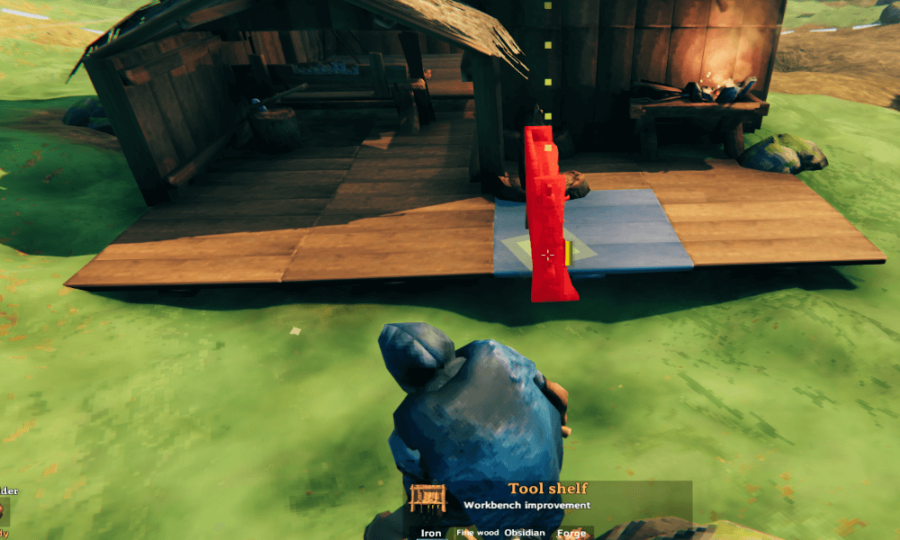 But if you want to expand, simply destroy the wall behind the workbench and start adding floors and walls as shown above; you will also want to do this to add upgrades depending on your base size.
Also, we don't recommend building your shelter in valheim precisely like ours; this guide is just meant to give you a general idea of what you need to do. Good luck, stay safe and watch out for trolls!
For on Valheim, PGG has you covered and more with tons of guides on various parts of the game and more. That said, start getting informed with guides like how to kill Deathsquitos and how to get Guck in Valheim today!