Frost arrows are a powerful arrow type in Valheim that is vital for fighting certain bosses; here's how to craft them and what resources you will need.
How to make Frost Arrows in Valheim
To make frost arrows in Valheim, you will need the following resources below, along with a level workbench.
Once you get all of these materials, you can then make frost arrows; however, some of them will be tricky to get, mostly the obsidian and freeze glands.
That said. Wood and feathers are more straightforward; to get wood, all you need to do is chop any tree down with at least a stone axe+. After that, you will need to hunt birds that occasionally fly near the ocean in both the plains and meadows biome to get feathers.
Related: How to craft the Best Bow in Valheim
Now once you got both of those resources nailed down, you can focus on the more challenging to get resources. To start, to get obsidian, you will need to head deep into the mountain biome and mine obsidian mounds high up in the biome. But before you do that, make sure to wear warm clothes, as the freezing cold will kill you.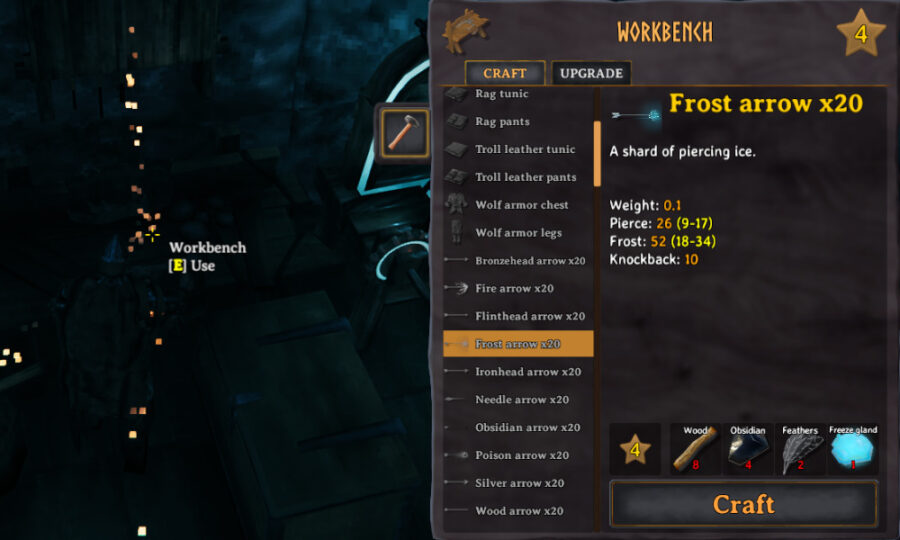 Also, while you are in the mountain biome, make sure to snipe a few of the ice drakes you may encounter, as these will drop the freeze glands you need. If you have trouble dealing with the drakes, we recommend making a huntsmen bow along with at least flint or fire arrows; if you don't know how to make any of these, here's how below.
How to make Fire Arrows in Valheim
How to make Flint Arrows in Valheim
How to make a Huntsmen Bow in Valheim
Once you get some frost arrows, they'll be handy to use in boss fights to slow down the bosses, they will also be hand to freeze sea serpents in their place while also dealing decent damage to them.
For more on Valheim, we at PGG have you covered with an entire roster of guides on nearly the entirety of Valheim, such as how to get guck and how to get black metal. Also if you were looking to make some armor sets, we got an entire game hub dedicated to making all armor sets in Valheim.