If you are in the market for something more robust to shoot enemies with, you are in luck, for there is such a weapon waiting for you in Valheim. It's called the Dragur Fang Bow, and here is how to make it.
How to make the Dragur Fang in Valheim
To make the best bow in Valheim, you will need to craft the dragur fang, as it is currently the best bow players can craft in the game so far. That said, to craft the dragur fang bow, you will need the following items below to unlock its crafting recipe.
Once you got all of the resources listed above, you can then make a dragur fang inside a level forge with the following amount of the resources listed above.
10 Ancient bark
20 Silver
Two Deer Hide
10 Guck
Related: Best weapons in Valheim
When crafted, the Dragur Fang will have the stats shown in the image below.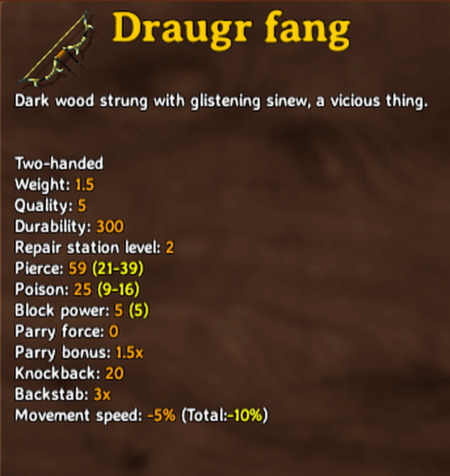 Overall, these stats are not too shabby and will be adequate as is, but you can increase them even further if you upgrade the bow; That said, here's what you will need to upgrade the Dragur fang to max rank.
How to upgrade the Dragur Fang to level two
Five Ancient Bark

10 Silver

2 Deer Hide

2 Guck

Level Three Forge
How to upgrade the Dragur Fang to level three
10 Ancient bark

20 Silver

Four Deer Hide

Four Guck

Level Four Forge
How to upgrade the Dragur Fang to level four
15 Ancient bark

30 Silver

Six Deer Hide

Six Guck

Level Five Forge
When fully upgraded, your dragur fang bow will have the following stats below, which include a new damage level of 59 pierce and 25 poison.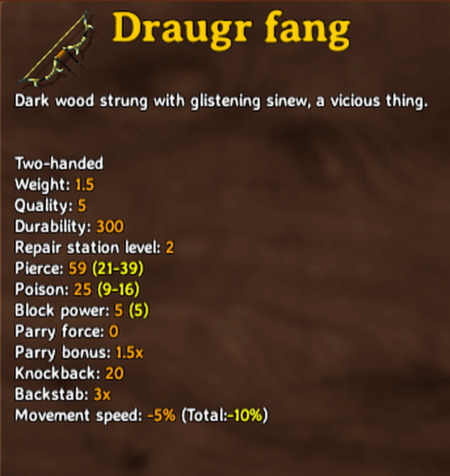 For more on Valheim, we at PGG have you covered with an entire roster of guides on nearly the entirety of Valheim, such as how to get guck and how to get black metal. Also if you were looking to make some armor sets, we got an entire game hub dedicated to making all armor sets in Valheim.