One of the most common important aspects of builds in Warframe is the survivability aspect. Fundamentally, it is nearly impossible to avoid all damage on screen when the sheer volume of enemies can be present at once. There exist methods to reduce incoming damage, and one such method is the Adaptation mod, a mod that we highly recommend to all Warframe players. Why? Well, here's everything you need to know about Adaptation in Warframe.
What is Adaptation in Warframe?
Survivability can be an issue in the early and late game of Warframe. In the early game, it is due to a lack of upgraded mods, and in the late game, it is due to a general lack of defensives equipped. Adaptation is one of the best defensive mods in the game due to its ability to dramatically reduce the effectiveness of incoming damage. For your reference:
| Rank | Damage Resistance | Duration | Polarity Cost |
| --- | --- | --- | --- |
| 0 | 5% | 10 | 2 |
| 1 | 5.5% | 11 | 3 |
| 2 | 6% | 12 | 4 |
| 3 | 6.5% | 13 | 5 |
| 4 | 7% | 14 | 6 |
| 5 | 7.5% | 15 | 7 |
| 6 | 8% | 16 | 8 |
| 7 | 8.5% | 17 | 9 |
| 8 | 9% | 18 | 10 |
| 9 | 9.5% | 19 | 11 |
| 10 | 10% | 20 | 12 |
Adaptation works like a ramping damage reduction buff. When you take damage, let's say Slash damage for this example, you'll gain resistance equal to the rank level of the currently equipped mod. So, if you're Adaptation mod is rank 10, you'll gain 10% resistance to Slash damage for 20 seconds. This may not seem like much, but the real power of Adaptation is its ability to stack 10 times for a maximum of 90% damage reduction. This reduction also stacks with other defensive abilities from Warframes, mods, and Arcanes. Adaptation stacks up about once a second for every separate application of a damage type, meaning that you'll be at 90% in no time in large fights.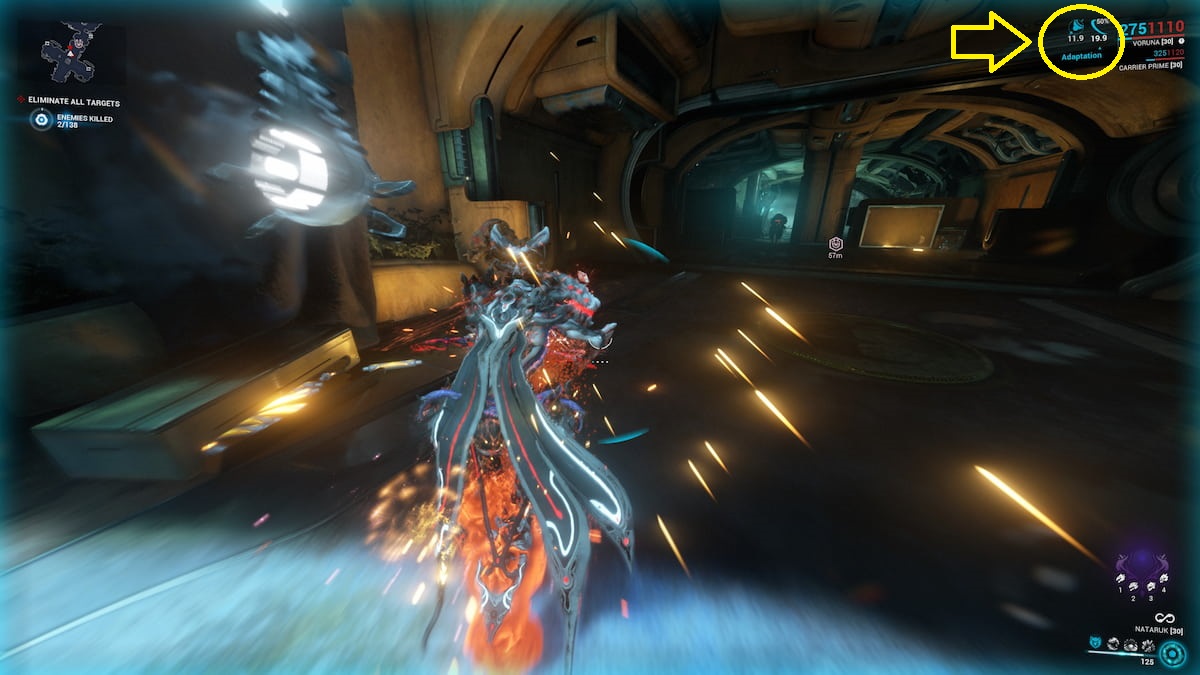 As you might suspect, having Adaptation equipped makes your Warframe extremely beefy, but it is not without weaknesses. Since the mod's damage reduction begins at 10%, starting at max rank, sudden burst damage can be fatal without other defensive mods or abilities active. This isn't really a problem at low levels, but sniper rounds and other kinds of high-damage attacks can be an issue at high levels.
Related: Warframe Kuva Weapons Tier List
How to get the Adaptation mod
Acquisition of Adaptation comes in two flavors: direct purchase from a player or farmed from Arbitration missions. The easiest method to obtain the mod is to buy it from a player using platinum. Getting the mod this way grants you access to it from the beginning of the game, without any further investment. Platinum can be purchased in-game or traded via market selling.
The other method, farming it through Arbitrations, is a much more difficult affair. First, you'll need to unlock Arbitration missions. This is done by the arduous task of completing all the nodes on the Star Chart. This effectively means you must play through the entire first half of the game. Upon completion, Arbitrations missions are unlocked. Adaptation has an incredibly low drop rate from these missions, so you may find yourself farming them for quite some time for the mod.
For more guides and information on Warframe, check out our Warframe – Devstream 167 Overview right here on Pro Game Guides.