Updated: September 26, 2023

Checked for new codes!
As someone who grew up painting Warhammer 40k minis, I was stoked when Warhammer 40,000: Tacticus arrived on mobile. Unlike many of the PC games associated with the franchise, Tacticus is a fantastic homage to the tabletop original. I love how each faction tells its own story, often from two sides of the same battle. And even more, I love the codes you can find to get loads of in-game freebies!
Warhammer Tacticus codes can give you a wealth of cool free in-game rewards. Many give you one or both of the game's two main currencies, Coins and Blackstone (used to buy cates and equipment), while others can give you everything from Raid Tickets to Requisition Scrolls to help you recruit new units. If you love turn-based mobile sci-fi games, you should also check out Dislyte Codes.
All Warhammer Tacticus Codes List
Working Warhammer Tacticus Codes (Active)
TRENTON—Redeem for 50 Blackstone, 1 Requisition Order (New)
ARJACPLUS—Redeem for 10 Arjac shards (New)
1TACTICUS1—Redeem for 1 Requisition Order, 12 Raid tickets, 3650 Coins, 365 Blackstone, 52 Energy
WELCOME—Redeem for 500 Blackstone
AHEM—Redeem for 1 (yes, one) Blackstone
MOP-24-ICY—Redeem for 100 Blackstone

WARHAMMER—Redeem for 3,000 Coins and 200 Blackstone
SKULLS23—Redeem for 5,000 coins, 300 Blackstone, and 1 Requisition Scroll
CAPS—Redeem for 5 Raid tickets
GALAXY—Redeem for 300 Blackstone and 5,000 Coins
SUMMON—Redeem for 1 Requisition Scroll
SRSBSNS—Redeem for 1 Common Combat Knife
Warhammer Tacticus Codes (Expired)
TYRANIDS—Redeem for Blackstone and Coins
OOOAEAHOUOS—Redeem for 100 Blackstone and 1,000 Coins
LOBSTER—Redeem for 5 Calgar Shards, Mutation: Scaly Skin, 3 Uncommon Upgrades, 777 Coins
MAUGANTROUBLE—Redeem for 300 Blackstone
Redwhiteblue2023—Redeem for Coins and Blackstone
SQUIRRELSKULL—This code has expired

AZHAIKU2023—This code has expired
STUCK—This code has expired.
SADPUPPY—This code has expired
PREPARETHEWAY—This code has expired
AZRAEL—This code has expired
SURVEYTHANKS—This code has expired
SERVERWOES—This code has expired
EQUINOX2023—This code has expired
Related: Avatar Generations Codes
How to redeem codes in Warhammer Tacticus
Follow the instructions below to redeem codes in Warhammer Tacticus.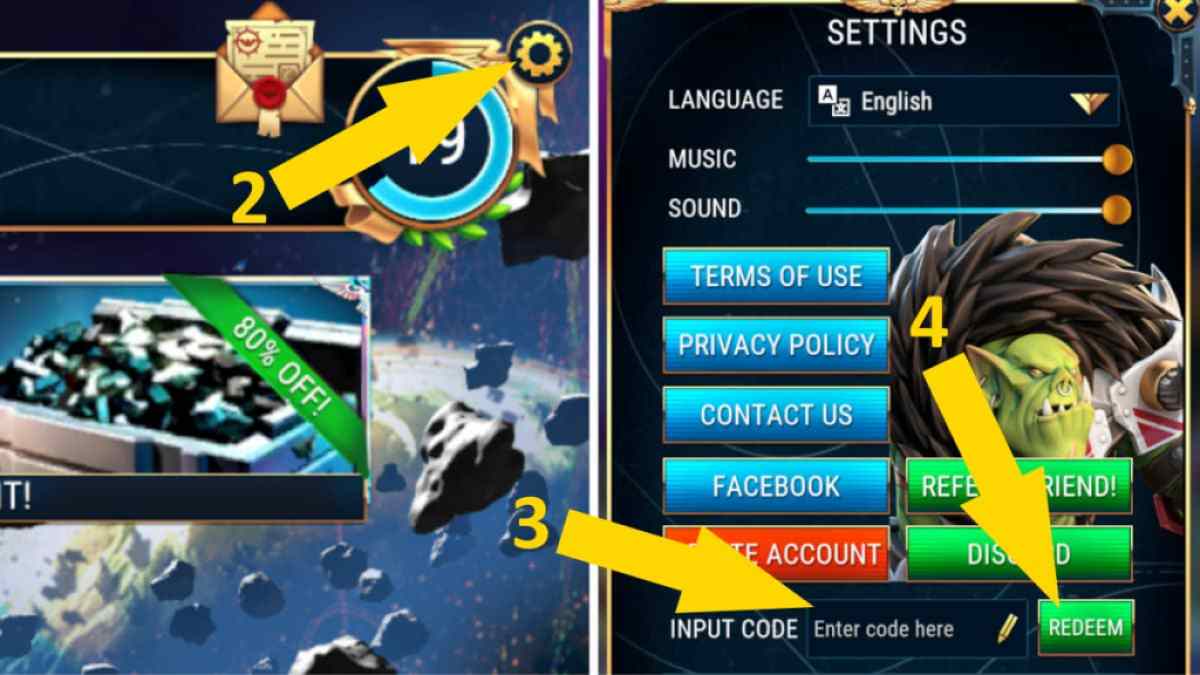 Launch Warhammer Tacticus on your device and go to the Home screen.
Click the Settings cog in the top right of the screen.
In the text box saying Enter code here, do so exactly as it appears in our list.
Press the green Redeem button to claim your reward! You will need to claim it from your Inbox.
How can you get more Warhammer Tacticus codes?
If you're looking for more Warhammer Tacticus codes and information, a great place to start is by becoming part of the Tacticus Discord Server. There you'll find channels dedicated to game announcements, patch notes, and more. You can also follow @tacticusgame on Twitter, like the Warhammer 40,000: Tacticus Facebook page, and subscribe to the TacticusGame YouTube Channel.
Why are my Warhammer Tacticus codes not working?
Warhammer Tacticus codes need to be entered exactly as you find them above, including any capitalization; otherwise, they won't work. If a code isn't working for you, have you tried cutting and pasting it directly from us? This avoids any chance of other errors, too, such as thinking a letter is a number. If that doesn't fix the issue, the code is likely to have expired. In this case, we can't help but let us know below so we can update the guide and come back soon to check for new codes!
Other ways to get free rewards in Warhammer Tacticus
If you want to maximize your freebies in Warhammer Tacticus, make sure to play a little every day to claim your free Daily Login Reward. In the Shop, look out for free Requisitions, and also note you can watch ads for free items in the Daily Deals section, as well as collect your free Regular Crate there each day. Note that this gets better as you level up. Finally, keep an eye on what you need to do to complete your Daily Missions. These give some sweet free rewards for completing simple tasks, so don't forget to do and claim them each time you log in.
What is Warhammer Tacticus?
Warhammer Tacticus is a squad-level turn-based tactical battle get set in the Warhammer 40K universe. You control a team of up to five warriors in a range of scenarios, from storylines to arena and guild PVP. You can control units from lots of the game's factions, from Ultramarines to Orks and the Aeldari, leveling them up and equipping them with powerful new weapons and items.
If you're looking for codes for other games, we have a ton of them in our Roblox Game Codes post! You can also get a bunch of free stuff via our Roblox Promo Codes page. And in the meantime, take a look at the latest news to stay up-to-date on all things entertainment.