The Bladed Wagasa is an incredibly powerful weapon to use if you have the patience and finesse for it. Unlike most other weapons in the game, it heavily benefits from a few perks in the Weapon Tree beyond just simple numbers. We've built the Bladed Wagasa up a few different ways to minimal results in the past, but now we've got the perfect build for it, and are more than happy to share to help you to save a little time. Here's the best build for the Bladed Wagasa in Wild Hearts.
Wild Hearts - The Strongest Bladed Wagasa Build
The Bladed Wagasa's core mechanic requires you to build up its meter so that you can deal significant damage. While dealing damage and using karakuri attacks helps build this gauge. Doing this is incredibly difficult without using the weapon's signature Parry mechanic. This is because parrying attacks with the weapon generates large amounts of its meter.
The ideal playstyle sees you face tanking monsters so that you can always be in position to parry their attacks and build meter quickly. However, the window to successfully parry is extremely small, so the build we recommend focuses on extending the size of that window, and improving the benefits you receive for parrying in the first place:
Related: Wild Hearts Review: A Flawed Gem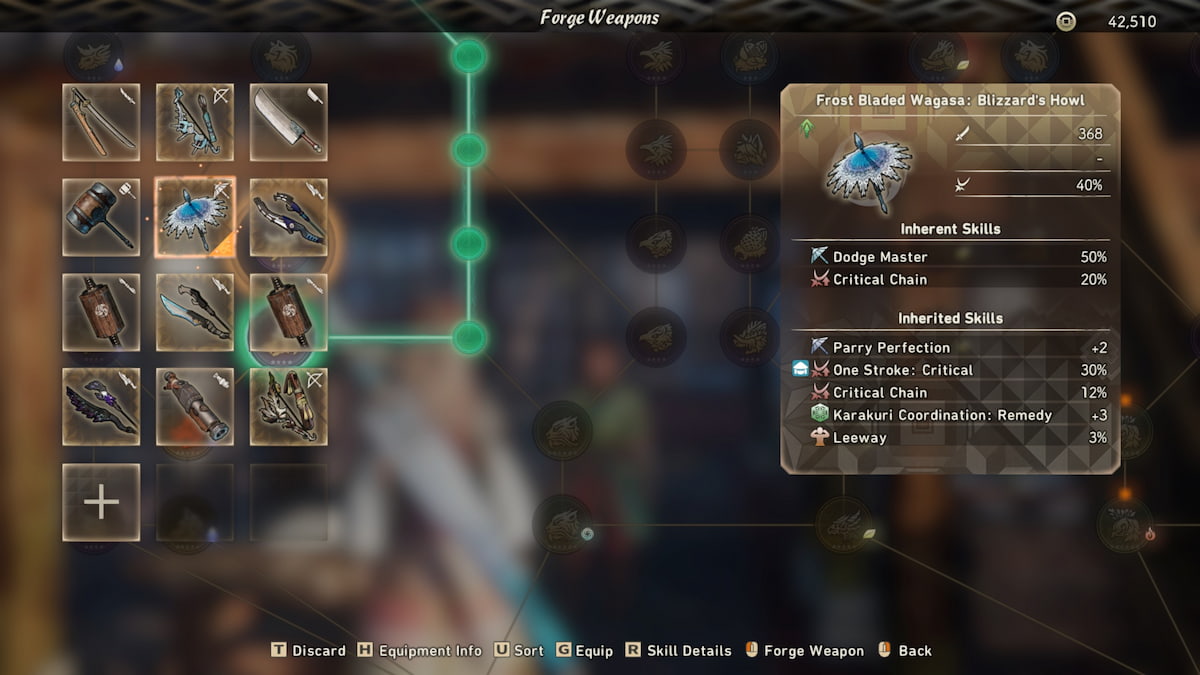 | Skill Name | Effect | Build Potency |
| --- | --- | --- |
| Dodge Master | Lengths the window of of time needed for a successful parry | 50% |
| Critical Chain | Boosts the chance of unleashing additional critical hits after landing a critical hit | 32% |
| Parry Perfection | Fills the Wagasa spindance gauge for a short while after a successful parry | +2 |
| One Stroke: Critical | Boosts critical chance after destroying a part of a kemono | 30% |
| Karakuri Coordination: Remedy | Heals you using an attack utilizing basic karakuri | +3 |
| Leeway | Reduces stamina loss when at full health | 3% |
The most important aspect of this build is the skill, Dodge Master. This ability, as listed above, dramatically boosts the amount of time you have to land a parry once pressing the button. We consider this skill to be a must-have as it simply makes playing the Wagasa much more tolerable than without it.
For more helpful tricks and information relating to Wild Hearts, check out the Best Wild Hearts mods and our Wild Hearts – Karakuri Tier List right here on Pro Game Guides