You've probably noticed giant dragons flying around in the sky as you've been exploring Hyrule in The Legend of Zelda: Tears of the Kingdom. The first time I saw one, I was terrified, thinking it would eat me. But thankfully, they're docile unless you get too close. One of these dragons is Dinraal, and you'll need its scale for certain armor upgrades. Here's how to get Dinraal's Scale in TotK.
Where to get Dinraal's Scale in Zelda Tears of the Kingdom (TotK)
To get a Dinraal's Scale, you must land on the dragon's back. You can do this by using a Skyview Tower to launch Link up to the Sky Islands and gliding onto the back of the beast with your Paraglider.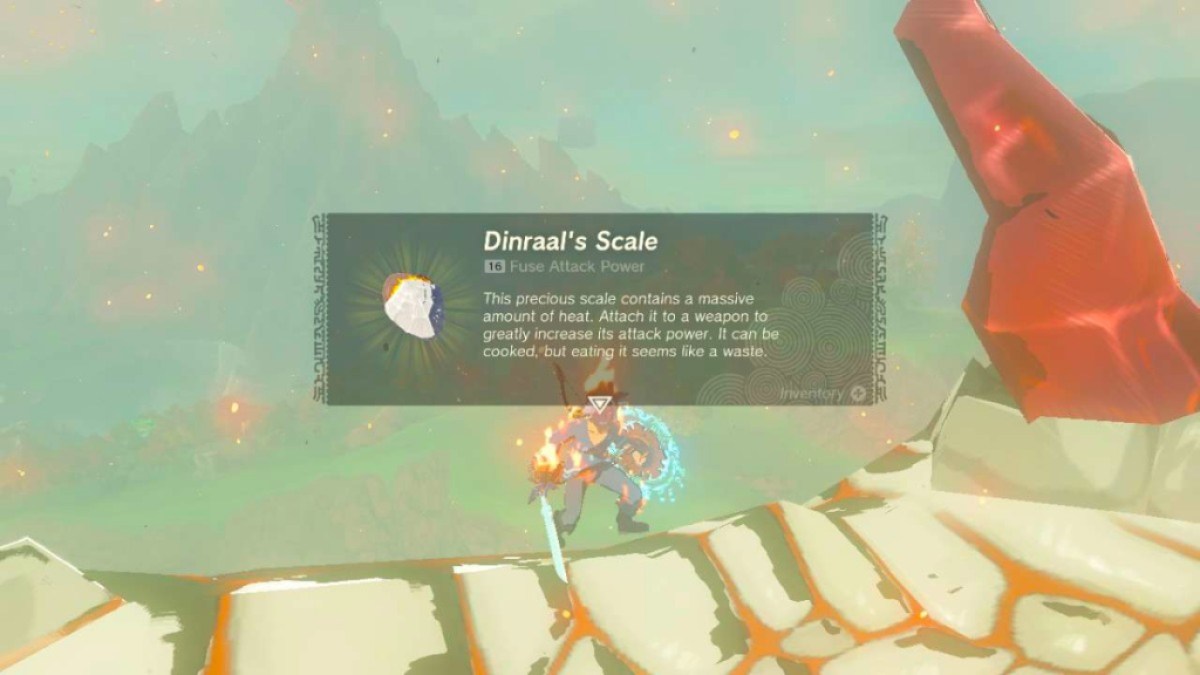 Once you've landed on its back, simply use a weapon to strike at the dragon's scales once they glow, and one will fly off. Pick it up to add the Dinraal's Scale to your inventory!
You will have to hang out on the dragon's back for about 10 minutes for it to start glowing again, at which point you can harvest one of the other dragon parts: Dinraal's Fang or Dinraal's Claw, which are taken by hitting the mouth or a foot, respectively.
How to find Dinraal in Tears of the Kingdom (Zelda TotK) - Exact location
I've been able to get the fire dragon to appear at the exact same location and time both times I've searched for it, so it probably flies around the map at specific time intervals.
Related: How to get Endura Carrots in Zelda Tears of the Kingdom (TOTK)
Go to the East Akkala Plains Chasm in the Akkala Highlands (map coordinates 4025, 2173, 0032) and wait until just before 3am, which is when I encountered it. Other reports are saying different times, so you might have to keep an eye on the Chasm hole for 10 to 20 minutes for the dragon to start emerging.
Dinraal will emerge from the Chasm and fly up into the sky, where you'll be able to glide onto its back from the nearest Skyview tower or sky island. Make sure you bring Heat Resistance food and clothing and avoid using a wooden bow, shield, and weapon, as the dragon's scales are scalding hot and will burn Link and his flammable items. It also breathes fire, so be careful to avoid the flames.
How to use Dinraal's Scale in Zelda Tears of the Kingdom (TotK)
The main use for Dinraal's Scale in TotK is for specific armor upgrades (like the attack-boosting Fierce Deity Armor set) at a Great Fairy Fountain. It can also be used to create dyes at the Kochi Dye Shop in Hateno Village or can be fused to a weapon with Link's Fuse ability to create powerful equipment.
For more on The Legend of Zelda: Tears of the Kingdom, check out How to get Farosh's Scale in TotK (Zelda Tears of the Kingdom) on Pro Game Guides.