While you traverse the mystical lands and forests in Blacktail, you will encounter many strange beings. One of these individuals is Boruta, a red-colored devil who wishes to make a pact with you. Accepting Boruta's Pact will bestow one of three status effects on you for a limited time. However, be warned, they come with certain costs. This guide will tell you whether you should accept or decline Boruta's Pact in Blacktail.
All Boruta's Pact status effects in Blacktail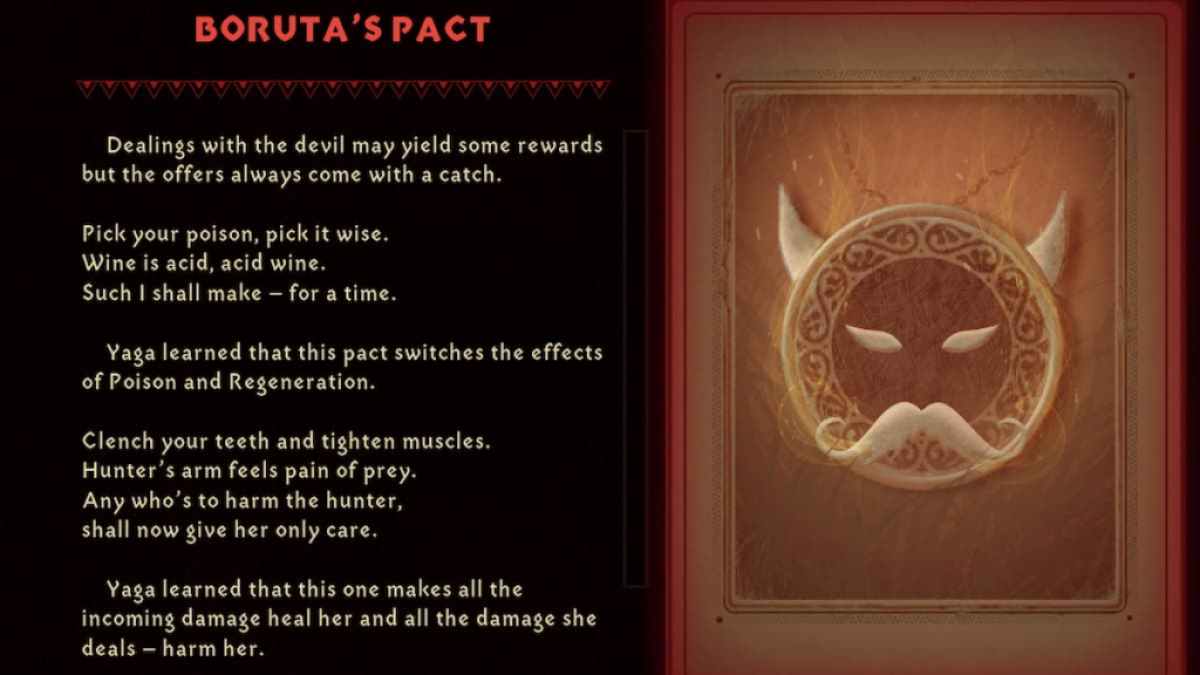 As mentioned before, Boruta is a devil who spawns in random areas of the map. He can be spotted easily, thanks to his bright red exterior and his constant whistling tunes. If you interact with Boruta, he will offer you one of three Status Effects, each in the form of a riddle. Players can choose to accept or decline the offer. However, your decision regarding Boruta's Pact does not affect your Moral Stance. The following are the three possible Status Effects granted by Boruta in Blacktail:
"Pick your poison, pick it wise,
Wine is acid, acid wine.
Such I shall make—for a time."

Accepting this pact reverses the effects of poison and regeneration.

"Clench your teeth, and tighten muscles,
Hunter's arm feels pain of prey,
Any who's to harm the hunter,
shall now give her only care."

Accepting this pact turns all incoming damage into healing and all outgoing damage into self-damage.

"Heed me, heed, for I will say it once!
Maybe twice if you insist,
Clever bird who hunts with wit,
Hardly ever shuns my gifts!"

Accepting this pact grants you unlimited Wooden Arrows for a limited time.
As one can tell, almost every status effect by Boruta has a positive and negative effect simultaneously. We suggest declining Boruta's Pact, unless he offers the pact, which grants unlimited Wooden Arrows, which can sometimes be a game changer.
Wondering whether your progress is kept after completing Blacktail? Check out Is there a New Game + in Blacktail?, right here on Pro Game Guides.