Our Borderlands 3 Best Legendaries guide features a look at all of the most powerful weapons and items you can find in the game. We're also featuring how to get every one of these best weapons that's on our list. If you're looking to become the strongest you can be, you will want to start collecting all of these Legendaries. You should keep in mind that just because a Legendary is on the list doesn't mean that it will be good with your build or character. Certain guns are meant for specific builds, but because they make them so powerful they will be listed here.
Borderlands 3 Best Legendaries List
Got a Legendary you really love and feel like belongs on this list? Let us know in the comments. That said, the following are what we at Pro Game Guides consider the best Borderlands 3 Legendaries:
Lyuda Sniper Rifle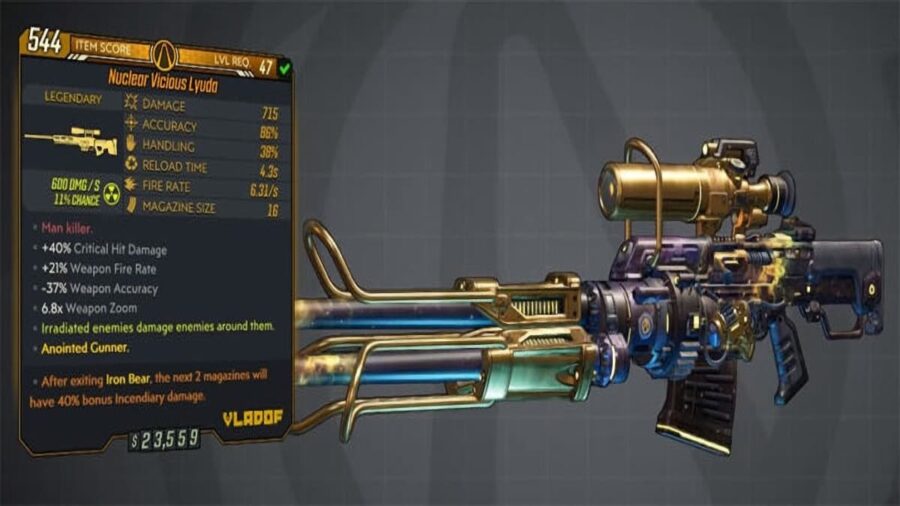 This is just an insanely powerful weapon that fires a ton of shots extremely quickly for a lot of damage. It's a bit crazy to think that a sniper rifle is capable of pumping out this type of fire in such a short time, but that's what comes with having multiple barrels to work with. This was one of the best guns to put on FL4K when his Crit Build was still working at its peak, but now with the additional nerf to Leave No Trace it looks like FL4K is going to be searching for a new build. This weapon works well with just about every character due to its overall power level.
How to get the Lyuda in Borderlands 3
This is a world drop, so you will want to do some Legendary farming (best methods can be found here). However, with the Lyuda you can actually guarantee yourself one if you complete all of Zero's Targets of Opportunity. There are ten in total, you can see all of them in Zer0's room on Sanctuary. Here's a list of their names and locations:
Hot Karl - Pandora, Devil's Razor
DJ DeadSk4G - The Splinterlands
Crushjaw - Pandora, Cathedral of the Twin Gods
Baron Noggin - Promethea, Meridian Metroplex
Handsome Jackie - Promethea, Skywell-27
Judge Hightower and his Gang - Promethea, Lectra City
Sky Bullies - Eden-6, The Anvil
Heckle and Hyde - Eden-6, Jakobs Estate
Psychobillies - Eden-6, Ambermire
Sylestro and Atomic - Nekrotafeyo, Tazender Ruins
Once you complete the last one you will find the weapon under the Social and then in the Mail menu! Do this once you've hit level 50 to make sure you get a high-level gun.
Rowan's Call Assault Rifle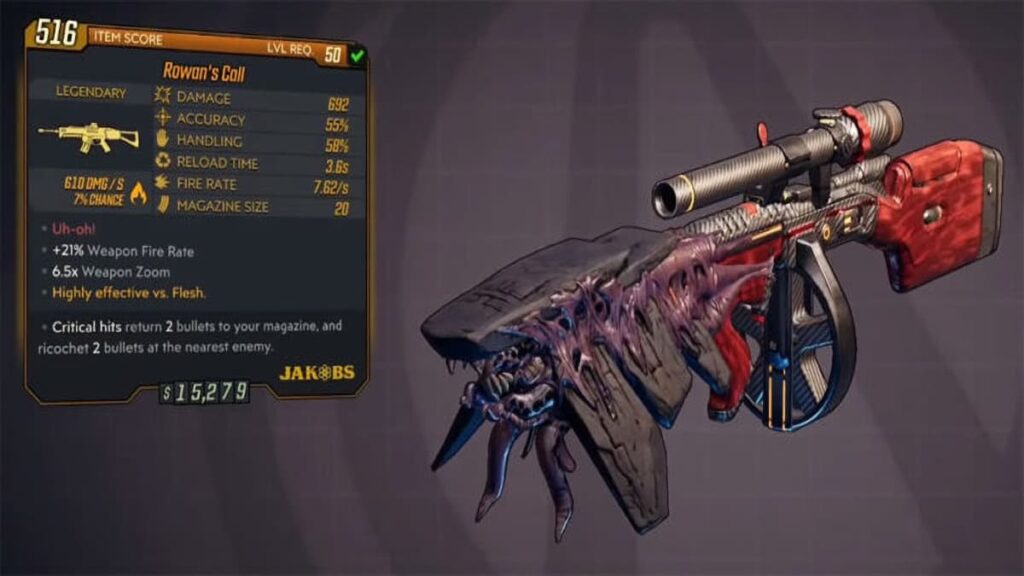 Rowan's Call is powerful due to high damage and the fact that critical hits will return 2 bullets to your magazine, AND ricochet 2 bullets at the nearest enemy. That is a pretty insane perk that will have you ripping through enemies quite quickly if you can continually hit crits. This was another great weapon on FL4K prior to his considerable nerfs. It still works great for any build that is dishing out critical hits, and will make clearing waves of enemies easy!
How to Get Rowan's Call
If you want to get Rowan's Call you will need to farm for it. In short Rowan's Call is a world drop, so check out our farming guide to find the best spots to grind.
Flakker Shotgun
The Flakker is a very powerful shotgun that fires what's basically a huge grenade and will explode in a bunch of smaller explosives that basically AOE in the same area. This gun works particularly well with a character like Moze who can use a build that increases the splash damage radius/damage. You will need to be careful how you use this weapon, because it has a fixed range on how far it fires when in close range. If an enemy is in your face, the shot will usually miss them and land further away.
How-to Get the Flakker
Flakker is a world drop so you will need to farm to get it in Borderlands 3. We recommend checking out our farming guide to find the best spots to grind for the Fakker shotgun.
Lucian's Call Assault Rifle
The Lucian's Call is very similar to both the Rowan's Call and the Lyuda. It has the double-barreled Gatling gun style that is like the Lyuda, but will also return bullets and ricochet off of enemies like Rowan's Call. The damage is lower, but the fire rate is quite a bit higher. You'll want to run this weapon with characters that refill their magazines with someone like Moze and FL4K.
How to Get Lucian's Call
Lucian's Call can be farmed via most boss methods, but can also be targeted by obtaining Loot-o-Grams. These are dropped by a specific rare spawn on Promethea: Skyfall-27. You can find out more about this with our guide. The Loot-o-grams can have a drop from a pool of three Legendaries, one of them being Lucian's Call.
Brainstormer Shotgun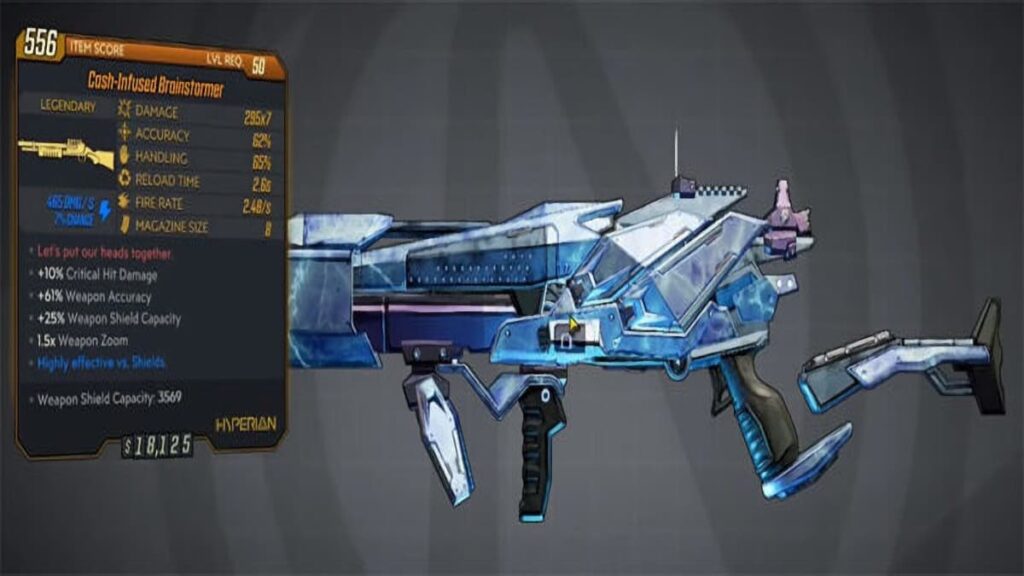 This is a great weapon for builds/characters like Amara that can pull enemies into a smaller area. This shotgun shreds shields, but it also deals AOE damage to any nearby enemies, so you'll be trashing any enemies that cluster together close enough to be hit by it.
How to Get the Brainstormer
There's good news if you're looking to farm this weapon, because it drops off the boss Killavolt who can be farmed pretty reliably now that he's been nerfed! This is temporary while Boss Week is going on, so make sure to take advantage of it while you can! If you miss out on that farm, then you'll just need to farm Legendaries like you normally would.
Cutsman SMG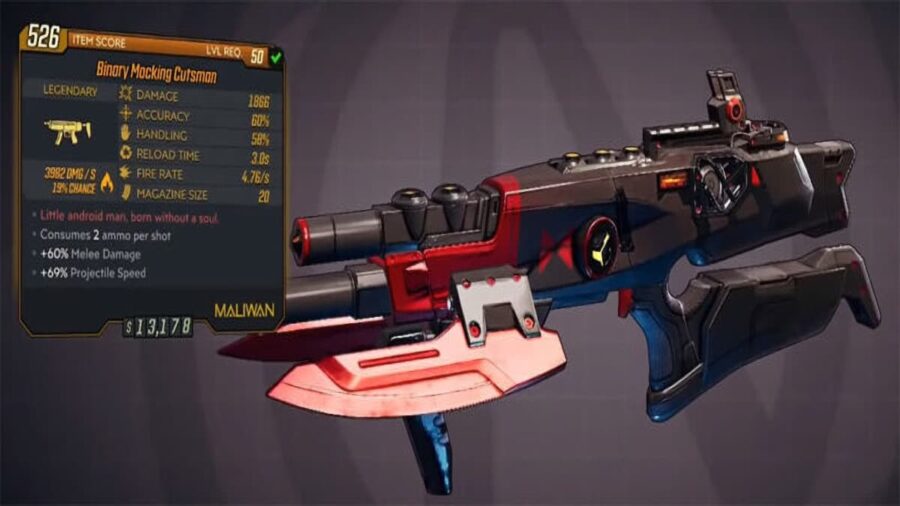 This is a great weapon for classes like Amara and Zane who can boost their elemental. This gun does crazy damage, and also gives a boost to melee if you're running an Amara melee build. The one caveat for this gun is that it's kind of awkward to shoot due to it being a Maliwan and requiring you to charge it up before firing. Not only that, it's a projectile weapon so you'll want to be closer to enemies when you fire it. This is great for bosses due to the super high incendiary damage it deals per second.
How to Get the Cutsman
If you want to get the Cutsman Legendary gun, you will need to farm for the weapon. In short, Cutsman is a world drop. Luckily Pro Game Guides has a farming guide to find the best spots to grind.
Crossroad SMG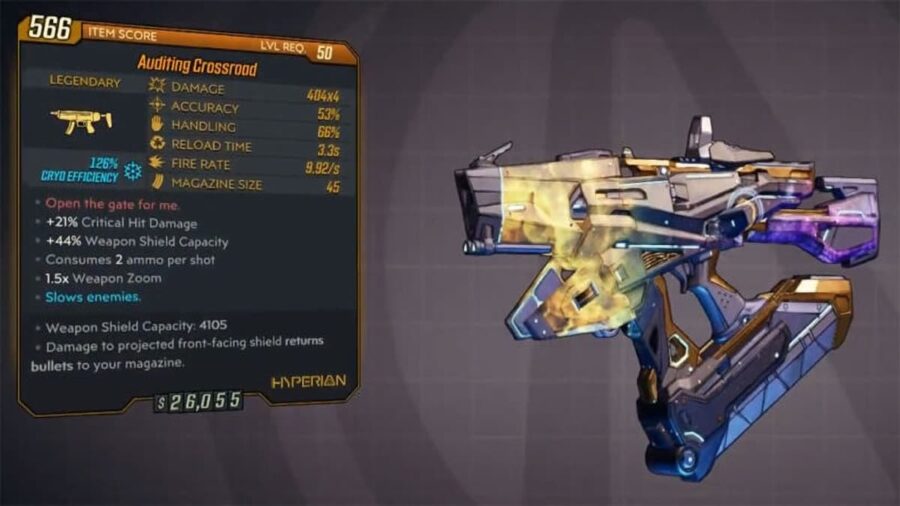 One of the most powerful SMGs in the game right now is the Crossroad. It can come in any of the elemental damages, and it deals a crazy amount of damage. It has an insane fire rate and a large magazine size. The one bummer is that it's a burst fire weapon and doesn't have a secondary mode to switch out of it.
How to Get the Crossroad
If you want to get the Crossroad Legendary gun, you will need to farm for the weapon. In short, Crossroad is a world drop. Check out the Pro Game Guides farming guide to find the best spots to grind.
For more on Borderlands 3, we at Pro Game Guides have you covered with guides like Borderlands 3 Shift Codes List (June 2022) – Shift Codes for Golden Keys & Rewards and Borderlands 3 Skins List – Amara, FL4K, Moze, & Zane.