Have you ever wondered what a fully-automatic Desert Eagle would feel like? If yes, then you have to use the GS Magna Handgun that has been added to Call of Duty: Warzone 2 with the Season 3 Reloaded update. An upgraded version of the .50 GS pistol, this weapon is extremely lethal at close range. Here's a guide where I have listed the best GS Magna build and how to unlock it in Warzone 2.
Best GS Magna Loadout & Attachments Warzone 2
Muzzle: EXF Fifty GS

Barrel: SA Tyrant Fifty
Underbarrel: Bruen Warrior Grip
Magazine: 13 Round Mag
Rear Grip: GS Magna Akimbo
The GS Magna shares most of the attachments with its original version, the .50 GS. However, the damage stats are significantly increased as the full-auto gun has a high fire rate and the ability to be dual-wielded. The latter can be achieved using the Akimbo perk, which is great for extremely close range. That said, this weapon is by no means viable for competitive gameplay. Use it for fun only.
Related: Best FTAC Siege Loadout in Warzone 2
Best GS Magna Class Setup
Primary Weapon: ISO Hemlock / M4

Secondary Weapon: GS Magna
Tactical: Smoke Grenade
Lethal: Semtex
Perk Package: Double Time, Battle Hardened, Fast Hands, High Alert.
How to unlock the GS Magna Handgun in Warzone 2
To unlock the GS Magna, you need to get 30 headshot operator kills using the .50 GS. This weapon challenge can be completed in any game mode, but I recommend doing this in MW2 Multiplayer or Plunder for faster results. You can use the following .50 GS build for the task: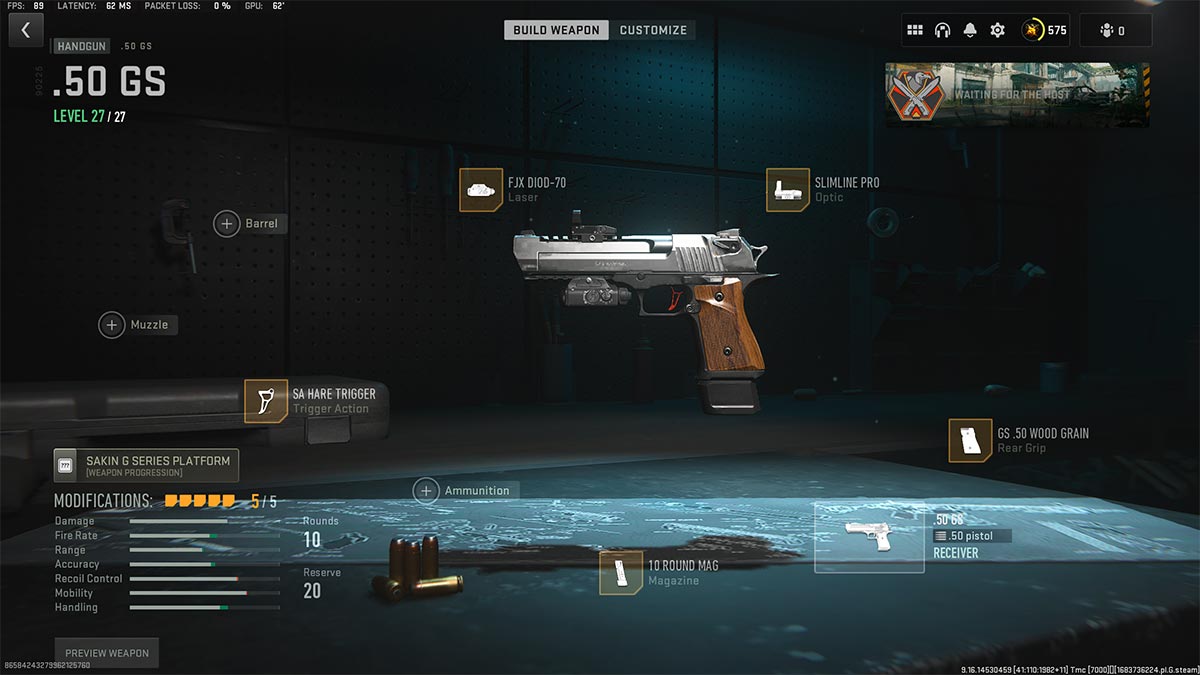 Laser: FJX Diod-70

Optic: Slimline Pro
Trigger Action: SA Hare Trigger
Magazine: 10 Round Mag
Rear Grip: GS .50 Wood Grain
Stay tuned to Pro Game Guides for more Call of Duty: Modern Warfare 2 and Warzone 2 content. In the meantime, head to our How to level up guns fast in Plunder in Warzone 2 article.