Company of Heroes 3 is a real-time strategy that takes you to Mediterrean, one of the most dynamic theaters in World War 2. True, you can't compare the scale of warfare in Africa and Italy to epic battles on the Eastern front that CoH2 covered. But here, the mobility of the armies and outsmarting the enemy are essential. Like in real-life battles in WW2, each army in CoH3 has a specific approach to warfare. So which faction is the best in Company of Heroes 3?
Which Faction to choose in Company of Heroes 3?
There are four factions in Company of Heroes 3, two on each side. Allies are represented by British and US Forces, while Axis factions are Afrikakorps and Wehrmacht. Of those four, Wehrmacht is the best faction in Company of Heroes 3, at least until you master the game and all of its intricacies.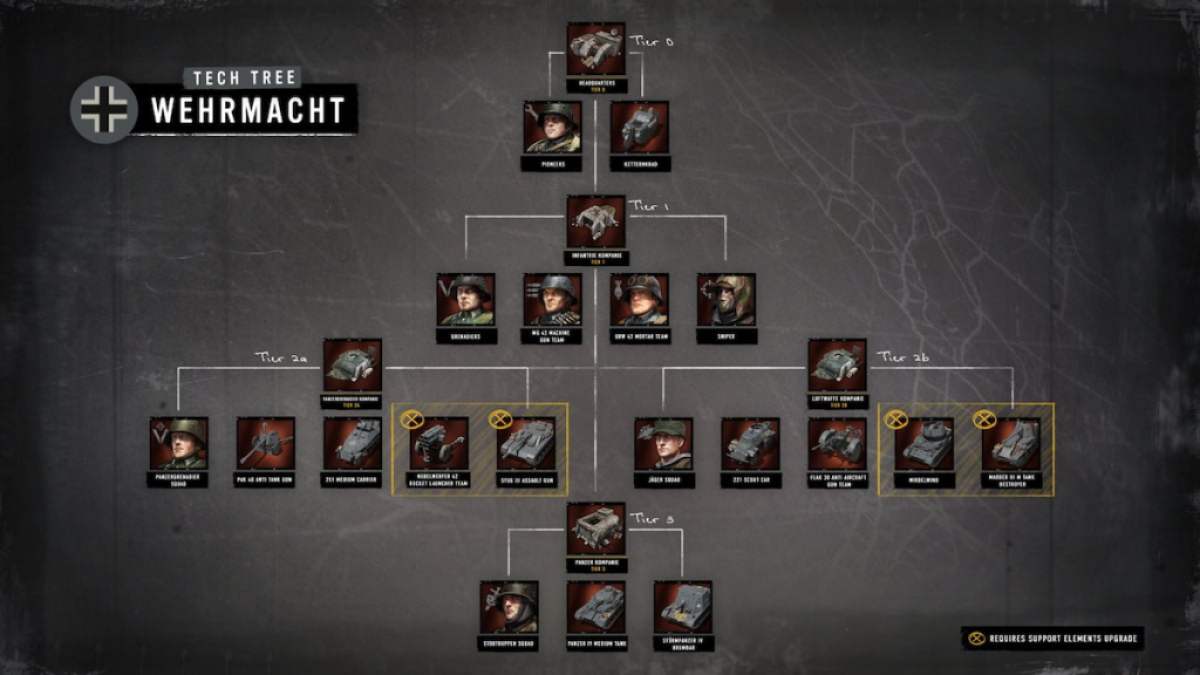 Related: Best Strategy Games
Wehrmacht was always the first choice in Company of Heroes games, as no one has better defensive units. While other factions may excel in the later stages of the match, the first minutes are crucial in setting up the stage for later dominance. Just look at the Tier 1 units in the image above. You have everything you need for early dominance on the map. Use MG42 to protect strategically important positions, but try to get to Tier 2 fast, as you'll need PAK 40 anti-tank gun.
Other factions have their strengths also, especially Afrikakorps, which have fast and efficient vehicles. British Forces focus on agile infantry that can push the tempo in the early game. It's also of great help that you have Vickers machine gun team at the start at Tier 0. US Forces offer specialized troops that can be very effective but require certain experience.
Company of Heroes 3 Build Order for Beginners (Wehrmacht & British Forces)
If you're new to Company of Heroes 3, start with Wehrmacht or British and focus on basic build orders. Always start with an engineer/pioneer backed by a machine gun team. You can add a mortar team or sniper, but try to get to Tier 2 fast. The best way to learn more about factions is to play single-player content in CoH3, like campaigns and skirmishes.
For more on Company of Heroes 3 and other excellent real-time strategy titles, check out The Best RTS games on PC, Xbox, and PlayStation on Pro Game Guides.