Company of Heroes 3 is the latest game in the CoH real-time strategy series that dates back to the early 2000s. In the game, players will get to choose one of the major factions that played a huge part in the Mediterranean theater of war (Italy and North Africa) in World War 2. Here's everything we know about CoH 3, including the release date, trailer, game editions, factions, and much more!
Company of Heroes 3 FAQ, Answered
What is CoH 3 release date?
The release date for Company Of Heroes 3 is February 23, 2023. Depending on your preference and game platform, you'll have an opportunity to get a digital or physical version. That said, on what platforms will CoH 3 be available at launch?
What platforms will Company of Heroes 3 be on?
You'll be able to play Company of Heroes 3 on several platforms:
Company of Heroes 3 PC Edition will have full support for 4K visuals so you can see the battlefield in all its glory.
CoH PS5 Edition will have full controller support, while the user interface is modified so you can play it on your PS5 console without stress.
CoH3 Xbox Series X|S Edition will have controller support and User Interface optimized for Xbox real-time strategy experience.
Which Company of Heroes 3 Editions are available for pre-order?
You can choose to pre-order digital and physical Company of Heroes 3 editions:
Company of Heroes 3: Physical Premium Edition
Company of Heroes 3: Physical Launch Edition
Company of Heroes 3: Digital Premium Edition
Company of Heroes 3: Digital Launch Edition
Company of Heroes 3: Console Edition
Which game modes does Company of Heroes 3 have?
You'll be able to play CoH 3 in four game modes:
African Operation - German campaign with infamous Africa Korps led by Erwin "Desert Fox" Rommel faced British troops led by Field Marshal Bernard Law Montgomery.
Italian Dynamic Campaign - sandbox-style campaign similar to Total War where you'll have to make vital strategic decisions on a Dynamic Campaign Map.
Multiplayer - test your skills against players online.
Co-op vs. AI - play with friends against the computer.
Which factions are playable in Company of Heroes 3?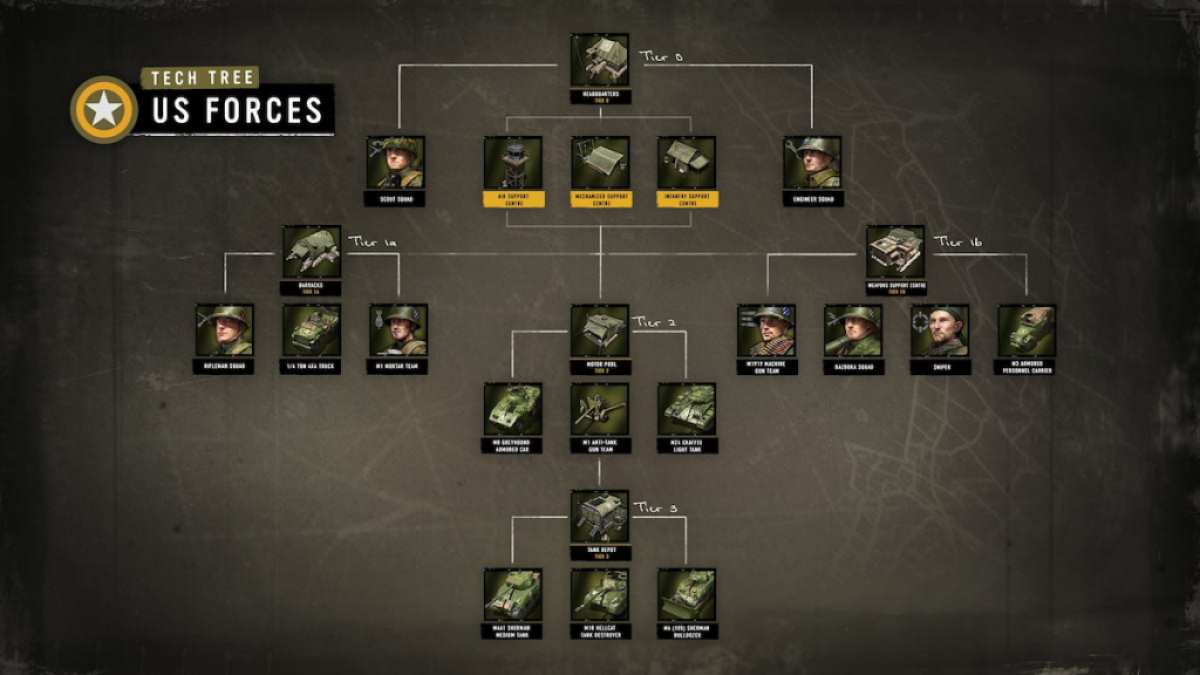 Company of Heroes 3 will have four playable factions on launch:
| Allies | Axis |
| --- | --- |
| British Forces | Deutsches Afrika Korps |
| U.S. Forces | Wehrmacht |
Players will choose one of these factions and can either play in single-player skirmish or multiplayer mode and campaigns. The campaign has a vast dynamic map, similar to the ones in Total War titles. You'll be able to move armies around, scout, and even use Italian partisans to disrupt the enemy's movements.
Related: Best Strategy Games
Company of Heroes 3 new features
These are some of the new features you'll experience in Company of Heroes 3:
Artillery in CoH 3 - You'll be able to use air and artillery to damage the enemy army before engaging on a battle map.
New commander system in Company of Heroes 3 - There will also be a commander system in CoH 3 where they'll offer advice and recommend different plans of attack to win battles.
Full Tactical Pause in CoH 3 - Console players can pause the action in the campaign. This works like a quasi-turn-based mode, as you'll have time to pause the game and issue orders. Think of the Total War combat system, where you press pause to issue orders to characters.
Company of Heroes 3 Trailer
For more on Company of Heroes 3 and other excellent real-time strategy titles, check out The Best RTS games on PC, Xbox, and PlayStation on Pro Game Guides.