Might of the Ancients is a permanent event in Cookie Run: Kingdom, allowing all players to receive one of three Ancient Cookies and an exclusive Landmark for free. It's a simple task-based event that's easy to do—even for new players. The hardest part is picking which Ancient Cookie you want on your team.
How to complete Might of the Ancients in CRK
Start by heading to the event menu and select Might of the Ancient on the lefthand corner. You can also access the event through the Cookie menu, where you must click on the button on the bottom left of the screen.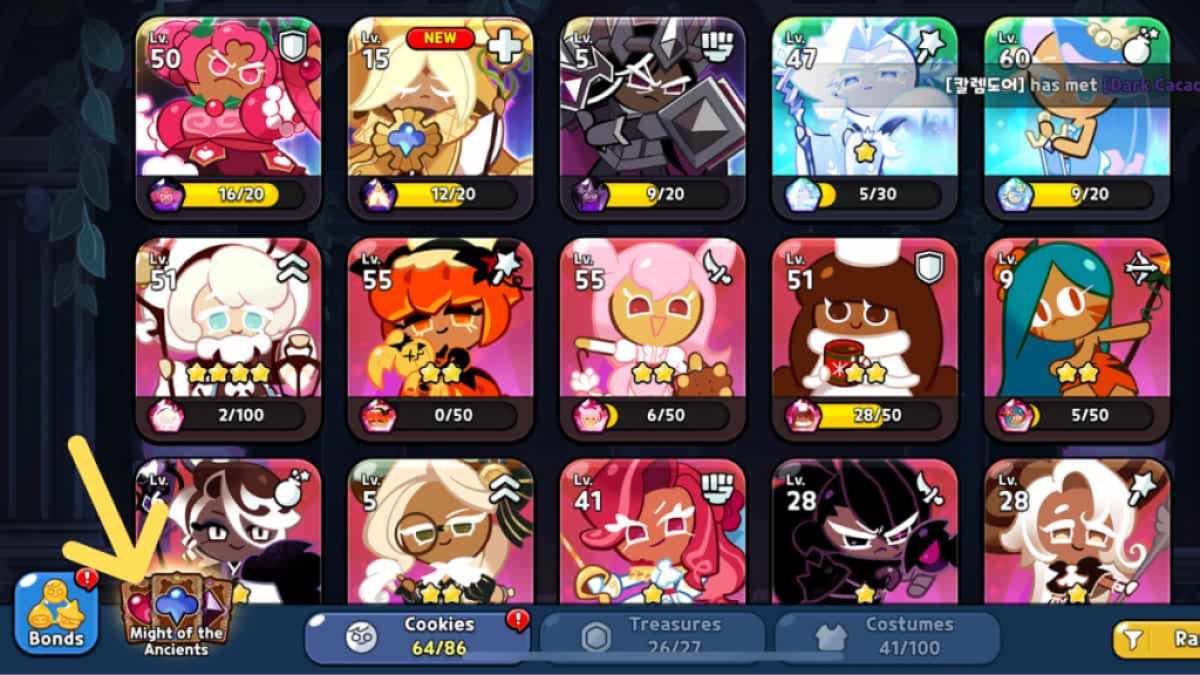 As soon as you begin, you'll be asked to choose one of three Ancient Cookies: Hollyberry Cookie, Pure Vanilla Cookie, and Dark Cacao Cookie. Choose wisely as you can't change Cookies later on. Whichever you pick will be a permanent addition to your roster.
Related: Best Cream Puff Cookie Toppings build in Cookie Run Kingdom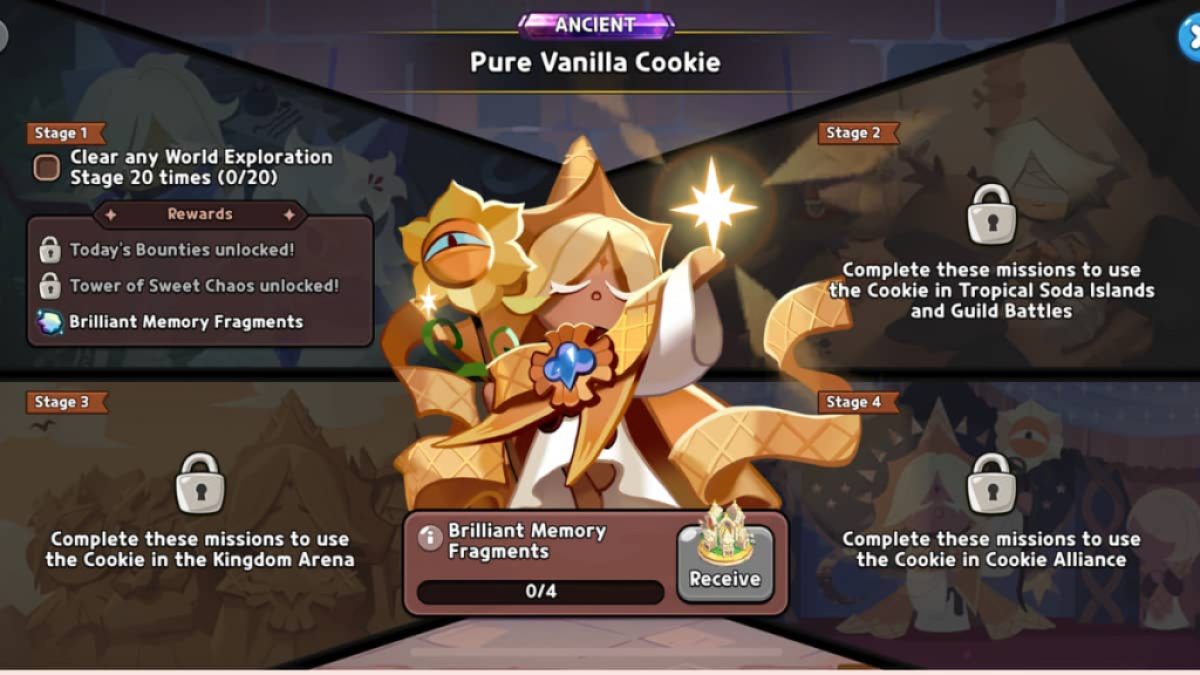 You will immediately receive the Ancient Cookie of your choice, but it will be locked to certain game modes at the beginning of the event. You must complete four tasks to unlock more game modes where the Cookie can be used.
For example, in the beginning, your Ancient Cookie can only be used in World Exploration. But after completing the stage one task (clear 20 World Exploration stages), you can use the Ancient Cookie in Bounties and Tower of Sweet Chaos.
Stage one: Clear any World Exploration stage 20 times.
Stage two: Complete Today's Bounties 15 times.
Stage three: Meet 40 Cookies (own 40 Cookies).
Stage four: Compete in the Arena 40 times.
Stages two to four are time-gated if you're a free-to-player, but they're fairly easy to complete. One week should be enough to complete all tasks, which will allow you to use the Ancient Cookie freely in all game modes.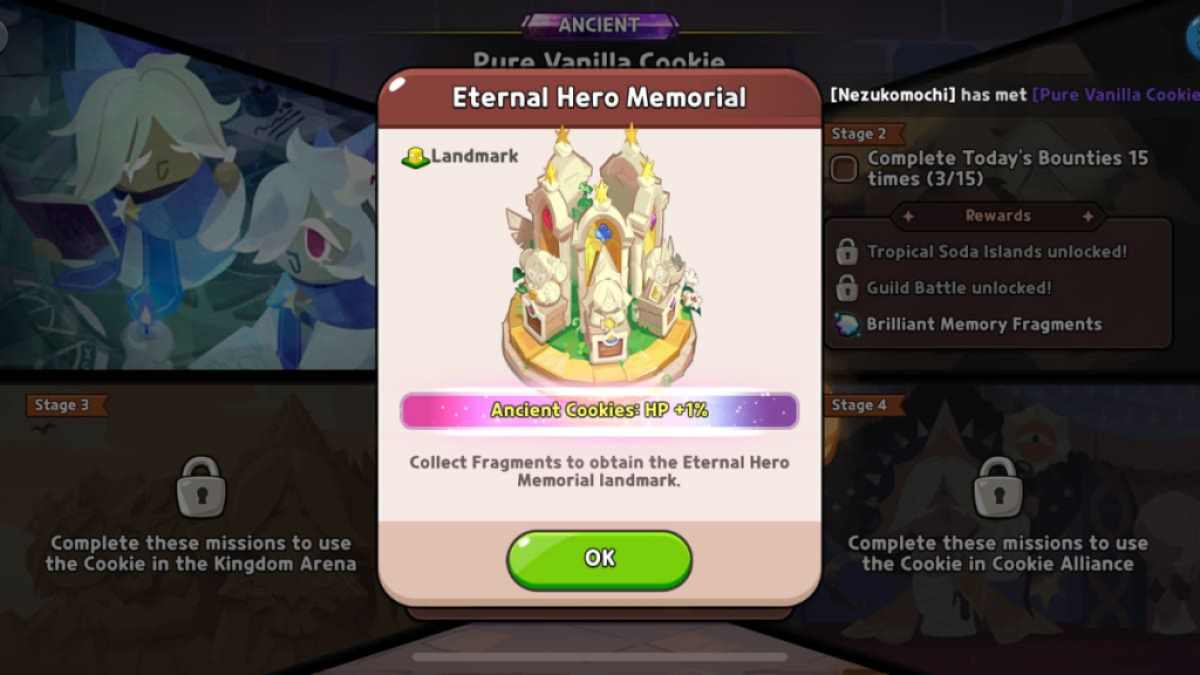 Additionally, completing each task will reward you with Brilliant Memory Fragments. Collect all four to unlock a Landmark called the Eternal Hero Memorial, which increases Ancient Cookies' HP by 20 percent at max level.
Which Ancient Cookie should you choose in Might of the Ancients
If you already own Ancient Cookies, consider picking one you don't already have to introduce variety into your roster. If you don't own any of them, here are some pointers to help you:
Hollyberry Cookie - a reliable, no-brainer tank who does her job well. Her straightforward kit lacks versatility but manages to defend the frontlines regardless of the game mode.
Pure Vanilla Cookie - an amazing healer that can support allies with a strong shield. He's a popular pick in the Arena despite the saturation of great healers in the game.
Dark Cacao Cookie - a strong and reliable Cookie that can debuff the enemy's ATK and DEF, making him especially useful in longer game modes, like World Exploration and Guild Battles.
All Ancient Cookies are great assets for your team, so pick whoever you need the most. Our top pick would be Pure Vanilla Cookie due to his unparalleled healing prowess and overall versatility, but all the options are great nonetheless.
To upgrade your Cookies, check out What is a Magic Candy & how to use it in Cookie Run Kingdom here on Pro Game Guides.