Counter-Strike: Global Offensive, also known as CS:GO, is one of the most popular first-person tactical shooter games that require players to team up in competitive round-based game modes of defense and offense. It is praised as one of the best competitive shooter games, and it paved the way for many other great titles to follow it. What makes it even more successful is that it is entirely free to play on multiple platforms.
With the game being free, this leaves room for players to instead spend a little bit on unique skins that will make them stand out from the rest of the competition. These weapons skins come in various styles for your favorite weapons and can be bought for real currency. Not only will they make you look like a boss, but some of them can also be profitable for you if you decide to sell them to others. You can find some great, affordable skins that look colorful and creative without paying hundreds of dollars. Here are some of the best skins we've seen this year so far!
Top 10 Best 2022 Skins for CS:GO
Water Elemental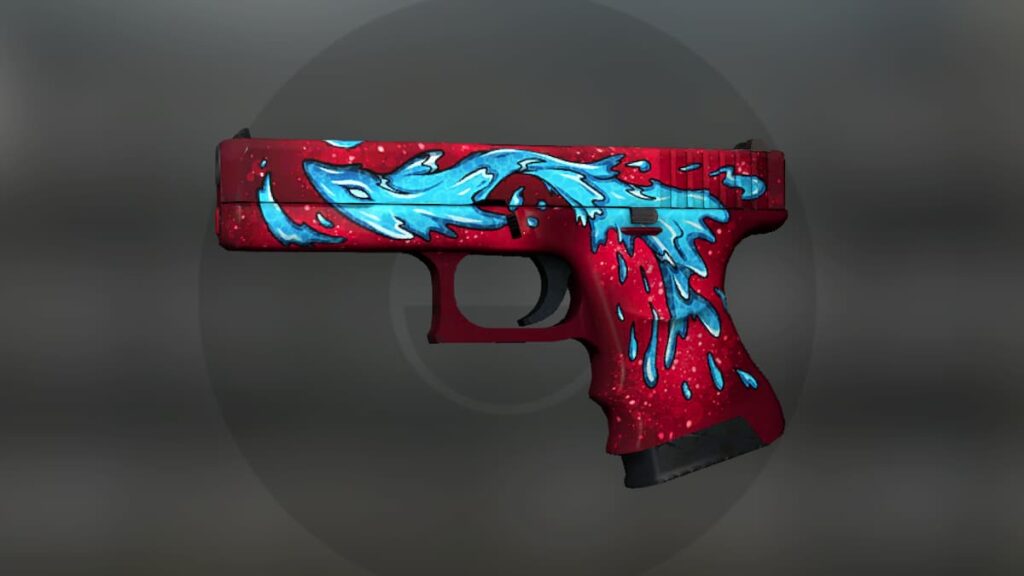 The Water Elemental skin has a sparkling ruby red frame with the perfect contrasting splash of blue that will pop on the battlefield. Although you may only be able to find this skin available for the Glock-18, it is relatively cheap, especially if you don't mind buying one that has seen some previous action.
The Breakout Collection
Available for: Glock-18
Estimated Price: Factory New - $9.50
Neon Rider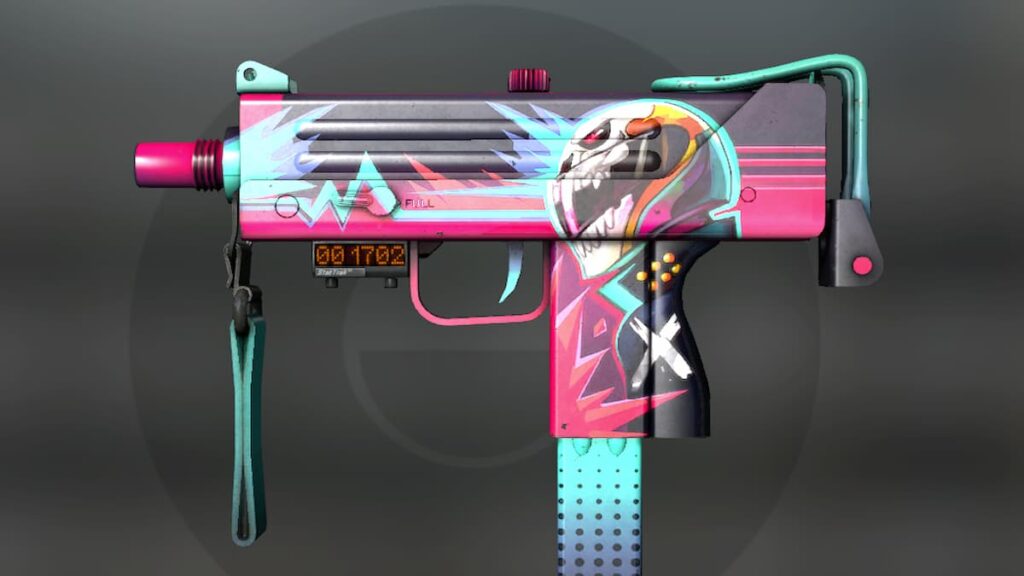 The Neon Rider is a colorful pop art display with a punk-themed style, showing off bright pinks, blues, and hints of gold. It portrays a skeletal figure outlined in vibrant colors, taunting your enemies. You can more commonly find this skin available for the Mac-10 or AK-47, but the price is slightly higher for the AR, with an estimated cost of up to $40.
The Chroma 2 Collection
Available for: Mac-10, AK-47
Estimated Price: Factory New or Field-Tested - $10.26-$38.36
Leaded Glass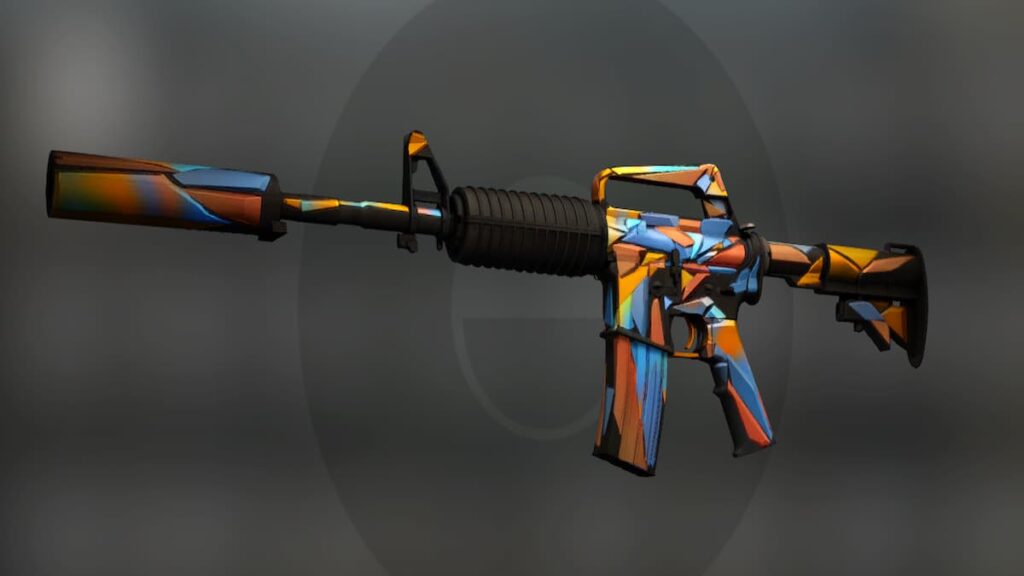 If you're looking for something that will really make you stand out from the competition, look no further than the Leaded Glass skin. This skin is a beautiful mosaic of bright orange and blues, pieced together to look like stained glass. You may only be able to find it for the M4AI-S, but it's another great, affordable option.
The Spectrum 2 Collection
Available for: M4A1-S
Estimated Price: Factory New - $12.21
Phantom Disruptor
The Phantom Disruptor is less of fun and colorful skin and more of a fierce display with its more subtle color scheme of yellows and light blues. The skin depicts a phantom-like beast spread across the weapon's frame with sharp pointed teeth and spiny tusks. You can usually find this strictly for the AK-47, and what better gun to display this skin?
The Prism 2 Collection
Available for: AK-47
Estimated Price: Factory New - $11.22
Cortex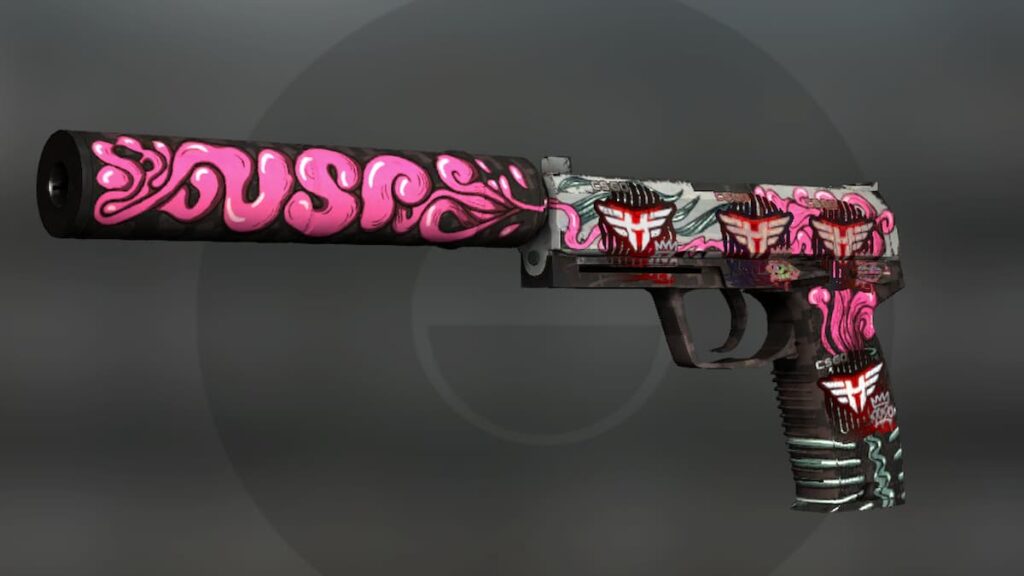 This graffiti-styled skin features bright and bold bubblegum pink colors on an otherwise plain frame, giving you just the right amount of drip to show off to your competitors and let your weapons shine. You can get this excellent skin for relatively cheap, but it may only show up for the USP-S.
The Clutch Collection
Available for: USP-S
Estimated Price: Factory New - $9.51
Tiger Moth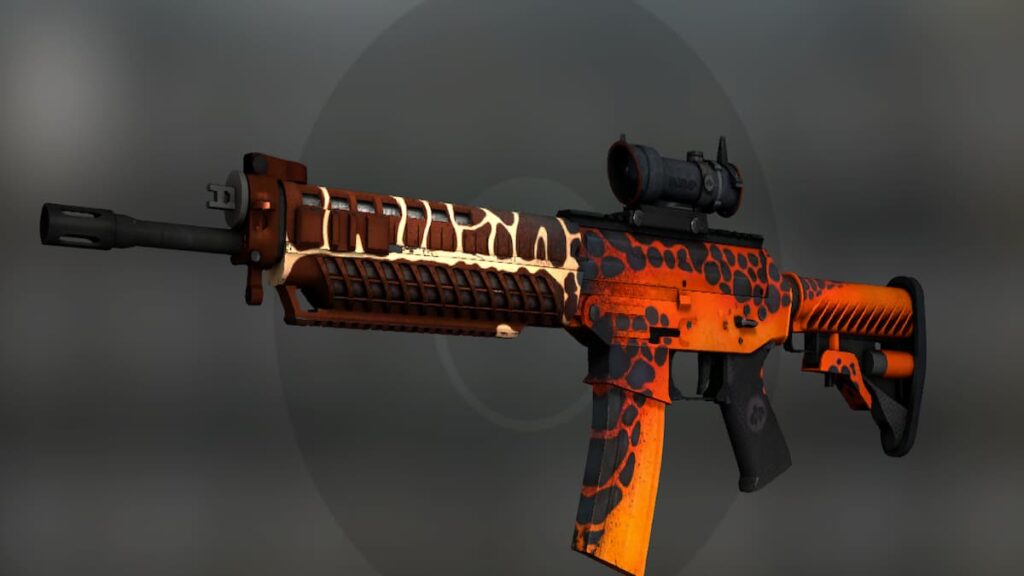 This one-of-a-kind skin is stunning on the battlefield with its mismatched animal prints. This skin depicts a giraffe that eases into a cheetah or tiger-like print, bringing big bold yellow and orange colors against darker brown and black shades. Though you might only be able to find it for the SG 553, you can get a factory new version of this for super cheap!
The Revolver Case Collection
Available for: SG 553
Estimated Price: Factory New - $2.93
Light Rail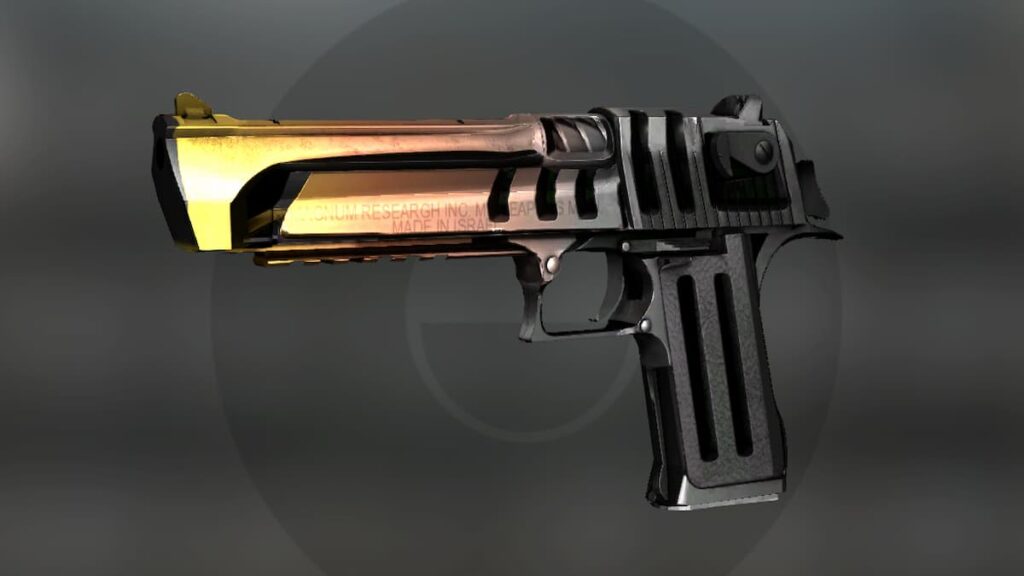 The Light Rail is an elegantly styled skin perfect for those who just want a hint of color without any other crazy jazz. The tip is a shiny gold that fades into bronze and then dissipates into the ordinary flesh of the weapon. You can notice a stamp of text on the frame that continues to add to that factory-made aesthetic. You can more commonly find this available for the Desert Eagle, and it is another cheap grab.
The Prisma Collection
Available for: Desert Eagle
Estimated Price: Factory New - $3.51
Related: 10 Best Spectre skins in Valorant
Atheris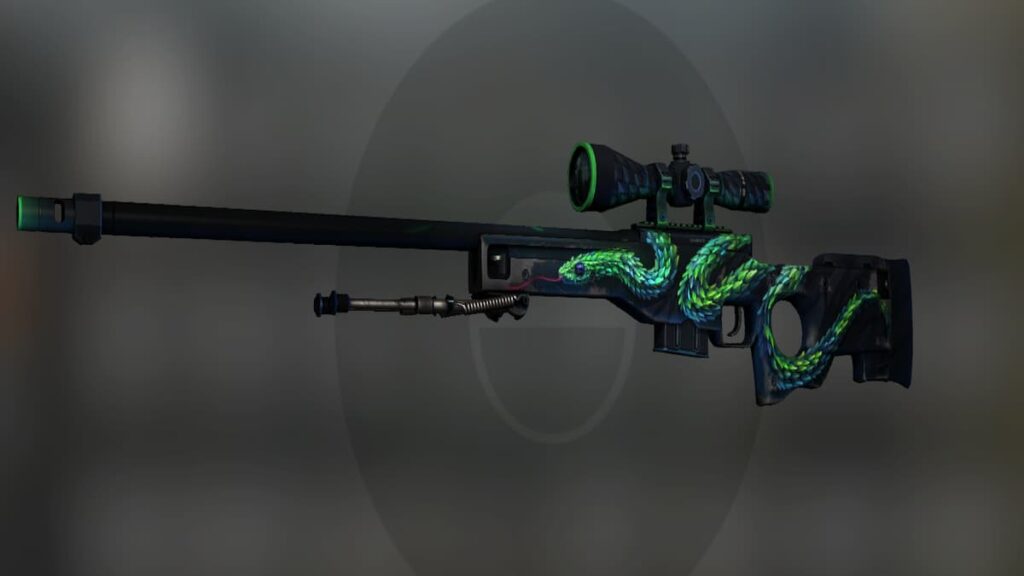 The Atheris skin is a gorgeous but menacing depiction of a snake wrapped around the hilt of your weapon, flaunting large scales in bright greens with hints of blue. Snatch up this skin for your AWP and remind your competitors of the venom you will soon release, and for a reasonable price estimated around $14 for a brand new model.
The Prisma Collection
Available for: AWP
Estimated Price: Factory New - $13.76
Neo-Noir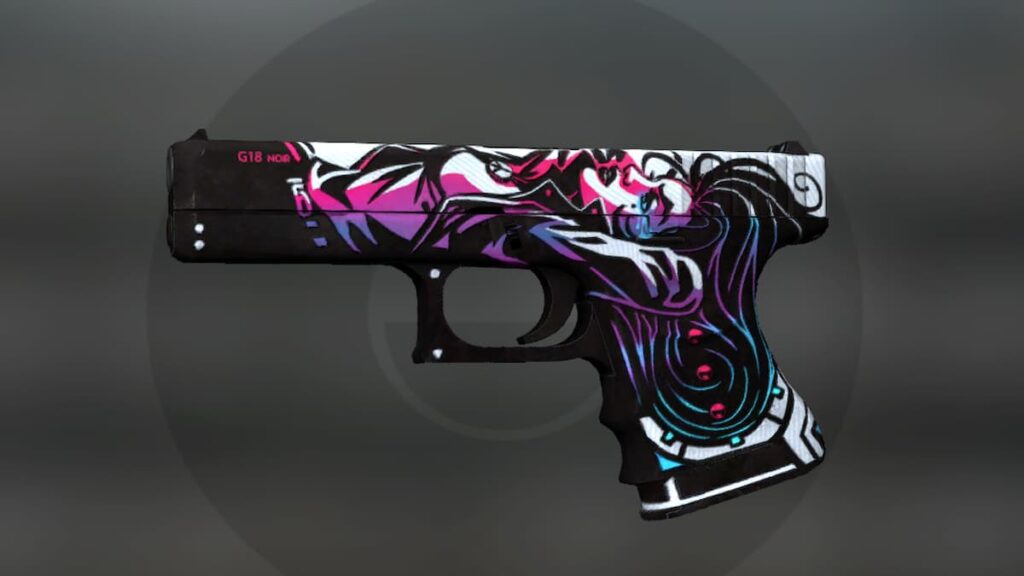 The Neo-Noir skin is one of the very best skins we've seen so far, with its detailed style seemingly inspired by comic book art. This skin shows off a sorrowful lounging woman in thick black traces shaded in tints of pink, purple, and blue. It can be found in a few different weapon varieties, allowing you to match your set or find one for the weapon you prefer. However, the prices will vary accordingly and average around $40 for factory-new options.
The Danger Zone Collection
Available for: AWP, Glock-18, USP-S, M4A4
Estimated Price: Varied, Factory New - $40 approx.
Fade
Sometimes all you need is a little bit of color, and the Fade skin does just the trick. This skin features no graphic or design, simply a stunning gradient of bright colors that liven your weapons and make your fellow players gawk in envy. The great thing about this skin is that it's available for plenty of different weapon and gear varieties, especially knives! You can even find an alternative color scheme fade with amber tones. However, this does tend to be one of the more expensive skin options, and the prices will vary depending on the item.
The Chop Shop Collection
Available for: Varied Knives, AWP, MP7, Mac-10, Specialist Gloves, Glock-18, UMP-45
Estimated Price: Varied
This is our list of top 10 skins for this year so far, but there are plenty of other exceptional choices out there. Comment below what skins have been your best finds and buys.
Looking for more Pro Game Guides FPS games content? Check out our guides on Can you play Valorant on macOS? or How to get the United Front Bundle for Rainbow Six: Siege and Rainbow Six Extraction!