Dead by Daylight can be a very tactical game. As a survivor you need to keep an eye out for all the tricks that you can use to one up the killer so as not to get slashed and hooked. With so much room for error within the game, knowing how to escape is a valuable factor which will gain you time and let you keep your health! Looping is a great way to evade whichever horror bad guy is on your tail, here's how to loop.
How to loop the killer in Dead by Daylight
Looping is a very simple yet efficient tactic in the game. The act of looping means running around obstacles and walls to try and keep your distance from the killer, so that at the opportune moment you can try to escape to continue with the generators or helping out your teammates that may have already been hooked.
The best way to do this is to stay as close as possible to the object that you are circling. There is a margin of error which can allow a killer to get a swipe in if you're not careful.
When running around items such as pallets your survivor needs to be practically scraping alongside them to ensure that you are looping the most efficiently, the room between your character and the object needs to be the smallest amount possible, as even if you come a little bit further away from the crates the killer is able to gain momentum in a second, and this is what will have you hooked and sacrificed. The image above demonstrates what Loose Looping looks like, and it is a gap this small which can cost you the game.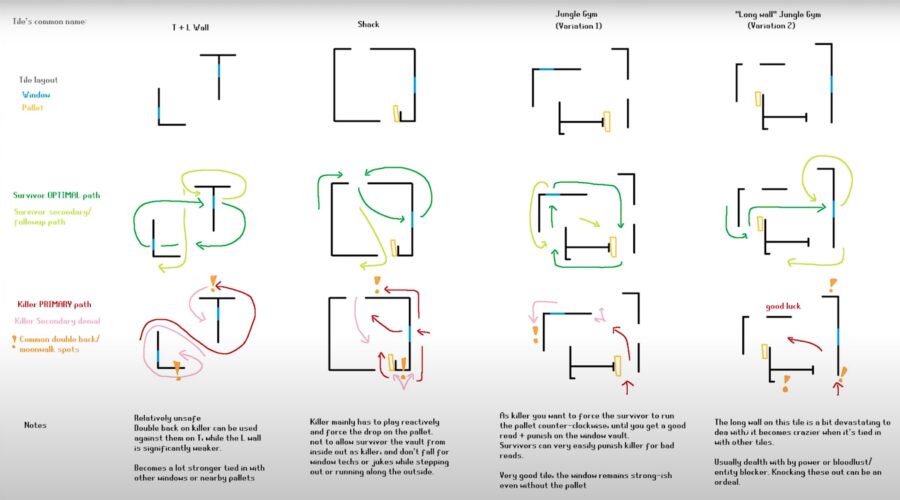 The same tactic is used for walls, except at least in these situation you have the chance to vault over a window to try and break the killer's line of sight! This handy chart by YouTuber Cru5h shows the common routes of the killer, and the best directions to follow the wall in order to evade and escape. Of course the killer isn't an NPC, so you cannot always predict where they are going to go, but usually their mentality is to try and follow you as closely as they can, so one erratic escape can give you the upper hand!
Need help picking your survivor before the game? Check out the best survivors in Dead by Daylight!