Diablo 2 has returned, and with it comes mysterious red-tagged items that might be worth a pretty penny or a literal penny. Players who are not familiar with Diablo 2 (you young whipper-snappers) may not be familiar with the process of identifying these items. In the guide below, we explain how to do just that.
Identifying items is very simple, and like everything else in Diablo 2, requires the player to click the mouse several times (assuming you're playing on a computer). The first step to identifying items is to collect a Scroll of Identify. These are randomly dropped from monsters as you slay them during your travels. They are relatively rare in the beginning of the game.
Related: Are Diablo II Resurrected Servers Down? Here's How to Check - Pro Game Guides
Note: You can identify items without a Scroll of Identify, but not until you rescue Deckard Cain from Tristram. As a token of his gratitude for rescuing him, he will Identify any item in your inventory for free. However, he will only do it in areas where he is available. Later in the game, it's harder to get access to him.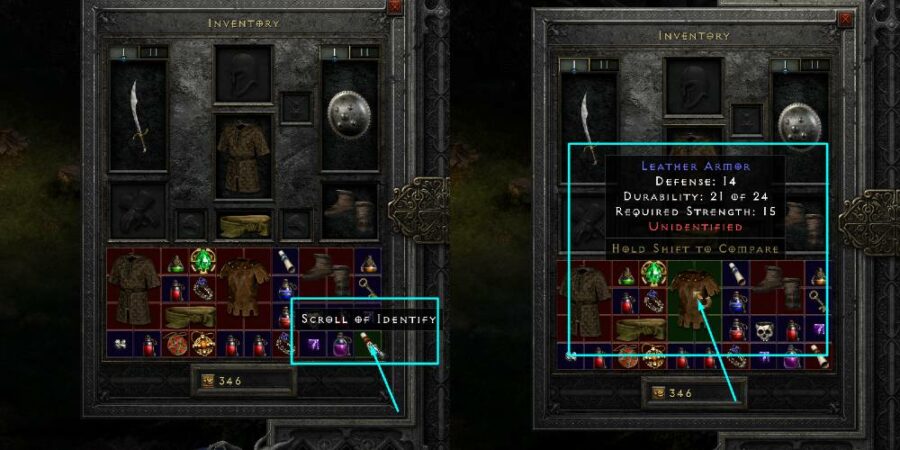 The image above shows you how to Identify an item once you have the scroll. In the first step, you must press the alternative fire button (right-click for PC, LT for console) the Scroll of Identify. When you do that, it will change the cursor. In the next step, you highlight or mouse over the item you'd like to identify it and select it. The item will change from Unidentified to have a name and additional attributes.
That's all there is to identifying items in Diablo 2 Resurrected! Thanks for staying a while to listen!