Bounties in Diablo Immortal are mini-quests where you have to slay a specific amount of monsters in order to complete the task. These can be done quickly which helps you gain experience and some awards. Unfortunately, that's not the case with Clearing the Cobwebs bounty.
How to finish the bounty Clearing the Cobwebs in Diablo Immortal
In order to finish Clearing the Cobwebs bounty, you have to kill 50 spiders in a small area near Cemetery. The trouble is there are not 50 spiders here, just five creatures at the time. In order to finish the bounty, you'll have to kill five spiders and wait around 10 minutes to respawn—this is not one to do with friends playing co-op. It's a massive waste of time just standing around and waiting for some spiders to come up, as the time is not worth the reward. Until Blizzard resolves this bug, it's best to abandon Clearing the Cobwebs bounty and move on.
How to abandon a bounty in Diablo Immortal
In order to abandon a bounty in Diablo Immortal, take these simple steps:
If you've accepted this bounty go to the Menu.
Select Quests option.
Choose to Abandon quest.
Go to the Bounty Board located in Westmarch to choose another bounty.
How to refresh the Bounty Board in Diablo Immortal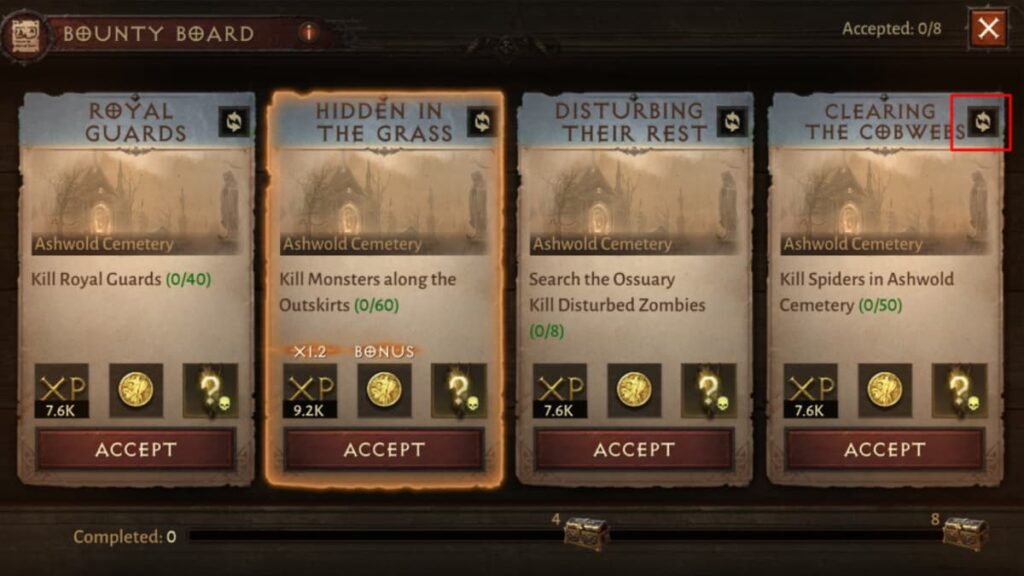 You'll get bounties every day, and if you don't like them you can refresh them for another one. If you end up with Clearing the Cobwebs, just refresh it by pressing the refresh button at the upper left corner of the bounty.
For more information on Diablo Immortal, check out How to level up the Bestiary in Diablo Immortal, How to buy the Battle Pass in Diablo Immortal, and All Classes & Abilities in Diablo Immortal on Pro Game Guides.