Once you've completed Vanellope's welcoming quest and brought her into your Valley, you can begin building your Friendship with her. I couldn't wait to start earning her special Friendship rewards, so I made sure to give her favorite gifts of the day to level her up as quickly as possible. Upon reaching her Friendship Level 2, you can begin her quest, "Extreme Biome Makeover," and really make your biome feel like a candy wonderland for her. Here's where to get started!
How to complete Extreme Biome Makeover quest in Disney Dreamlight Valley
Once you reach Friendship Level 2 with Vanellope, she'll have her first Friendship quest available to you. All you have to do to get started is speak with her. She wants to start making the Valley feel a little more homey, so she'll need you to decorate with some candy, of course. The first thing she needs you to do is plant some Candy seeds. You can place these anywhere in the Valley by first digging holes, placing the seeds, and then watering them. They only take a minute to grow, so you can harvest them in no time. Once you have them, speak to Vanellope again, and she'll have you start decorating with them.
How to build a candy racetrack in Disney Dreamlight Valley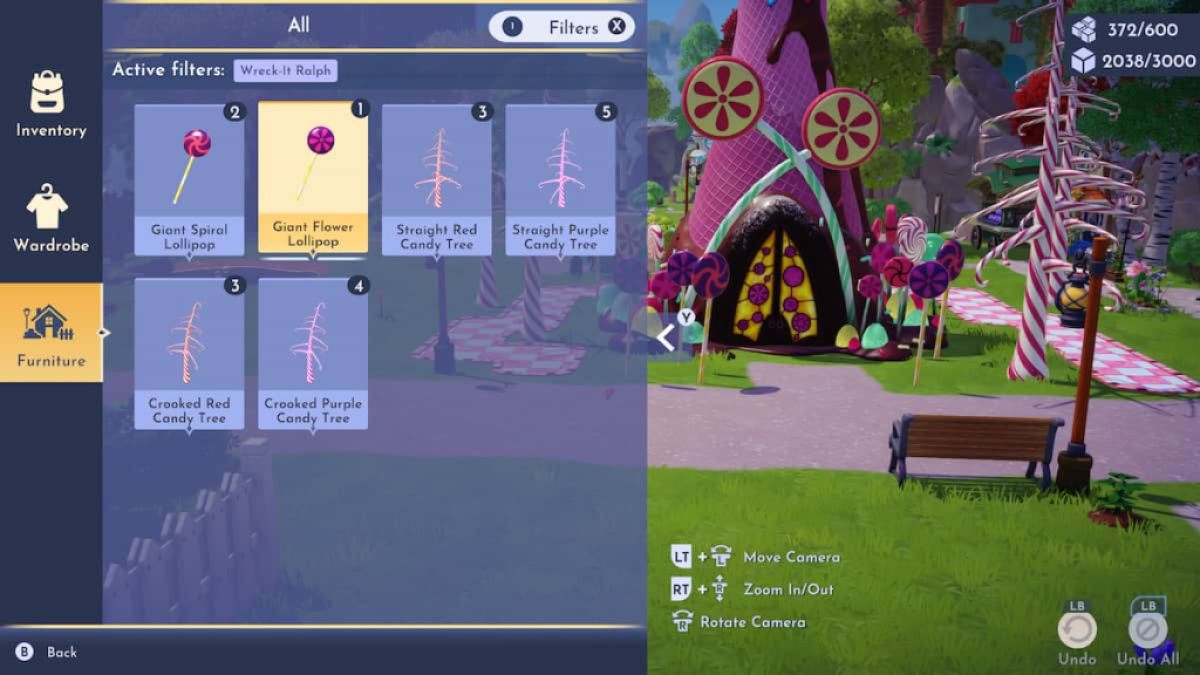 After giving Vanellope the candy canes you harvested, she'll give you all the decorations you need to decorate the Valley. You'll want to place them down around Vanellope's house, whichever biome you choose to place the house in. She'll want you to place the following decorations:
Paths x50
Candy Trees x5
Giant Lollipops x5
You can place these decorations however you like, but the quest specifically says she wants the path to make a racetrack. Making a racetrack is easy. All you have to do is place down the paths and make them connect in a circle of sorts. You can make turns and bends and really make it unique. I chose to make it circle around Vanellope's house. Then, be sure to place the other decor around as well.
After decorating around her house, Vanellope now wants to put together her Sugar Kart. This isn't just any racecar—this is one made out of candy and sweets, so you'll need to gather some baking ingredients and prepare them at a cooking station.
How to make Vanellope's Sugar Kart in Dreamlight Valley
First, you'll need to gather all the proper ingredients to get started. You may have these already in storage, but if not, it's just a quick trip to Goofy's Stall or Remy's Pantry. Here's what you'll need:
Wheat x6 (Goofy's Stall in Peaceful Meadow)
Sugarcane x5 (Goofy's Stall in Dazzle Beach)
Egg x4 (Remy's Pantry)
Butter x2 (Remy's Pantry)
Milk x1 (Remy's Pantry)
Once you have those, you'll be all set to get baking. Head to the nearest cooking station. If you had to run to Remy's Pantry, you can simply use the station right there in Chez Remy. The easiest way to prepare these is just to open up the Recipes and select each one. You can autofill ingredients to make it fast. Don't forget you'll need four of the Sugar Kart Wheels.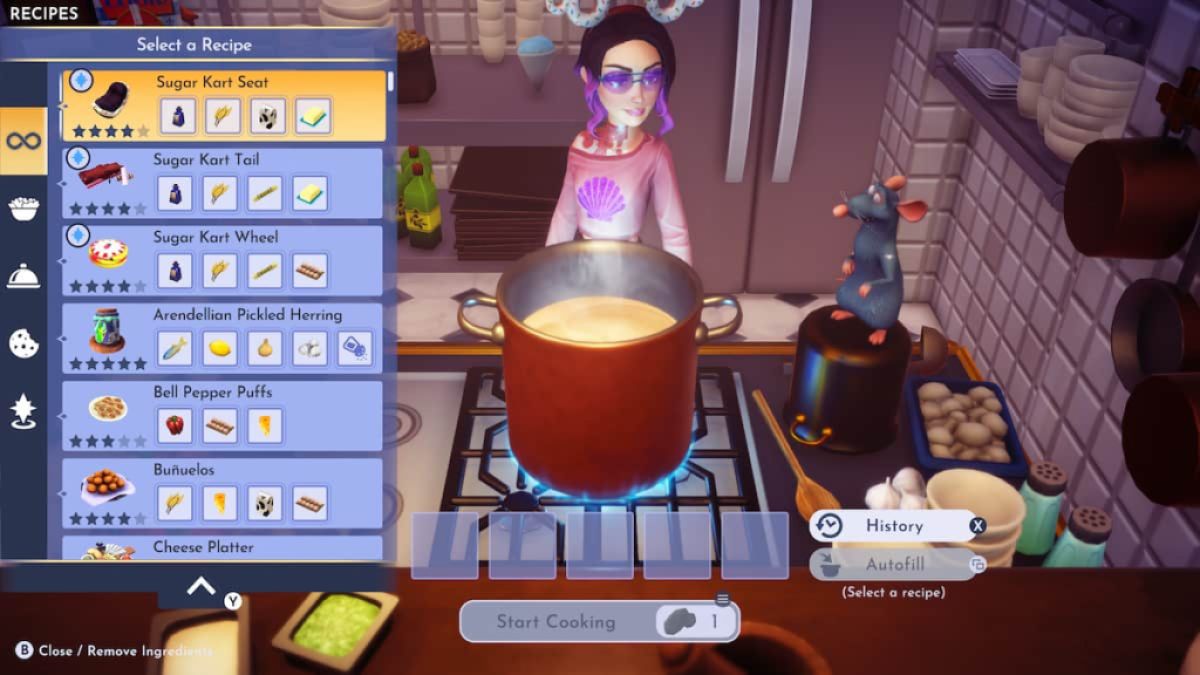 How to make Sugar Kart Tail in Disney Dreamlight Valley
Sugar Kart Tail Toffee x1
Wheat x1
Butter x1
Sugarcane x1
How to make Sugar Kart Seat in Disney Dreamlight Valley
Sugar Kart Seat Toffee x1
Wheat x1
Butter x1
Milk x1
How to make Sugar Kart Wheels in Disney Dreamlight Valley
Sugar Kart Wheel Toffee x1
Wheat x1
Eggs x1
Sugarcane x1
After cooking each one of those, you can bring them back to Vanellope to continue to the next step. She'll now need a power source and a way to glue the pieces together. This means you'll need to stop in at WALL-E's and speak to a villager who might have a glue method. First, we'll gather the electronics.
Related: Disney Dreamlight Valley DreamSnaps updates shop with new summer items
How to gather spare parts from Wall-E's House in Disney Dreamlight Valley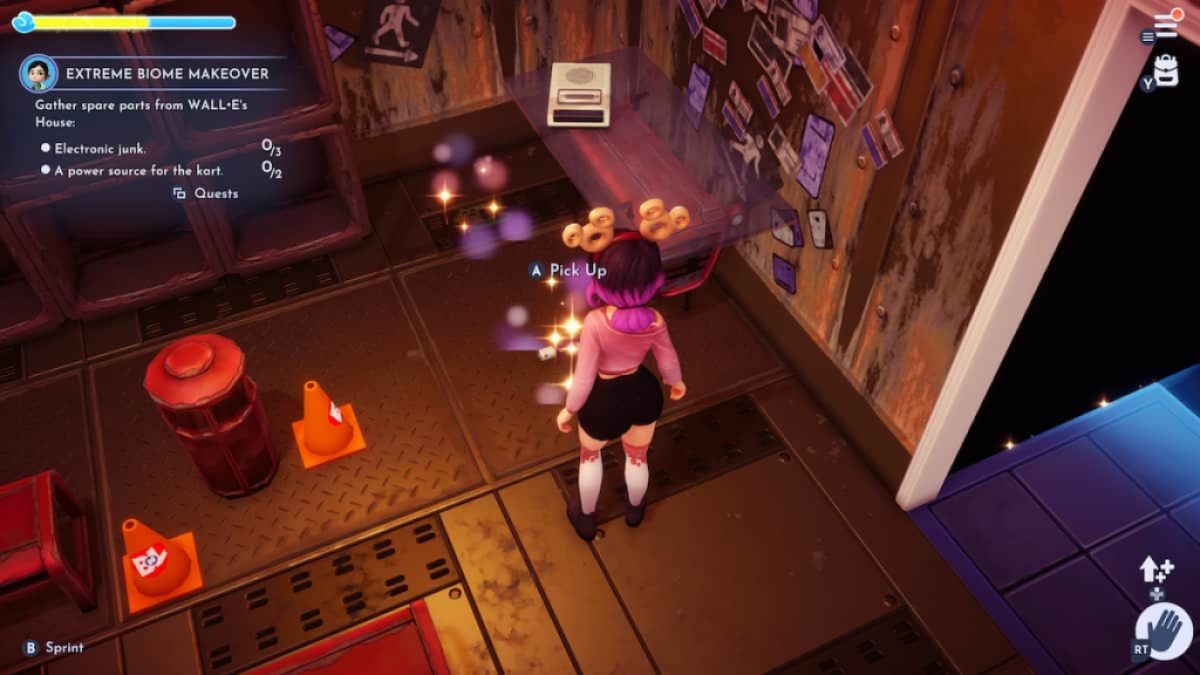 This is a super easy step; just head to wherever WALL-E's house is, and you'll spot the various shining pieces scattered around the floor. They are sparkly, so you should be able to find them easily. Here's what you'll need:
Electronic Junk x3
Power Source x2
After you find those, you'll need to consult a Villager about how to glue the cart together.
How to ask a Villager for something to glue a Kart together in Disney Dreamlight Valley
This may seem a bit tricky because it doesn't specifically list who to talk to, but you can check on your map for characters with the quest marker above their heads. However, to save you some time, you'll just want to head straight to the chef of the Valley, Remy. He is an expert at all things food, and he'll have exactly what you need.
Remy will give you the glue to bring back to Vanellope, and then you'll officially complete this quest. Vanellope will need some time to prepare the Kart, so you'll have to continue leveling her up and reach her next Friendship quest to continue the adventure with her.
Looking for more Pro Game Guides Disney Dreamlight Valley content? Check out our guides on How to enter DreamSnaps challenge in Disney Dreamlight Valley or Is Disney Dreamlight Valley free to play?