When you start in Dwarf Fortress, you dwarves are clothed but largely unequipped. It's too expensive to embark with full sets of armor and weapons for everyone, so getting your metal industry set up quickly is crucial. Here's our guide on the best and most efficient method to get your metalsmithing and smelting started in Dwarf Fortress
Getting your metal industry set up in Dwarf Fortress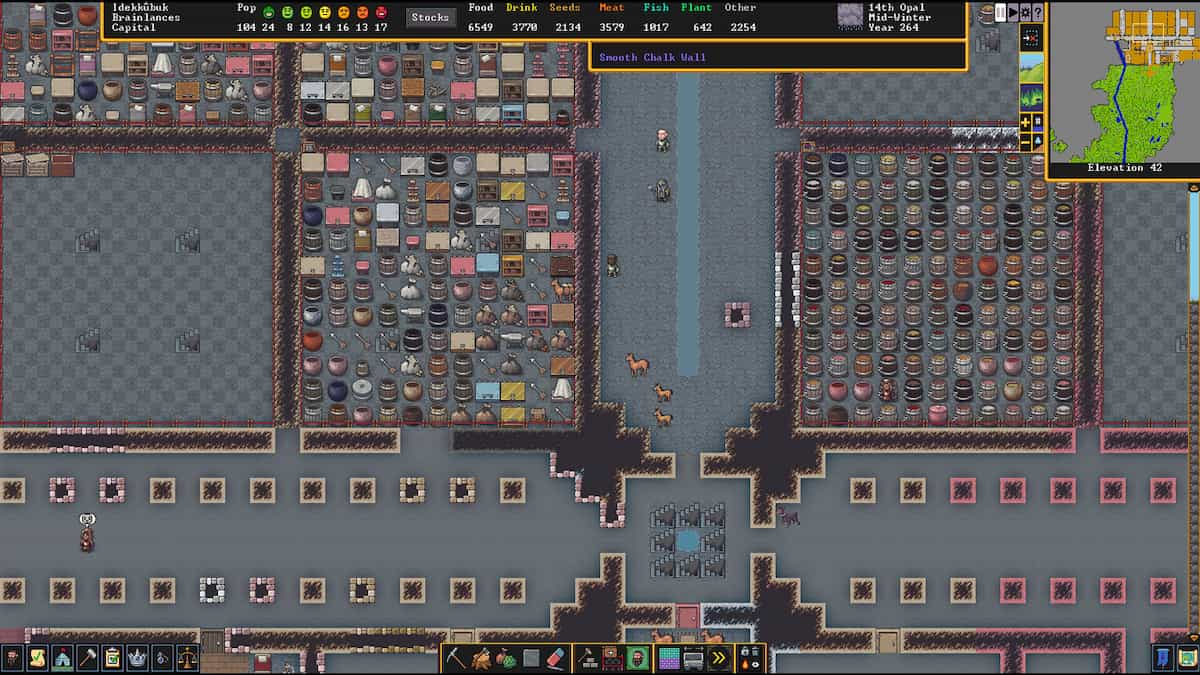 The full process of making metals in Dwarf Fortress is as follows:
Mine or trade raw metal or ore
Smelt the raw material
Create metal bars
Smith the metal bars into weapons, armor, and other materials at Metalsmith's Forge
Unless you've embarked with some charcoal or coke, you'll need some of this to start your process. Charcoal can be made from wood and doesn't require anything extra. Coke will need a base fuel (charcoal or coke) to turn Bituminous Coal or Lignite into a usable form. It's best to build and maintain at least one Wood Furnace just in case you run out of coke.
You'll also need an anvil for your first Metalsmith's Forge. You can either embark with an anvil, which is slightly expensive, or trade for it when the first trading caravans startup. Since it will likely take a few in-game months to set up smithing properly, we suggest departing without the anvil.
Best layout for smithing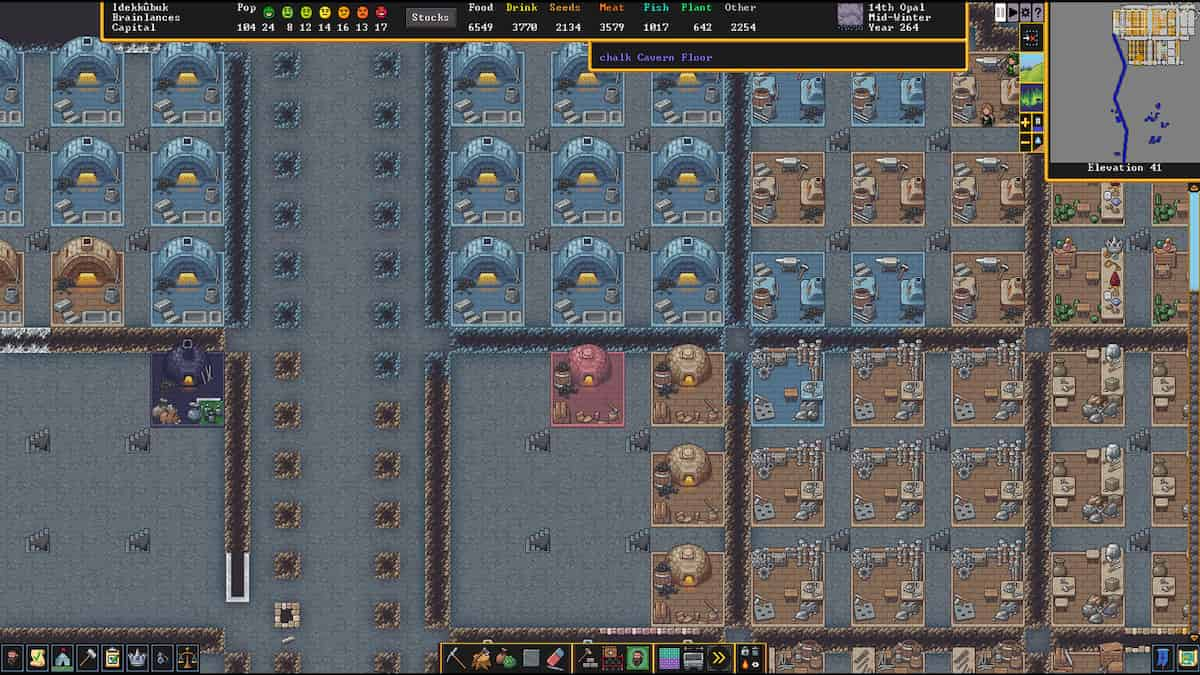 The best and most efficient smithing layouts will use clever use of z-levels. For example, it takes a long time for a dwarf to move long distances with unsmelted ore and bars of metal because they're heavy. So reducing that distance to the shortest number of tiles is most effective. This can be done effectively by making a tower of metalworking industry. The levels go something like this:
Ore Stockpile (Custom Stone Stockpile with non-economic stone ignored)
Smelter
Bars/Block Stockpile
Metalsmith's Forge
Weapon/Armor/Ammo stockpiles
Because a dwarf moves up and down a staircase at the same speed as they move horizontally. So it would behoove you to make dwarves assigned to smelting and metalsmithing have to move the smallest possible distance for the materials they need. Coke and charcoal will also be stored in the Bar/Block stockpile, so both the Smelters and Metalsmith's Forge will have easy access to fuel.
Related: Farming for Dwarf Fortress beginners
Making Steel in Dwarf Fortress
While most metals will only need their raw ore and some fuel to be smelted, steel has an extra step and material requirement. You'll need a flux stone, such as limestone, calcite, chalk, dolomite, or marble. These will be used to create both pig iron, an ingredient for steel, and the steel itself. The full ingredients for steel in Dwarf Fortress are below:
One iron bar
One pig iron bar
One flux stone
One unit of fuel (Coke, charcoal, or magma)
Magma smithing in Dwarf Fortress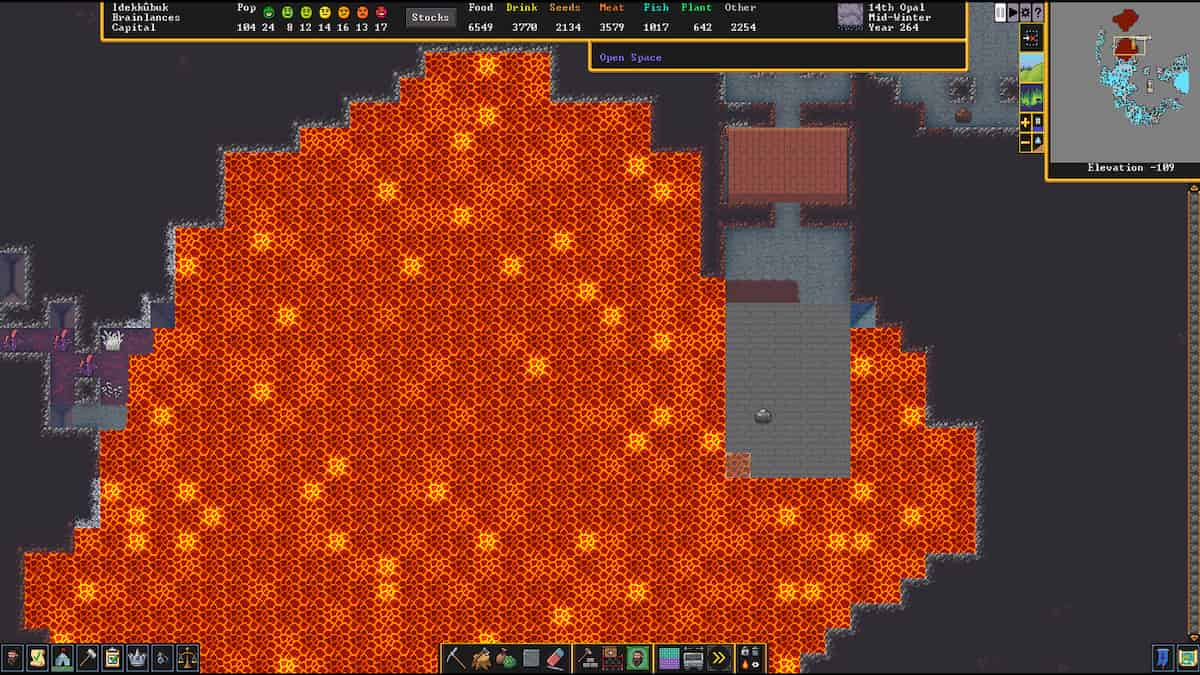 When you start building furnaces, you'll spot that there are Magma versions of each of the workshops. These will need to be placed in an area with at least a single open space of magma beneath it. The best way to do this is to channel magma into a stream and build floors with a single space beneath them. This isn't done over an open pool of magma because things like fire imps and other magma creatures tend to jump out and kill dwarves using magma furnaces.
Magma furnaces and forges must be made of a magma-safe material, otherwise, they'll melt. Some of these are obvious (no wood), but don't assume all stones are magma-safe. Instead, try and use stones like Granite, Gabbro, and Obsidian. This goes for all constructions touching magma, such as doors, walls, and floodgates.
Finally, magma smithing is sometimes more trouble than it's worth. While it removes the need for fuel, such as coke or charcoal, surges in magma levels, creatures, the dangers of fire, and other elements can make it just simply too dangerous. Sometimes it's better to just stick with the normal smithing.
For more Dwarf Fortress guides and information, check out You can now switch between Classic and Premium graphics in Dwarf Fortress on Pro Game Guides.