In Dwarf Fortress, the game tracks each individual dwarves' clothing, from socks and shirts to boots and hoods. Dwarves will arrive at your fortress fully clothed. Whether by wear and tear, or misadventure, their clothes will be ruined and broken over time. So here's how you make clothes in Dwarf Fortress.
Clothing basics
There are a dozen types of clothes in the game, and dwarves will pick from both the available clothes and those that they prefer. You can make both cloth and leather cloaks, dresses, gloves, hoods, loincloths, mittens, robes, shirts, shoes, trousers, tunics, and vests. Dwarves will try and fully clothe themselves from this array, giving themselves at least one piece of headgear, two gloves, two shoes, two socks, one piece of legwear, and something on their torso.
How can I tell if my dwarves clothes are broken in Dwarf Fortress?
In Dwarf Fortress, a broken, torn, or ruined item of clothing will have the letter x around its name. So, for example, a dwarf might be wearing a x<cave spider silk sock>x. The x indicates it's broken, and the < indicates it was made outside of your fortress. Dwarves with broken clothing items will become unhappy. They'll also be more susceptible to becoming dirty, covered in dangerous monster secretions, or even stung by bees. unhappiness, however, is the biggest risk to Dwarves, so it's best to cloth them fully.
How to make Clothes in Dwarf Fortress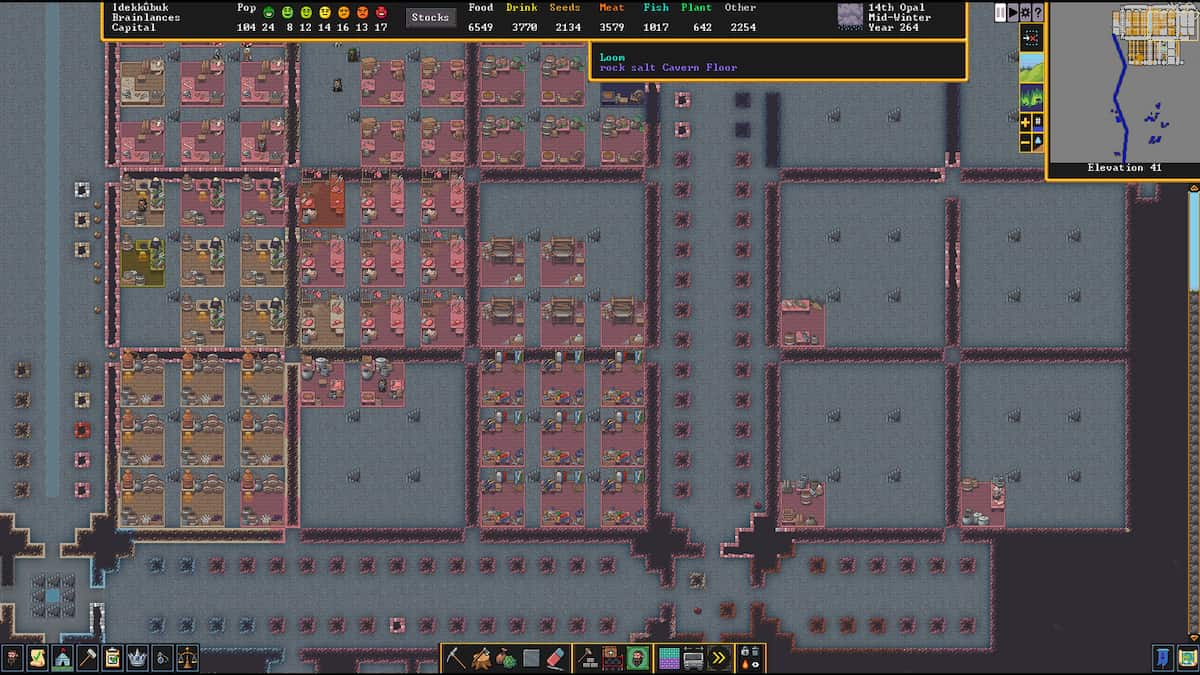 Clothes are made in two locations in Dwarf Fortress, at Clothier's Shops and Leather Works. By default, all dwarves will make clothes when they're ordered, but you can restrict that in the Labors menu. To make clothes, dwarves will need a piece of cloth, silk, or leather. Different clothing items will need more materials. For example, tunics and robes will need more cloth than gloves and socks.
Related: Farming for Dwarf Fortress beginners
How to make cloth in Dwarf Fortress
To make cloth, you'll need to spin threads into cloth at a Loom. Cloth can be made from silk threads, cloth threads, yarn, or Adamantine strands. You will need to set a task at the Loom or a Work Order to turn the thread into Cloth. Thread, by default, will be used in other processes, such as suturing. This is why it's very important to make sure your Adamantine strands are forbidden, otherwise, some lucky dwarf with a laceration might find themselves with the most expensive sutures known to dwarfkind!
How to make silk in Dwarf Fortress
Silk is harvested from webs in the caverns below the surface. Webs will randomly be generated by Cave Spiders and Giant Cave Spiders. Ambitious fortress builders can attempt to capture Giant Cave Spiders and use their aggressive web-shooting behavior to make web gathering more efficient. Webs will automatically be collected and spun into silk at the Loom. You can disable this behavior in the Labor menu.
What animals make silk Dwarf Fortress?
In Dwarf Fortress, silk is only collectible from brown recluse spiders, brown recluse spidermen, giant cave spiders, phantom spiders, and ancient and forgotten beasts that may produce webs. These creatures will leave webs as they go but also shoot them at their prey.
How to make thread in Dwarf Fortress
Thread can be extracted from several plants. These include Rope Reeds, Pig Tails, help, Cotton, Ramie, Flax, Jute, and Kenaf. To make plant fiber threads, you'll need to order them to be spun at a Farmer's Workshop.
How to make yarn in Dwarf Fortress
Wool and animal Hair can be spun into thread or yarn. Both hair from butchered animals and Wool sheared from creatures such as Sheep, Goats, Alpacas, and Llamas can be spun into thread at the Farmer's Workshop, then turned into cloth at the Loom.
What clothes do Dwarves need to survive in Dwarf Fortress?
Ironically, despite Dwarf Fortress simulating almost everything in its game world, clothes do not affect a dwarf's survival against the elements. If a dwarf is in a cold climate, they'll feel negative effects from being cold and eventually die, but nudity won't affect this. Similarly, in hot climates, fewer clothes won't make them cooler. The best solution to extreme temperatures is to create indoor spaces, such as digging underground or above-ground structures.
However, clothes are essential for other reasons. Good, high-quality clothes will increase dwarves' happiness, and torn clothes and being naked will upset dwarves. Keeping dwarves in good quality new clothes will help keep your fortress happy and surviving. Dwarves have negative thoughts when naked, missing top or bottom clothing, or having worn or tattered clothing.
Clothes offer a modicum of protection in combat. Against animals, leather clothing will usually protect against bites and scratches. But far less than metal armor. Adamantine clothing is much stronger, but using it to make armor is usually a better option. Finally, clothes can protect dwarves from unusual creature effects such as deadly dusts, toxic sections, and poisonous blood. Overall, clothes are very important for the health of your fortress, even if they're not essential for Dwarves.
For more Dwarf Fortress guides, info, and news, check out Best method for metalsmithing and smelting in Dwarf Fortress on Pro Game Guides.