In Dwarf Fortress, sometimes a dwarf will be taken by a Strange Mood. If a Strange Mood completes, you'll get a new Artifact for your fortress and in most cases, a huge jump in crafting experience for the dwarf that completed it. In the worst case, your dwarf will go insane and you'll get nothing. Overall, there are five different types of Strange Mood in Dwarf Fortress, and here's how to deal with all of them.
Fey Mood
A Fey Mood is the most basic of strange moods. They happen when a dwarf is happy, and the fortress mood overall is positive. When a Fey Mood occurs, you'll be greeted by a notification that states, "[Dwarf Name] is taken by a fey mood!" The Fey dwarf will immediately run to a random Workshop and begin to demand materials.
If they can't find their materials, they'll state their demands, which can be found by clicking and selecting the Workshop. These demands will rotate between all the materials and be clearly stated in a Fey Mood, directly requesting materials such as Cut Gems, Rock Blocks, etc. Make sure you have the materials, and the dwarf will complete their Artifact. They'll also instantly become Legendary in the skill they used to craft the Artifact.
Secretive Mood
Secretive Moods are functionally the same as Fey Moods, but seem to happen more likely with a neutral or slightly unhappy mood. These moods will use the text "[Dwarf Name] withdraws from society…"
A dwarf with a secretive mood will sketch pictures of their required materials instead of clearly stating their demands if they cannot find what they need. These descriptions are again found by selecting the Workshop the dwarf has claimed, but you'll need to decipher their messages. As with Fey Moods, Secretive moods will also instantly become Legendary in the skill they used to craft the Artifact.
Possessed Mood
Possessed Moods occur in more dwarves that have more negative moods. You'll not receive any extra experience after the Artifact is completed. The dwarf will be cryptic in their message, vaguely describing the materials they desire rather than clearly stating them. Possessed dwarves will mutter the name of the Artifact they are working on once they have all the needed materials. The message for Possessed Mood will state, "[Dwarf Name] has been possessed!"
Related: All Digging designation cancelled messages in Dwarf Fortress and what they mean
Fell Mood
In one of the grimmest moods, a dwarf that goes into a fell mood will try to take over a butcher's shop or a tanner's shop and then murder the nearest dwarf, drag the corpse into the shop and make some sort of object out of dwarf leather or bone. You'll know this is happening as the message "[Dwarf Name] loses a roaring laughter, fell and terrible!"
This will instantly kill the nearest dwarf to the mood-having dwarf and then create an artifact. Depending on the object created, the mood-haver will instantly become a legendary Bonecarver or Leatherworker.
Macabre Mood
Macabre Moods are similar to Fell Moods, but won't involve any instant murder. Instead, a Macabre dwarf will want bones, skulls, vermin remains, and other messy materials. You can produce these by butchering animals if you have none. The message you'll receive from this mood is "[Dwarf Name] begins to stalk and brood…"
Again, this mood will instantly level up the dwarf's skill in Bonecarving or Leatherworking to legendary. Only unhappy or depressed dwarves will enter Macabre or Fell moods.
Failing Strange Moods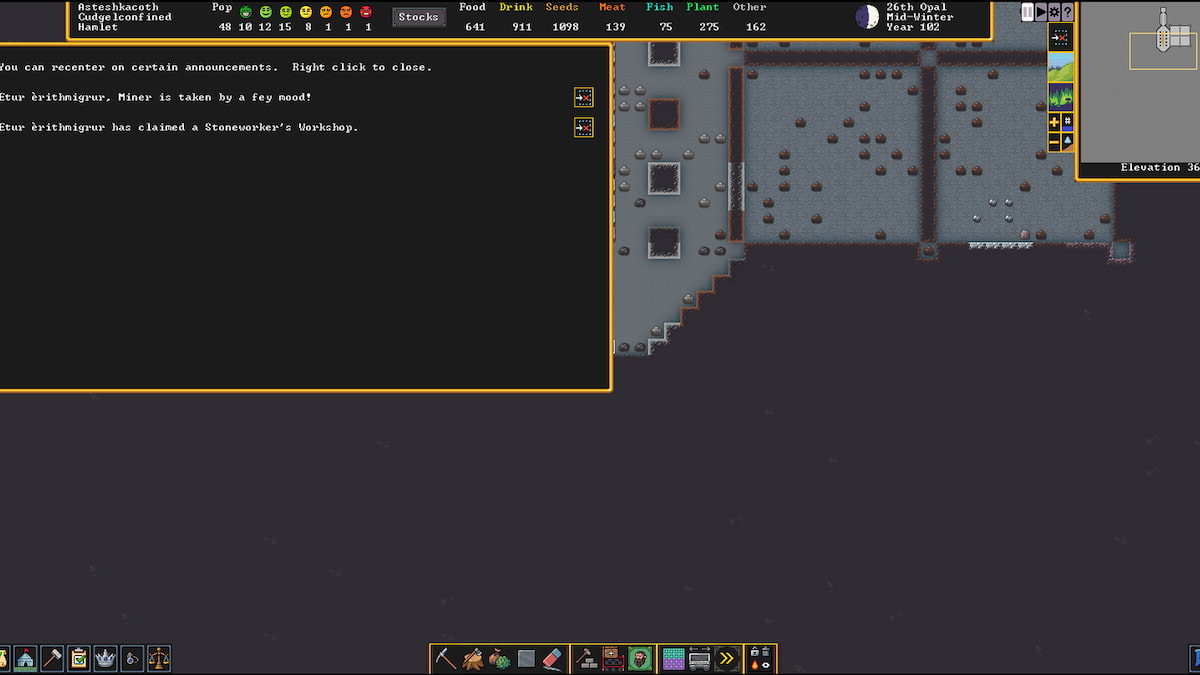 If you cannot provide the materials for a Strange Mood, your dwarf will go insane after a few months. This will turn them insane, with one of four different types of insanity, either Stark Raving mad, Melancholy, Catatonic, or Berserk. Berserk dwarves will attack other dwarves and pull levers randomly, and you'll likely have to kill them. The other insanity effects will just cause the dwarf to become non-responsive, unable to do tasks, and will upset other dwarves who see them. They'll likely die in the months following their insanity.
For more games like Dwarf Fortress, check out 12 Best Games like RimWorld on Pro Game Guides.