Dwarf Fortress, to undersell it, is a game about dwarves making a fortress. How do you review a game you've played for nearly 15 years? Usually, the problem is too little time with the title. But I started playing Dwarf Fortress in 2007 when the game was already five years old. I've watched it grow up. Now, perhaps the cult hit will become a mainstream success thanks to this new Premium release.
When it was first released in 2002, it was difficult to play and bizarrely complicated. Despite this, Dwarf Fortress grew in popularity because of its many legendary Let's Play series, such as Boatmurdered. These Let's Plays teased players with an incredible game if they could get past the learning curve. However, for many years, Dwarf Fortress was the reserve of the dedicated. Those willing to brave awkward control schemes, confusing ASCII-art graphics, and criminally complex gameplay. Four years ago, developer Tarn Adams announced they would bring the game to the new platforms, and time flies.
Scope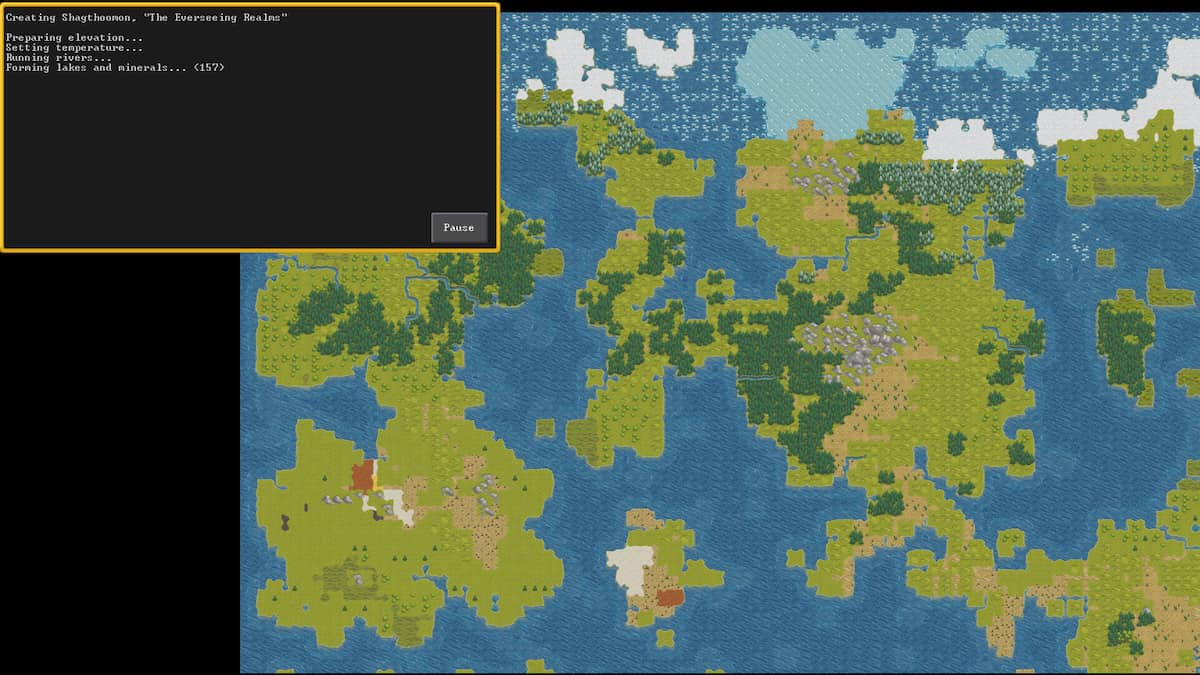 If I had to describe Dwarf Fortress in just a sentence, I'd say it was the most thorough attempt ever to simulate a fantasy world. Not parts of it, the whole thing. From the world's forming to the myths and legends, cultures, and everything. Great nations rise and fall. Demons enslave dwarves. Goblins and Elves form an unlikely alliance. Thousands of people live and die. And that's just the world generation. All of that happens before you've even started the game.
From there, there are three different game modes. The first and primary game mode is the Fortress mode. There's also Adventure mode, which hasn't been released on Premium yet. And there's Legends mode which lets you read through the generated world like an encyclopedia. But as mentioned, it's the Fortress mode where this game shines.
Score: 5/5
Gameplay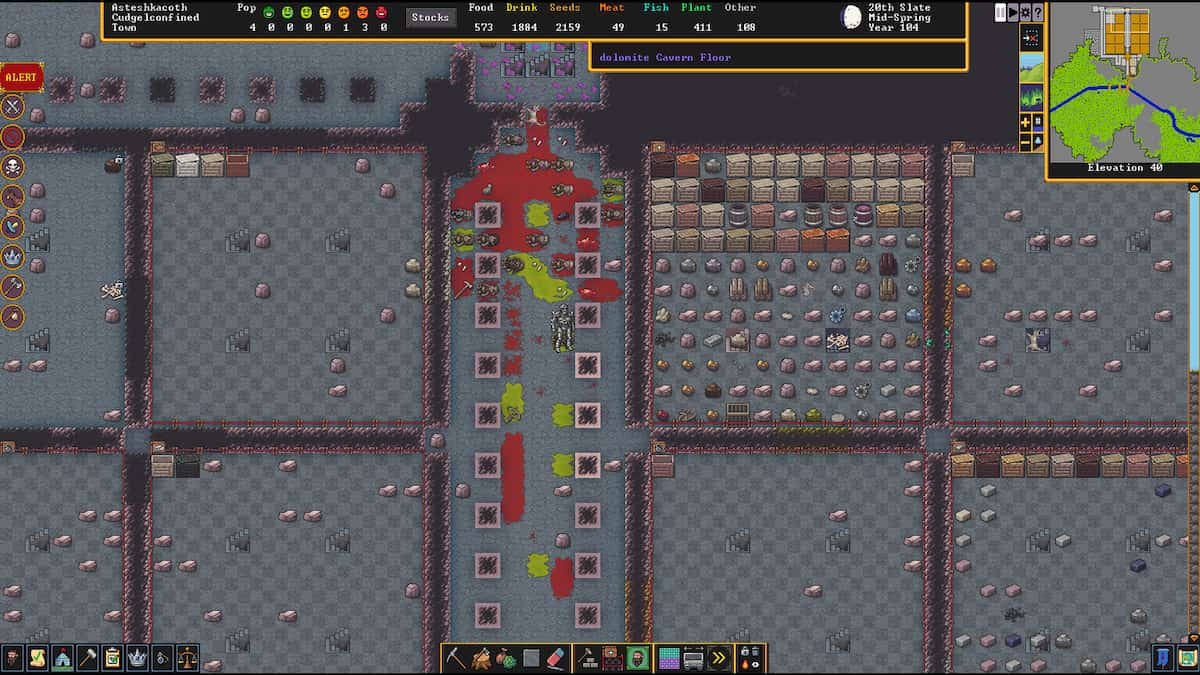 If Dwarf Fortress feels similar to Rim World, or other low-graphics, high-complexity builders, it's because this game inspired them all. You slowly order your dwarves to mine, build bedrooms and workshops, and prepare to survive. First, you'll need food, so your dwarves must hunt, farm, or gather plants. If you've embarked in the wrong place, and there are no plants, animals, or soil, you're about to lose your first fortress. But hey, the game's unofficial slogan is "Losing is Fun!"
As you dig into the mountainside, you'll come across hundreds of rocks and ores. You'll mine through mudstone, dolomite, etc., modeled after real-life geology. Ores appear in veins and won't appear in stone they don't naturally occur in. Can't find any iron ore? Well, unfortunately, Magnetite and Limonite only form in sedimentary layers. You're digging in the wrong place.
It's this kind of minutiae that gives this game its charm. You'll have your entire trade talks with the elves break down because you didn't realize that one of the crafts you were trading was decorated with wooden rings. You'll boggle at why one dwarf won't equip a second gauntlet. You'll tear your hair out as all your horses starve, standing idly in a dining room.
The game progresses with you steadily growing your fortress and meeting the demands of your dwarves. Each dwarf has their own personality and quirks. Some will be carefree, while others will be impatient and moody. When a dwarf is pushed to the edge, they'll throw a tantrum. Tantrums mean breaking stuff and hitting people, and a dwarf will either have to be talked down or put down.
Worst of all, these tantrums can create what's known as a tantrum spiral because dwarves will react to the actions of other dwarves. If one dwarf hits another, the victim will become upset as well. Before long, this emotional stack of dominoes will see your fortress meltdown. If that was the only way you could lose a fortress, it would still be challenging. But your fortress will be attacked by goblins, dragons, cyclops, and even more insidious threats that I won't spoil.
In my first run, the fort expanded nicely up to around 100 dwarves. We were made a barony and given a small settlement to the east as an additional holding. But suddenly, a Bronze Colossus, an ancient and mythical creature, attacked, and I realized I'd been too slow in setting up my defenses. The Colossus brutally massacred my militia. It stood in the river and pulled dwarves into the water. After drowning my entire military, it headed into the fortress to kill the wounded in their beds. Finally, it stalked the halls, killing every last dwarf until my fortress died. A typical end to a game in Dwarf Fortress.
That save game was added to the history of the world I'm playing in. If I revisit the fortress, I'll find it splattered with dried blood and the fearsome Colossus waiting for me. Perhaps the creature will move on and terrorize the countryside. It's all possible in Dwarf Fortress.
Score: 5/5
Related: 12 Best Games like RimWorld
Port quality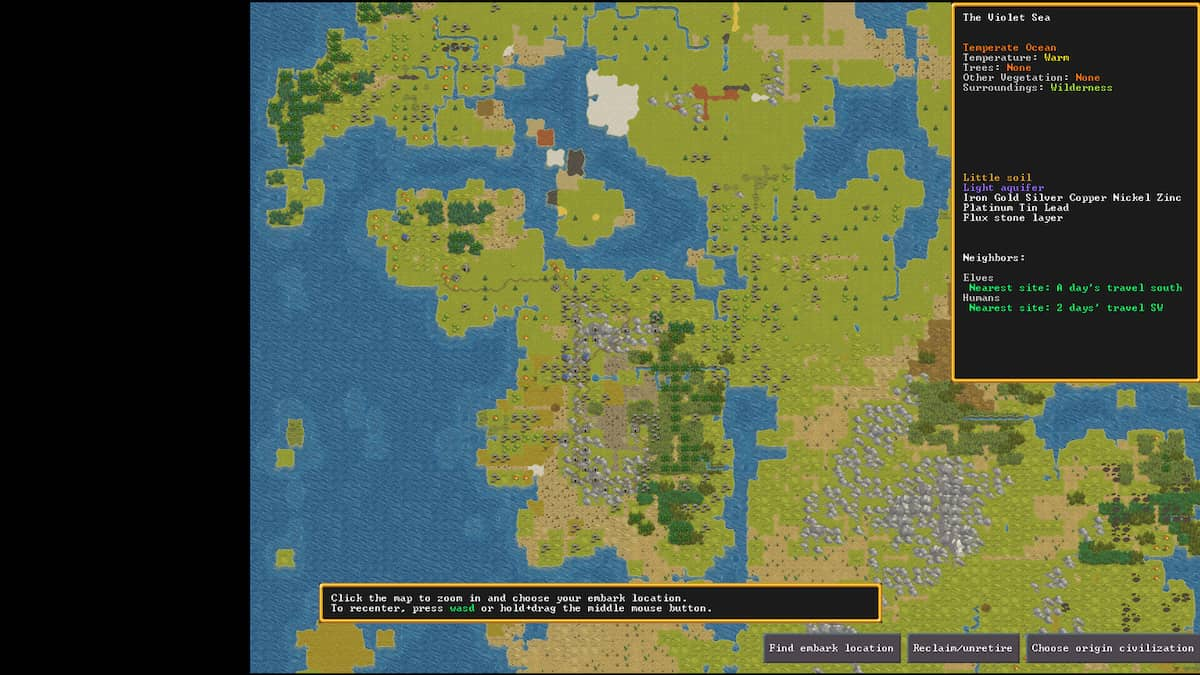 The biggest change in this port is the visual aspect. The game has been updated from its ASCII characters into something closer to an actual game. The sprites are fantastic, yet simple, retaining the charm of the original. Dwarf Fortress doesn't support animations, but in their place, small bubbles will now occasionally tell you the mood and thoughts of dwarves.
As someone who has seen Dwarf Fortress bring the most highly juiced, developer-spec computers to a crawl while simultaneously rendering hundreds of dwarves and animals, I was suspicious that any graphical enhancement wouldn't just make the game run incredibly slowly. I'm happy to say this is not the case with the new version. If anything, the game is far more optimized than the classic version. My game ran without slowing down with up to 300 fortress inhabitants, including dwarves, cats, dogs, etc. I'd deliberately let fortress' animals breed unhindered to see if I could make the game slow down. But it barely dipped in frame rate at all.
Still, the game lags behind its peers in other aspects. For many, we've already seen visually what the next iteration of a Dwarf Fortress game looks like. Titles such as Gnomoria, First Feudal, and others have taken inspiration from the game and pushed beyond it. None are as ambitious as Dwarf Fortress, but they look hyper-advanced compared to the visuals on this port. It just doesn't look as good as its competition.
Score: 4/5
Mechanical updates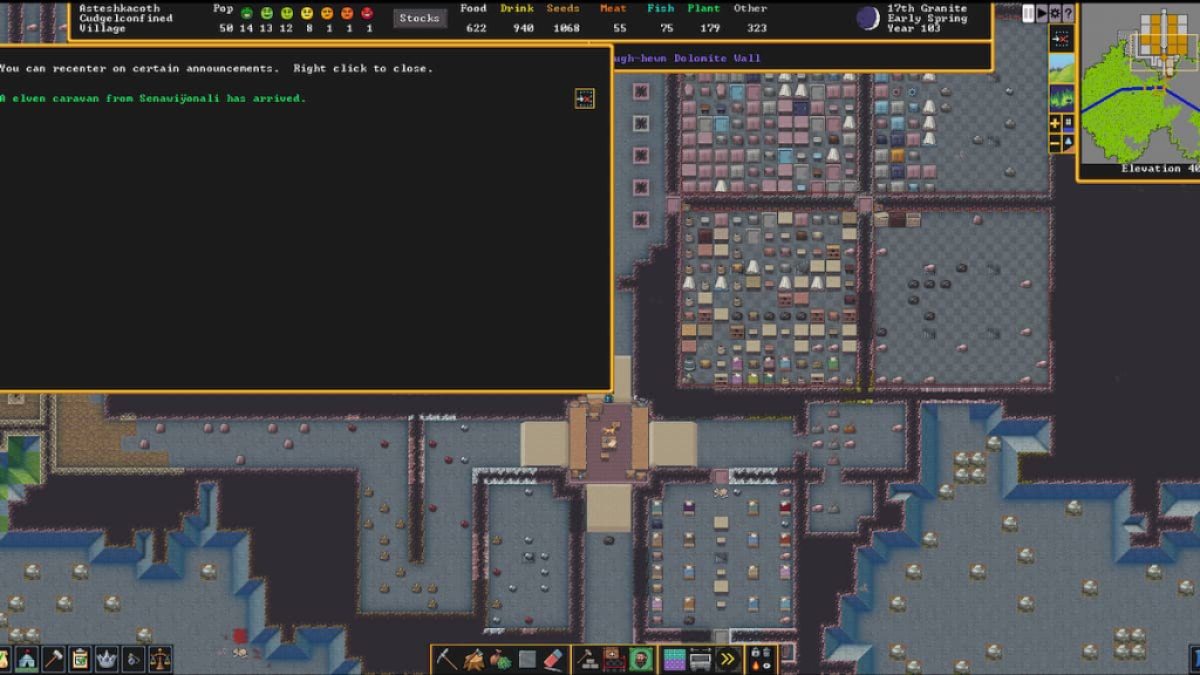 With all its doom and gloom, what's surprising about this game is how relaxing it can be. It's satisfying to dig out a small home for your dwarves, provide them comfort, and watch their happiness grow. With the new options to play peacefully, without enemies, you can play this game as a relaxed city builder.
That's what's so wonderful about the new port. Instead of just blindly retaining absolutely all of the struggles and difficulties of classic Dwarf Fortress, it's willing to give up some for the sake of ease. Many of these changes are so natural that it's bizarre they weren't in the original. The Architecture skill is gone, the rooms and zones system has been combined, and it's now just a single click of a button to make a dwarf only focus on the specialized task.
What's going to catch many off-guard about this port is the controls. They're greatly improved from the original but still difficult and obnoxious. Luckily the new UI has removed the need to know dozens of hotkeys. But this will trip up veteran players whose muscle memory must be unlearned. Other changes have also made some features much more accessible. Work orders, for example, are much better than just spamming hotkeys. In general, the game feels better in many ways, especially with more expanded and natural mouse support.
Unfortunately, beyond this, the game lacks the basic functionality that all modern city builders have. This would be forgivable if the game still looked like a spreadsheet. But to compete with others in the genre, the game needs elements like being able to build multiple buildings with the shift key, maybe a blueprint system, etc. All this leads to extra frustration on top of the angst you must endure while playing Dwarf Fortress. Part of the original complexity and charm does feel lost with these new ease-of-access features.
Score: 3.5/5
Verdict – An ancient trove ripe for rediscovery
Dwarf Fortress mirrors its eponymous dwarfs by being stubborn and difficult. But the new Premium edition has made this game far more approachable. It doesn't feel like a chore to decipher and look at. Unfortunately, some of the game's edges and quirks still make it difficult to manage. I've played this game for over a decade, and I will play it for decades to come. This port might be the best chance to convince others to do the same.
We received this game from Kitfox Games for reviewing purposes.
For more Dwarf Fortress guides, info, and news, check out A famously ugly game, Dwarf Fortress, to get a massive facelift in December on Pro Game Guides.