Dying Light is a first-person open-world survival horror game with zombies. During the day, you'll gather supplies necessary for survival in an apocalyptic world. But when the night comes, be prepared for brutal undead attacks. To survive this, you'll have to be ready for anything, and that's where Dying Light Docket codes come into play.
Dockets are items (primarily weapons) that you can acquire by codes. These freebies will help you survive in harsh surroundings, but only if you're quick enough to redeem them, as they tend to expire quickly. So, in the words of wise Iron Maiden, be quick or be (un)dead!
If you're searching for the best zombie games, check out Roblox Zombie Uprising Codes and Roblox Zombie Defense Tycoon Codes. But if you want to experience a horror movie atmosphere, try Dead by Daylight Codes. But before anything, try to survive in Dying Light!
All Dying Light Docket Codes List
Updated October 12, 2022

Added a new Dying Light Docket codes.
Dying Light Docket Code (Working)
Here's a look at all the working Dying Light Docket codes.
HELL—Earn one Gold Tier Docket (New)
IAMCRUSTY—Earn one Gold Tier Docket
GVMERS—Earn one Gold Tier Docket
IMBERNE—Earn one Gold Tier Docket
TECHLAND30—Earn one Gold Tier Docket
PSISYN—Earn one Gold Tier Docket
ROBOKAST—Earn one Gold Tier Docket
GRE31SVNBOHFUDQH—Earn one Normal Tier Docket
EVERYONEHASASTORY—Earn a wallpaper
EVERYONE—Earn a wallpaper
HAS—Earn a wallpaper
ASTORY—Earn a wallpaper
Dying Light Docket Codes (Expired)
These docket codes for Dying Light no longer work.
DYINGLIGHT7
CORLE
NON OMNIS MORIAR
PARKOUR 4 LIFE
66621
TOGETHER
GUNSLINGER
HOPENEVERDIES
VALENTINE
OCTOBER2020
RUSTY KNIVES
BESTGAMERALI

BLACKFRIDAY
TARIQ
FIRECRACKERS
DYINGLIGHTGOLD
LARYNGITIS
ELAJJAZ
NVIDIADOCKET
SILENT NIGHT
MEDKIT
#SAVEHARRAN
ALCOHOL
GAUZE

BACKWARDS
THIS IS NOT A DOCKET
MAMA
HMR
JADE
BLACKFRIDAYLIGHT
YEAROFTHEPIG
SEE
COMMUNITY
TISSUE
BARBERSHOP
BETTERWITHFRIENDS

DYING2SURVIVE
DLWHEN
SH4RKJK
JACKSON
Magicow
Just
ALISON
KISIK
WeilJons
FLOTHAR
GRE31SVNBOHFUDQH
HELL

BENZAIE
SPIKE
2019
WINTERSALE
GRANARY
FLARES
SCORPION
BITES
STICK
HAIKU
VYSOTZKY
POPO

GUCIO
JAPCZAN
GOODBYE SUMMER
CROSSBOW
MOTHER
BROADCAST
SUMMERALI
GOLDENJOYSTICK2019
100K
NON SUFFICIT ORBIS
OPERATIONMAPLELEAF
#DyingToKnow

PYZA
BREAD
EXPCALIBUR
MARK
BIKINIBODHI
HEXY
WPE
KEYSJORE
BONKOL
DERSORBUS
GAMINGBOLT
HORIZON

ELECTRONICS
ANNIVERSARYDYINGLIGHT
BLINK
01272015
DANTERAVIOLI
OHTOFU
HOWBARRAGAN
VKDL2COMM
ROCKETLEAGUE
RIFLE
TRUSTY
CANDY

RUSTY
POLICE
AMBULANCE
LEMON
KARCASS
XMASSWAG
HALLOWEENRIDE
HALLOWEENSWAG
Dying Light FAQ
Here's everything you need to know regarding Dying Light Docket codes.
How to redeem Dying Light Docket Codes
Redeeming docket codes for free rewards in Dying Light is easy.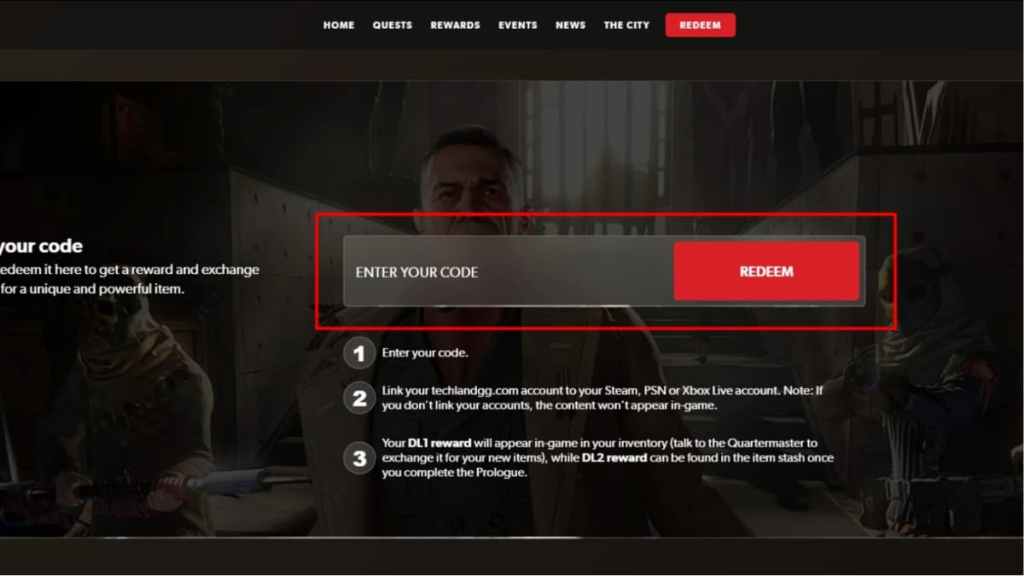 Go to Dying Light redeem page.
Log in or create a new account.
In the text box, enter the code exactly as it appears in the list above.
Press Redeem.
Connect your Techland account with your Steam, PSN, or Xbox Live account.
In the game, talk to Quartermaster to exchange dockets for items.
How can you get more Dying Light Docket Codes?
The best place to look for Dying Light Docket codes is this page, so bookmark it and visit it often. As soon as new codes appear, we'll update the page. You can also visit the official Dying Light Twitter, Facebook, and Discord pages.
Why aren't my Dying Light Docket Codes working?
Dying Light codes are time-limited, so redeem them as soon as possible. If you find some expired codes on our list, let us know so we can remove them. Another reason why some codes may not work is a spelling error. To avoid that, copy the code from the list above and paste it into the redeem text box.
What is Dying Light?
Dying Light is an open-world survival game where you must make wise choices to survive a zombie apocalypse. You play as Kyle Crane, a survivor who becomes a hero just by trying to stay alive in a land ravaged by a virus that turned people into undead monsters.
If you like this Dying Light, there are a lot of great articles about its successor, like Where to find all Crafting Parts in Dying Light 2, How to get the Pan of Destiny in Dying Light 2, and Where to find Blueprints in Dying Light 2 on Pro Game Guides.