The Wing position in soccer is home to some of the most skilled strikers, playmakers, and athletes in FIFA 22. The Wing may be one of the positions most full of talent in the professional soccer world. Whether a player is jumping into a quick game, drafting a fantasy team, or joining a team in Career Mode, having a great Wing player is a game-changer. Here are the best Wingers in FIFA 22.
Related: FIFA 22: Career Mode New Features
Right Wing
1. — Lionel Messi (93 OVR)
2. — Mohamed Salah (89 OVR)
3. — Angel Di Maria (87 OVR)
4. — Riyad Mahrez (86 OVR)
5. — Hakim Ziyech (84 OVR)
6. — Federico Chiesa (83 OVR)
7. — Marco Asensio (83 OVR)
8. — Ousame Dembele (83 OVR)
9. — Carlos Vela (83 OVR)
10. — Portu (82 OVR)
The top three players remain the same as FIFA 21, but some younger players climb the ranks. Chelsea star Hakim Ziyech is only 28 and is a great balanced player with good passing and playmaking abilities. 23-year-old Federico Chiesa is one of the most sought out Wingers in Serie A. If you are constructing a team around a right-wing, Chiesa is a great choice to go with.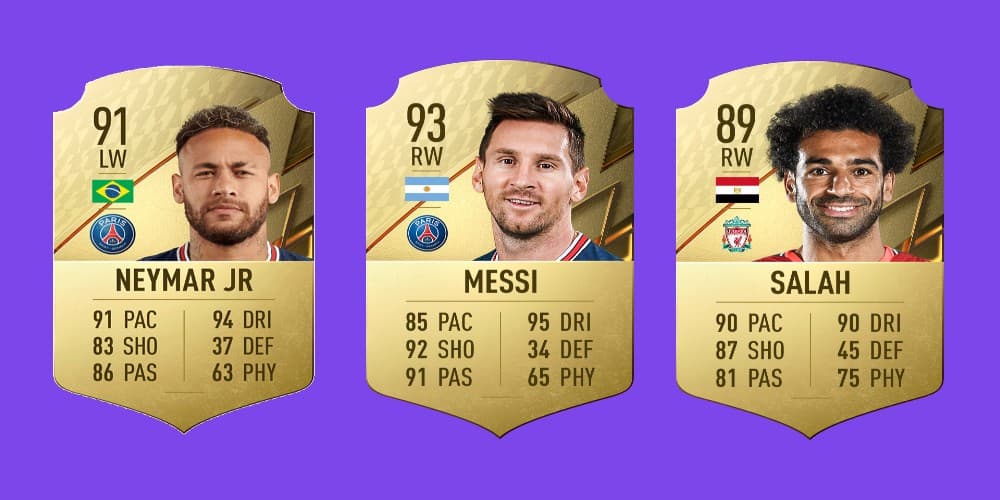 Left Wing
1. — Neymar Jr. (91 OVR)
2. — Sadio Mane (89 OVR)
3. — Raheem Sterling (88 OVR)
4. — Lorenzo Insigne (86 OVR)
5. — Eden Hazard (85 OVR)
6. — Oyarzabal (85 OVR)
7. — Jack Grealish (84 OVR)
8. — Dusan Tadic (84 OVR)
9. — Lucas Ocampos (83 OVR)
10. — Diogo Jota (82 OVR)
Neymar Jr. once again takes the top spot in the Left Wing position. Neymar is a perfect addition to any team, but if you are trying to team up with him in Career mode, remember he already has Kylin Mbappe and Messi as other forwards on his team. Lorenzo Insigne is another player to be on the lookout for.
After a great season on Napoli, Insigne was raised to an 86 in this year's title. Real Sociedad player Oyarzabal is a great choice for building your team around, as he is only 24 years old and has high ratings for goal-scoring abilities.
These are the best Wing players overall, but when building a team, it is also important to consider playstyles and formations when choosing a wing player. Some players like Messi use finesse and speed to their advantage, while others like Marco Ascensio use their athleticism and physicality to dominate.
For more FIFA 22 guides, take a look at How to change Club Name in FIFA 22 on Pro Game Guides.