Fans like to say that the Round of 16 game is the most important in the tournament. This was the first win-or-go-home game and, as such, has brought plenty of drama. Europeans were favorites in the USA vs. Netherlands game, but did they live up to expectations? Here's who won the USA vs. Netherlands World Cup match, according to FIFA 23 predictions.
Who will win the USA vs. Netherlands World Cup game - FIFA 23 projection
To predict the winner of the USA vs. Netherlands World Cup match, we've used FIFA 23 game. The match was set to 5 minutes halves, with rosters that had played the previous games. We've selected the Live form button for the latest stats of the players. This way, everything was arranged for the most true-to-life USA vs. Netherlands game prognosis. According to our FIFA 23 prediction, Americans were to defeat the Dutch 2:1 in a World Cup match on December 3 in Qatar. But in real-life, Netherlands has bested USA 3:1. Here's how the game played out in our simulation.
USA vs. Netherlands World Cup match recap - FIFA 23 prognosis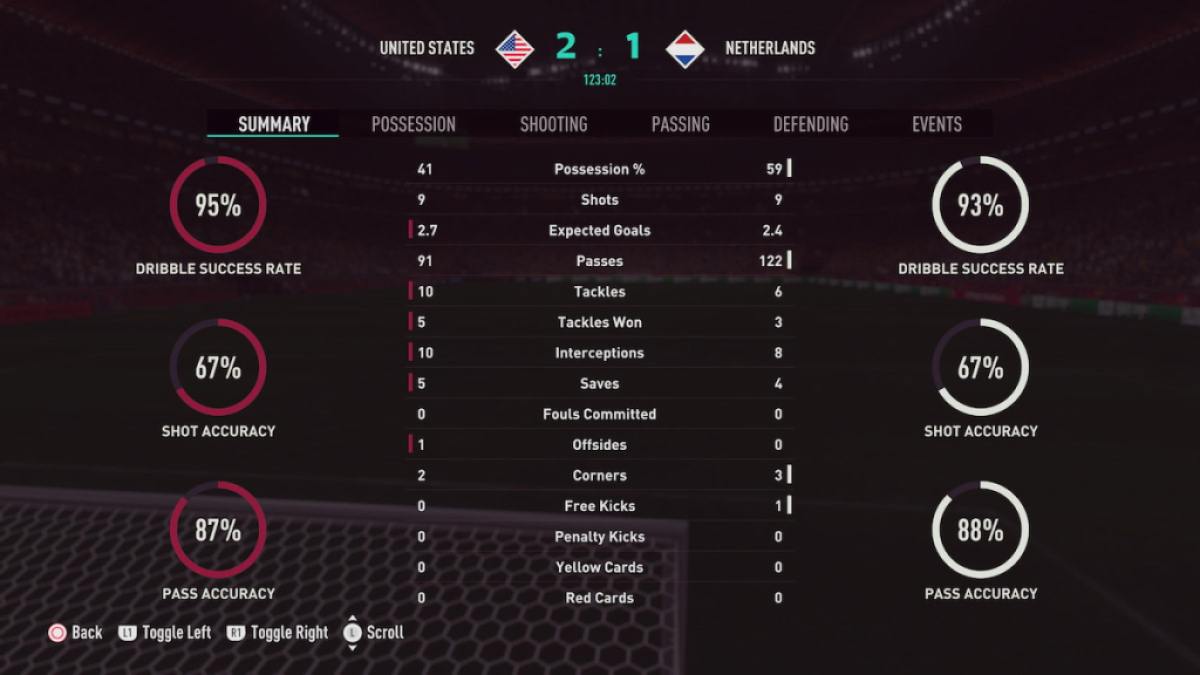 In an important match-up in the knockout rounds of the FIFA World Cup, we see the USA take on the Netherlands in a heated battle to see who will come out on top. For the first 40 minutes of the game, the USA has to absorb the pressure from the very experienced Netherlands squad. The defense eventually broke in the 42nd minute by the Dutch as the talented Steven Bergwijn stole a spilled ball and placed it into the goals (0:1). As the second half starts, the USA team puts the attack on, hoping to make a comeback to their poor first half. The Americans press forward and are rewarded with a corner.
A well-maneuvered play leaves Walker Zimmerman wide open as he flicks the ball off his head with a glance at goals, and the ball floats into the net (1:1). The full-time whistle blows, and now both squads have to dig deep to find that winning goal before they face the dreaded penalty shoot-outs. In the first half of extra time, the fast-paced Jesus Ferreira finds his hole through the Netherland's defense and strikes a blazing shot through the keepers' arms. The ball bounces off the top of the crossbar and lets the Americans take the lead (2:1). The rest of the game is spent absorbing the Netherlands attacks as the USA clench the victory and progresses to the Quarter Finals!
Click the video below to watch the USA vs. Netherlands World Cup match FIFA 23 simulation.
For more information on FIFA 23, check out Why was Brazil not in FIFA 23 on Pro Game Guides.