Earthbreak Aethersand was a new crafting material added to Final Fantasy XIV in Patch 6.3. The material is used in a number of high-rank, level 90 crafting recipes, including some of the Item Level 630 gear added in the same patch. Here's how to get Earthbreak Aethersand
How to find Earthbreak Aethersand in FFXIV
Earthbreak Aethersand is available from two possible locations. The first is to exchange 300 Purple Crafter's or Gatherer's Scrips at one of the Scrip Exchange vendors. We prefer the Radz-at-Han (X: 11.5 Y: 9.5), because it's close to the Collectable Appraiser. Just as a reminder, Purple Crafter's and Gatherer's Scrips can be obtained by exchanging high-level collectables at the Collectable Appraiser.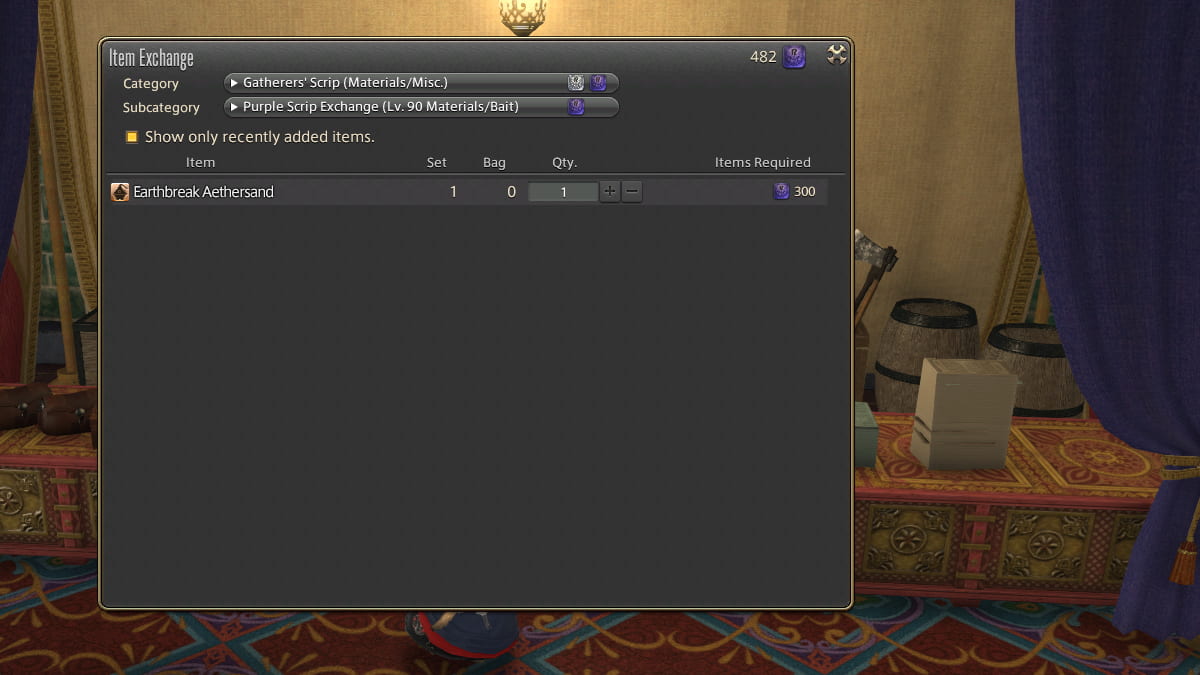 Additionally, like all Aethersand items, Earthbreak Aethersand is obtainable from Aetherial Reduction. Using the Aetherial Reduction command on Nosceasaur, Verdigris Guppy, Earthen Quartz, or Sophora Root collectables will sometimes yield Earthbreak Aethersand.
Related: How to unlock the Wind-up Cagnazzo minion in Final Fantasy XIV
What's Earthbreak Aethersand used for in FFXIV?
Earthbreak Aethersand is used in a number of late-game crafting recipes, but most noticeably, in Craftsman's Alkahest, a component material in most of the Indagator's Crafting and Gathering gear. As a result, Earthbreak Aethersand is highly sought after.
For more Final Fantasy XIV news, guides, and info, check out How to get Paldao Lumber and Logs in Final Fantasy XIV on Pro Game Guides.