In Fortnite, you need to be at the top of your game to ensure a Victory Royale in as many matches as possible. Although this will ultimately come down to your gameplay and skills, your settings play a vital role in determining your fate. It is often argued that keyboard and mouse are superior to controllers when it comes to FPS games. However, this is not the case in Fortnite.
Fortnite allows players to tweak a host of various settings in order to customize their gameplay to match their style—even featuring a Color Blind Mode to help people with visual impairment! While the values of all settings will slightly differ depending upon your personal preferences, there are a few essential settings you must take into account. In this guide, we'll tell you all the important settings configurations you should implement when playing Fortnite with a controller to get the edge on the battlefield.
Best Fortnite Game Settings for Controllers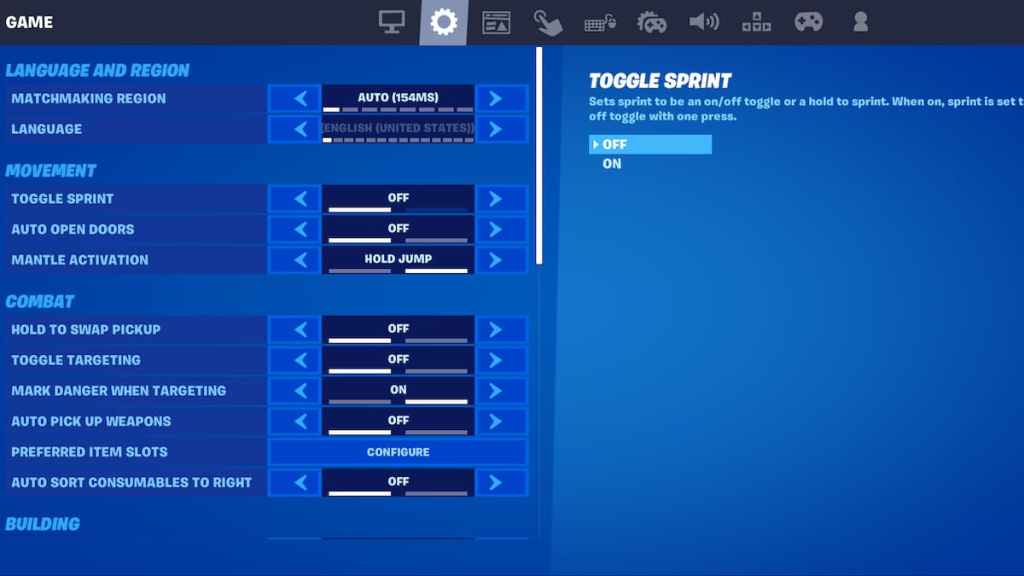 Under the Game Settings, you will find options to make your gameplay experience smoother, like auto-sprinting, auto-open doors, auto pick-up items, and building choices. This tab is indicated by the circular settings logo.
Movement
Toggle Sprint: Off
Auto-Open Doors: On
Mantle Activation: Hold Jump
Combat
Hold to Swap Pickup: Off
Toggle Targeting: Off
Mark Danger when Targeting: On
Auto Pick Up Weapons: Off
Preferred Item Slots: Personal Preference
Auto Sort Consumables to Right: Off
Building
Reset Building Choice: Off
Disable Pre-Edit Option: Off
Turbo Building: On
Confirm Edit on Release: On
Tutorial
Extra Game Options
Tap To Search/Interact: On
Best Controller Options for Fortnite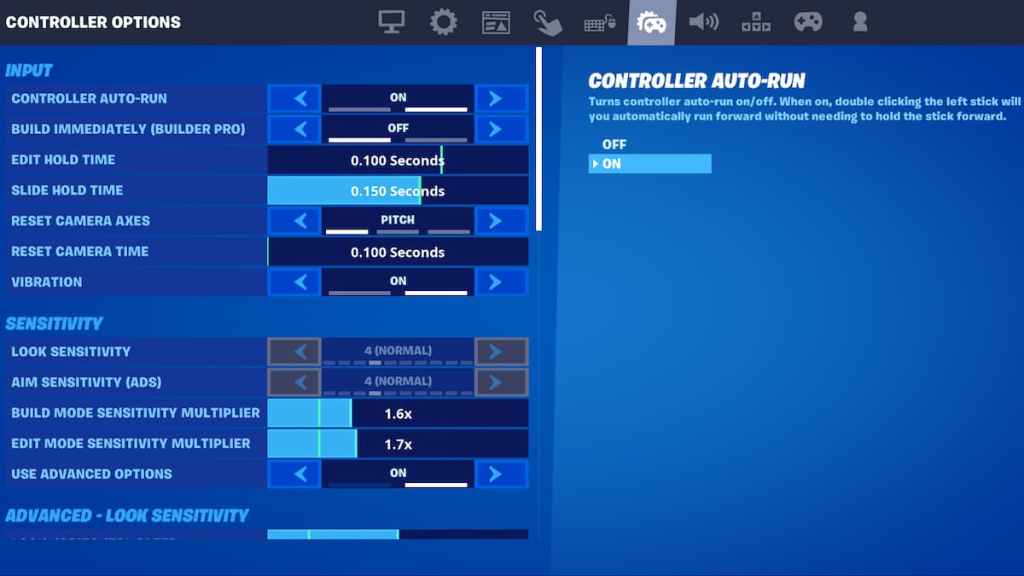 Over in the Controller Options tab, you will find the key options required to boost your gameplay in Fortnite. You can tweak options like sensitivity, hold times, and controller dead zones in this Tab. It is indicated in the settings menu with a controller symbol.
Input
Controller Auto-Run: On
Build Immediately (Builder Pro): On
Edit Hold Time: 0.100 Sec
Slide Hold Time: 0.150 seconds
Vibration: Off
Sensitivity
Build Mode Sensitivity Multiplier: 1.6x
Edit Mode Sensitivity Multiplier: 1.7x
Use Advanced Options: On
Advanced Look Sensitivity
Look Horizontal Speed: 50%
Look Vertical Speed: 60%
Turning Horizontal Boost: 0%
Turning Vertical Boost: 0%
Boost Ramp Time: 0.00 Seconds
Instant Boost When Building: On
Advanced ADS Sensitivity
ADS Look Horizontal Speed: 17%
Look Vertical Speed: 17%
ADS Turning Horizontal Boost: 0%
Turning Vertical Boost: 0%
ADS Turning Boost Ramp Time: 0%
Advanced Sensitivity
Look Dampening Time: 0.20 Seconds
Look Input Curve: Exponential
Aim Assist Strength: 100%
Controller Deadzone
Left Analogue Stick: 6%
Right Analogue Stick: 6%
Adaptive Trigger (Only on PlayStation 5)
Enable Adaptive Trigger: Off
Use Effect For Press: Off
Best Fortnite Button Layout for Controllers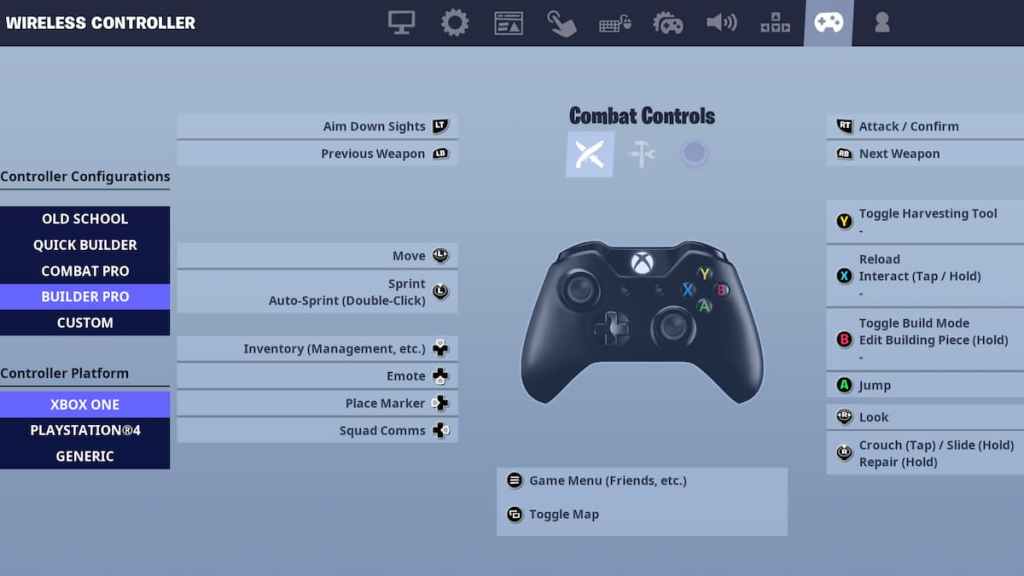 For controllers, the best button layout is the Builder Pro. This layout is the most effective way to build quickly in Fortnite and is highly advisable for controller players. It makes building almost instantaneous, while also allowing you to perform more actions. You may choose to re-map a few controls according to your personal preferences, or simply practice and get used to the default Builder Pro layout.
Wondering about the best control settings for Fortnite in PC? Check out Fortnite Best PC Keybinds, right here on Pro Game Guides.