Playing Duos is fun, but do you ever wish you could just hop in a game with your friend and run some quick rounds without going through a full match? We have managed to find you some of the best Fortnite 2v2 Maps to try and test your and your friend's teamwork and collaboration (or lack thereof!). Drop into these maps and find out who your best Fortnite partner is in these great 2v2 maps!
Fortnite 2v2 Map Codes List
The Shortlist
Tagteam Deathrun 2v2
This is a fresh view on the 2v2 game mechanic, as you'll rarely come by a map that allows you to race with a partner against another pair of players. The map is set up perfectly even and assures that no team has an advantage over the other. It doesn't challenge your skills in battle, but your ability to think quickly on your feet and learn from your mistakes. It may get tiresome once you have the map memorized, but it's a lot of fun to try!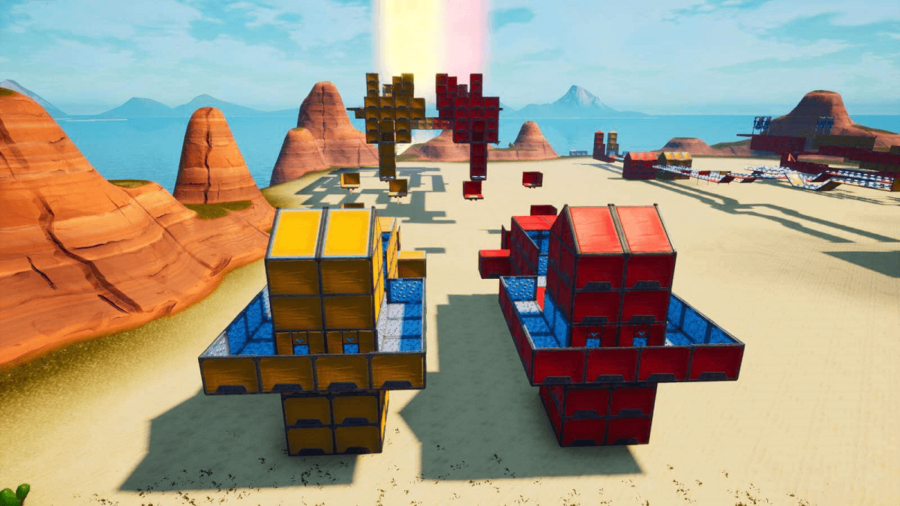 Related: Fortnite Deathrun Codes (February 2021) - Best Deathrun Maps! - Pro Game Guides
First Person 2v2 Gunfight
This is also a fresh new view for 2v2 because it turns Fortnite from a third-person shooter to a first-person shooter! While playing on this map, you'll find the weapon mechanics bring about a new challenge, and you'll have a limited ability to see where your opponent is hiding. You can't peek around corners with camera angles in this creative take on 2v2 in Fortnite!
Boxfight NG 2v2v2v2
The first thing that drew us in about this map was how clean and aesthetically pleasing it is. However, upon playing it, you'll find that it's much more than meets the eye! It is a well placed and planned map that allows for short rounds and limited movement. It allows up to four teams to challenge each other. This truly feels like a professionally-made map!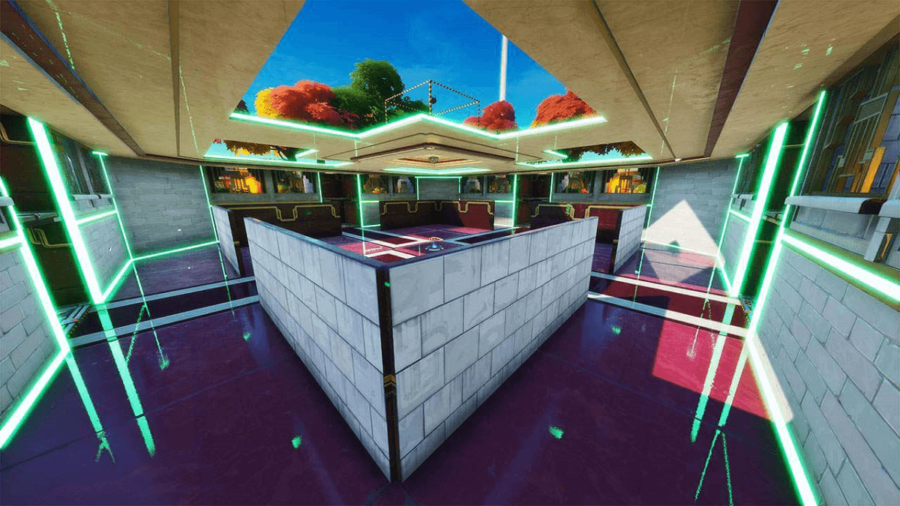 Military 2v2 Gunfight
The aura of this map will have you hooked. It keeps true to the standard for 2v2 but places you in a military complex with an unsettling atmosphere. This map is set up to make sure you don't last too long, as there aren't many places to hide. This is one of the best settings for a Gungame because it means the action is always on, and your clips are always empty. Give it a couple of rounds to get used to it, and you'll undoubtedly be trying to get others to join you.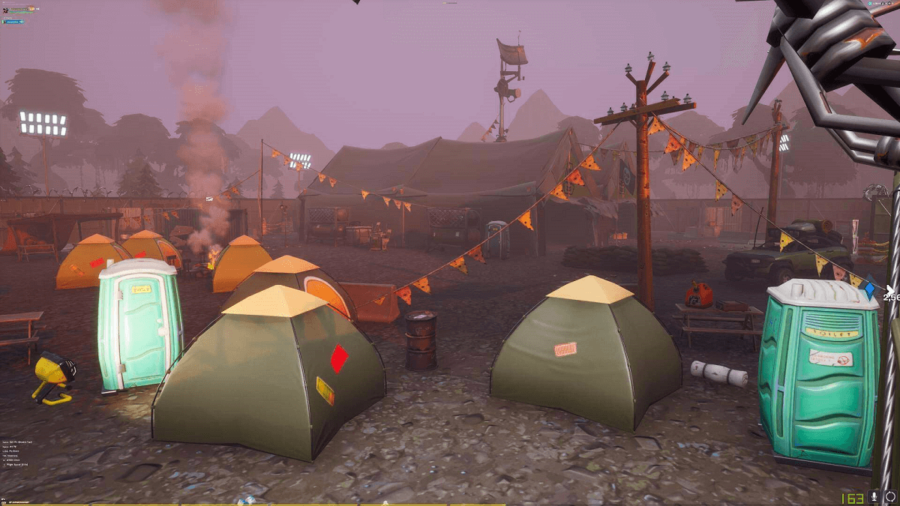 2v2 Stack
This map hits all the critical points of a well-planned map. It provides standard 2v2 gameplay and a map design that surpasses all the other 2v2 maps we've seen. As a small map with plenty of opportunities to adjust your strategy, you'll find yourself consistently in the heat of battle. Close quarters combat is the name of the game here, so be ready to get your heart racing in this intense, in-your-face battle map!
Related: Fortnite 1v1 Map Codes List (February 2021) - Best 1v1 Codes! - Pro Game Guides
Drop Fight (1v1/2v2)
Another one to add to the list of well-planned maps. You must fight your way through the map as the storm shrinks in. It keeps the match close-quarters, which gives you the chance to avenge yourself if/when they take you down! Thanks to Team Rumble, we've learned there is nothing more satisfying than dropping in to surprise the opponent that just killed you. This map is more or less geared towards that feeling of satisfaction. It might be an older map, but it's still worth a try today!
Do you have any favorite 2v2 map codes you'd like to see listed? Drop us a comment, and it might be featured the next time we update the list!
How-to Use a Creative Code
Once you load up the game you will be given the three options on what you want to play (Save the World, Battle Royale, and Creative). Click the creative option and then click PLAY and then CREATE (don't start a server if you want to play solo).
Once it has loaded, you will see an Orange Rift that will take you to islands where you can create custom maps. We don't want this right now, so look around for the featured portals. Fortnite now puts you in a custom portal area, so you might need to seek it out a bit. Find the portals with the console in front of them and interact with one.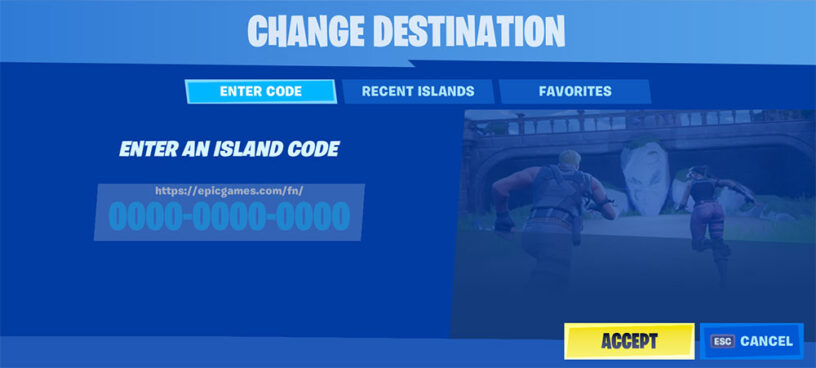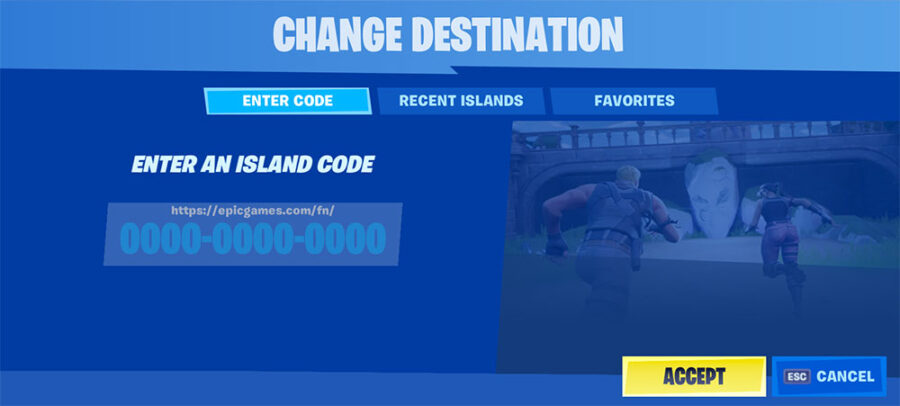 From here you can either select one of the codes you've added to your favorites, or you can paste a code you have at the end of the URL. Click "Accept" and it will load up the island of your choice. You can then run into the rift and it will transport you to it!