Our Fortnite Season 9 Week 5 Challenges List and Cheat Sheet brings you all of the solutions and answers for the challenges you need to complete for the week. We have maps to treasure and item locations, as well as tips for completing all of them as quickly as possible!
This week we're dealing damage to opponents with various throwable explosives, searching chests at Salty Springs or Frosty Flights, eliminating opponents in different matches, completing laps on different race tracks, placing trap items in different matches, visiting different Wind Turbines in a single match, and getting eliminations on Sky Platforms.
Fortnite Season 9: Week 5 Cheat Sheet
Here's a full cheat sheet for the week, with all of the locations you'll need! Credit to ItsEnergie.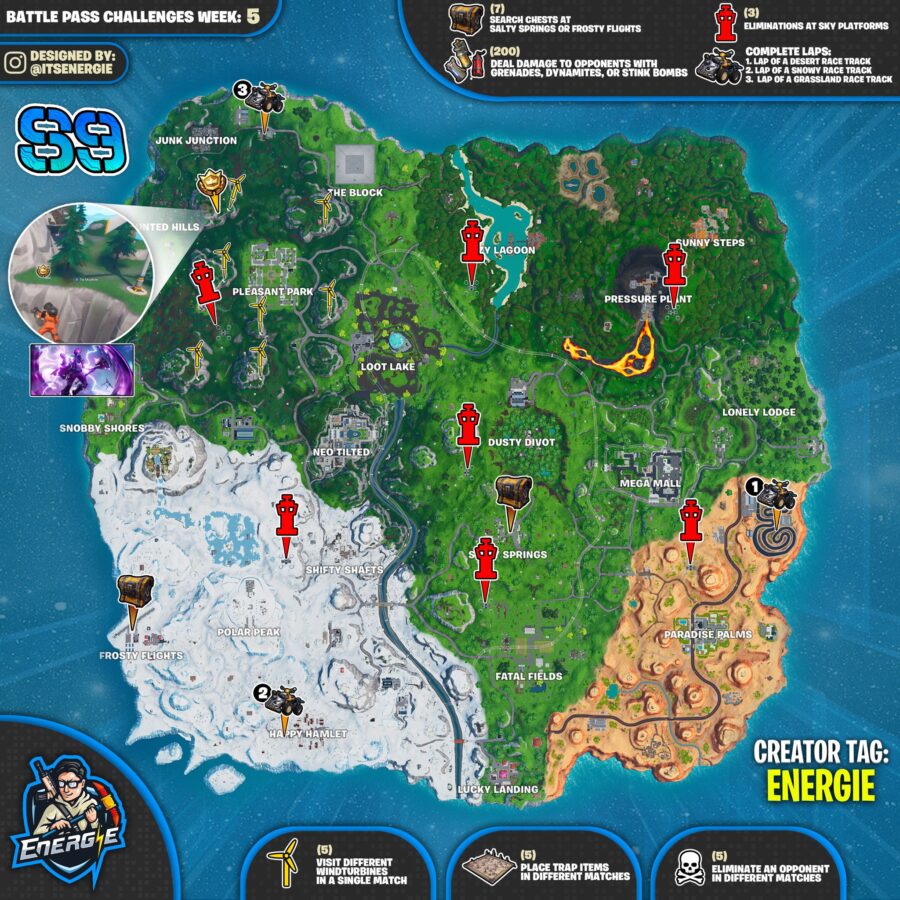 Week 5 Challenges List for Season 9
Free Battle Pass Challenges List
Paid Battle Pass Challenges List
Hidden Item
Check out our Fortnite Season 9 Guide for guides on every week of challenges! We've also got all of the hidden items in our Season 9 Hidden Battle Stars Locations post.
Deal damage to opponents with Grenades, Dynamite, or Stink Bombs (200)
Pretty easy one, you'll just need to find the explosives you need to complete it. Probably a good one for Team Rumble!
Search chests at Salty Springs or Frosty Flights (7)
Frosty Flights is pretty dead, so I'd head there if you don't want to fight anybody for chests. Salty Springs is always going to be kind of a hot drop, so be prepared to fight if you decide to land there for this one. Most LTMs are a good idea for these chest challenges.
Eliminate an opponent in different matches (5)
This will just take a bit of time to complete, head into different matches and get an elimination. Leave the game if you want, or play it out and repeat!
Stage 1 of 3: Complete a lap of a desert race track (1)
This is a three step challenge, and you'll need to find a vehicle and race around each of these tracks in a different match. You can find all their locations on the cheat sheet!
Stage 2 of 3: Complete a lap of a snowy race track (1)
Stage 3 of 3: Complete a lap of a grasslands race track (1)
Place trap items in different matches (5)
Very easy challenges for this week! You'll just need to locate some trap items and then immediately place one of them to get credit for that particular match.
Visit different Wind Turbines in a single match (5)
These Wind Turbines are pretty interesting because they always have a chest on them and they usually have a Baller spawn on top of them. This challenge might be kind of difficult if you don't do it in Team Rumble. You need to travel to five of these, and they are pretty far away from each other. Try to find a vehicle (like the Baller that spawns on these), to make your way around the map quickly. You can find all the locations on the cheat sheet.
Eliminations at Sky Platforms (3)
This one might be a bit tricky, because you're going to need to get people to actually be on the platforms. It has been confirmed that you can get credit for this challenge by standing on a Sky Platform and eliminating players from it. This would be pretty easily done in Team Rumble! The platforms are scattered around the map, you can find them below.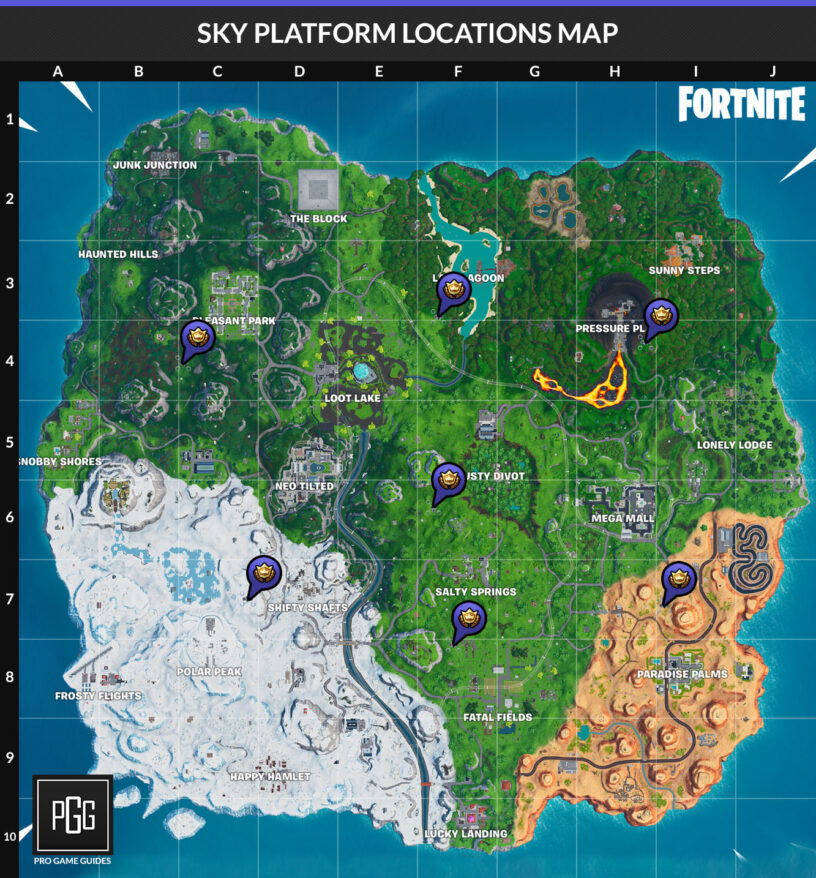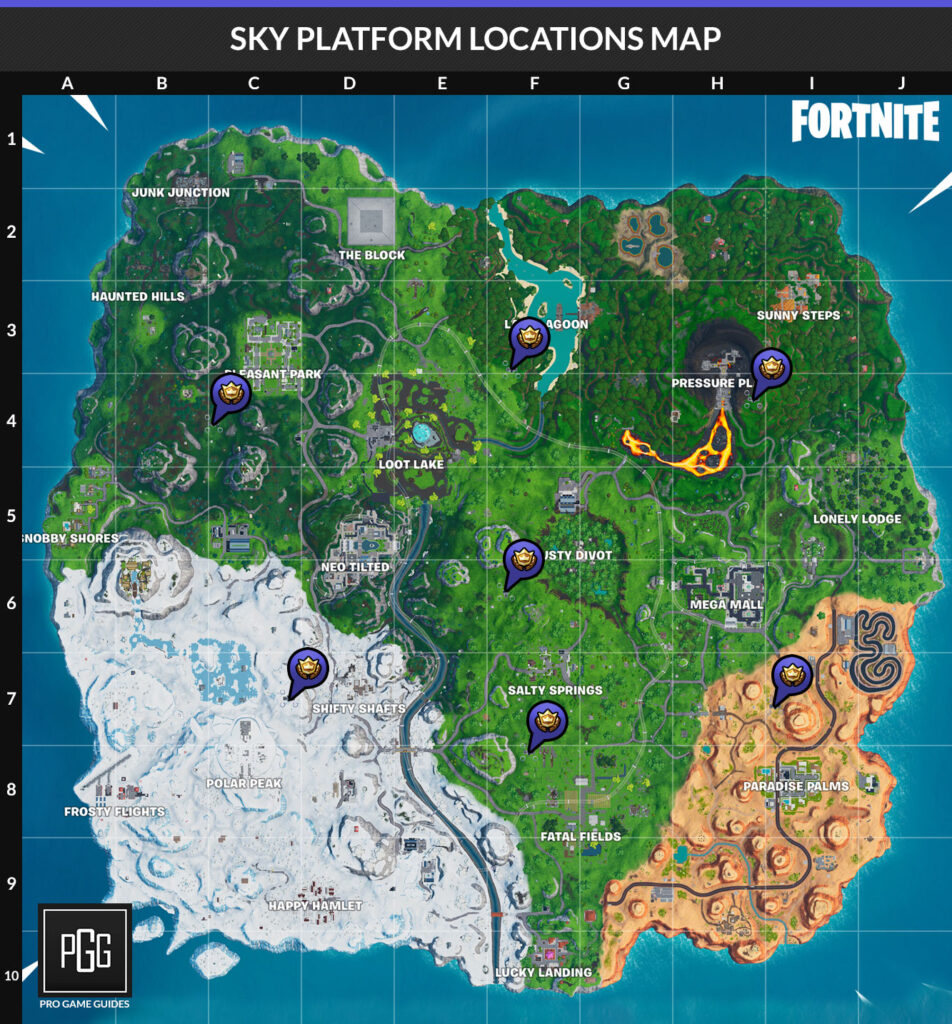 Hidden Item
Once you complete all the challenges, you'll get the following purpled out loading screen with what appears to be a sweet new skin on the way! Located on the Slipstream, you'll see some coordinates: B2, B3, C2, C3. If you head to that exact spot on the map, you'll find the battle star for the week!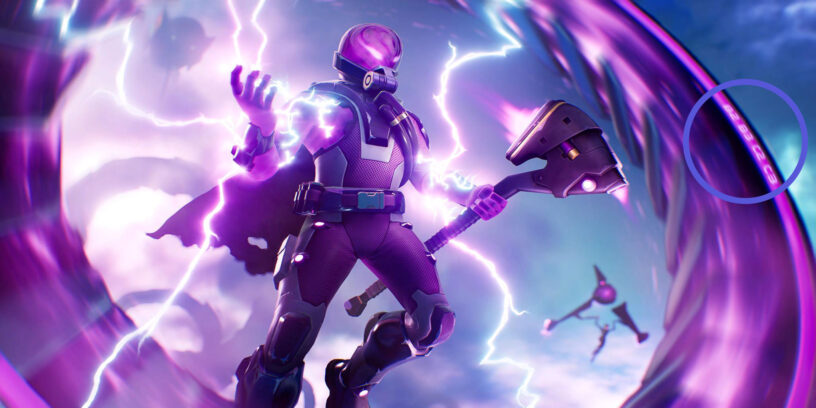 The exact location is east of Haunted Hills, up on the mountain near the old broken down castle!