If you are trying to eliminate opponents with the force abilities and lightsabers in Fortnite, then Darth Maul's red lightsaber is the best choice. The red lightsaber comes with the Force Throw ability, and you can use it in combination with other items to make it more effective. I tried this strategy in-game using Gas Cans, Vehicles, and Dirt Bikes. From what I learned, you can eliminate multiple players at once by timing the Force Throw and combining it with explosive items. Here's how to eliminate opponents easily with the Force Throw in Fortnite.
How to get the red lightsaber in Fortnite
To acquire the Force Throw ability, you need to interact with Darth Maul on the map and learn the ways of the dark side. You can find Darth Maul spawning randomly on the map, and it's best to check for the hologram just after the first circle closes. Visit the location quickly as other players will want this ability as well. Interact with Darth Maul to enter a rift, after which you will get the red lightsaber along with the Force Throw ability. Keep in mind, if you are eliminating another player to take their red lightsaber, then you will not get the Force Throw ability. You must learn it directly from Darth Maul by finding him on the map.
How to use Gas Cans and Cars with Force Throw in Fortnite
The Force Throw is one of the new force abilities added in Fortnite. It is a move that allows you to pick up objects from the ground and throw them at your opponents. This move can be incredibly powerful, as it can deal a lot of damage and even eliminate opponents in one hit. The Force Throw usually picks up rocks from the ground if there is nothing in front of your character. However, you can place Gas Cans, Cars, and Bikes in front of your character, and then use the Force Throw to deal devastating damage to opponents.
Check the images above and below to see how it looks in-game. I stacked four Gas Cans in front of my character, and used Force Throw to burn a building where the opponents were camping. If executed correctly, the Force Throw can provide a strategic advantage to you by inflicting heavy damage on your opponents while keeping you at a safe distance. Likewise, I stacked a couple of vehicles found near gas stations and waited for opponents to come closer.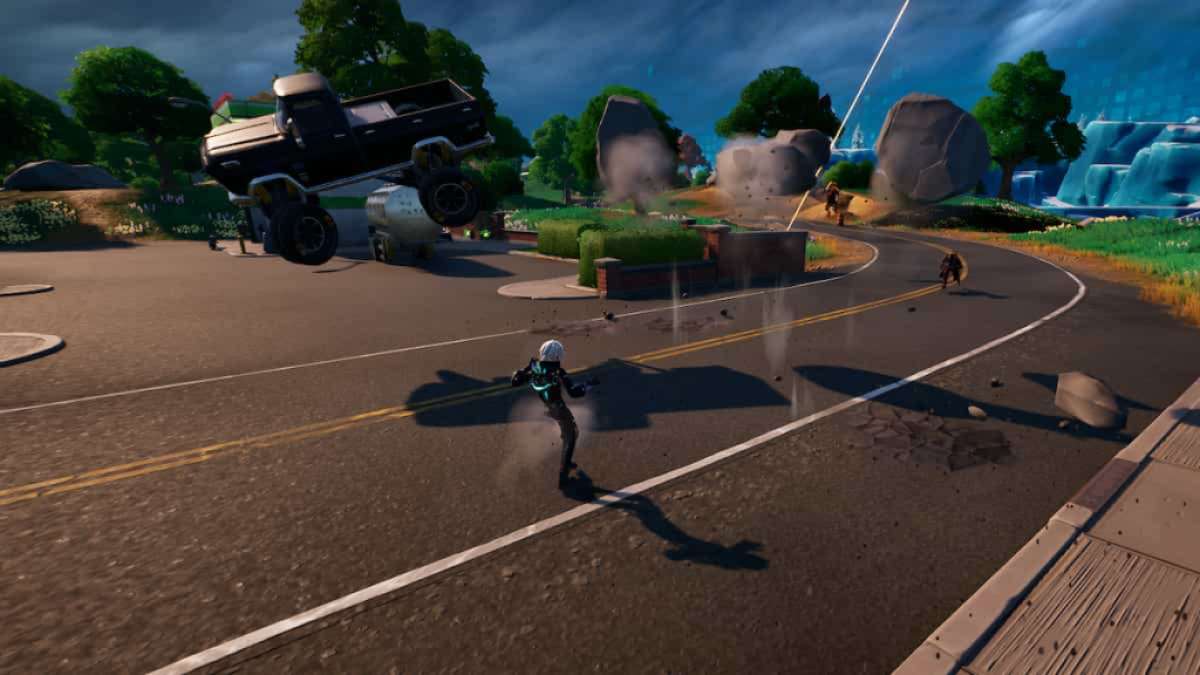 I avoided detection by simply hiding behind the cars, and when the opponents came inside the Force Throw's range, I used the ability to eliminate multiple players at once. Using multiple vehicles is an excellent strategy as long as you can time it right. Force Throwing vehicles can also deal fire damage to opponents, depending on the integrity of the vehicle. One trick you can perform is to bring down the car's health as low as possible. This way, the car will ignite as soon as you use the Force Throw ability on it.
Looking for more Pro Game Guides Fortnite content? Check out our guides How to launch Kinetic Ore in Fortnite!