In Fortnite Chapter 3 Season 4, players become a Jedi Master, as Luke Skywalker joins the game. The Star Wars Series has three new additions: Luke, Leia Organa, and Han Solo. Along with these iconic characters, players will see some of the magnificent machines from the franchise, like R2-D2, the Millennium Falcon, and even Luke Skywalker's Landspeeder. Here's how players can get Luke Skywalker's Landspeeder in Fortnite.
Can you purchase Luke Skywalker's Landspeeder separately in Fortnite?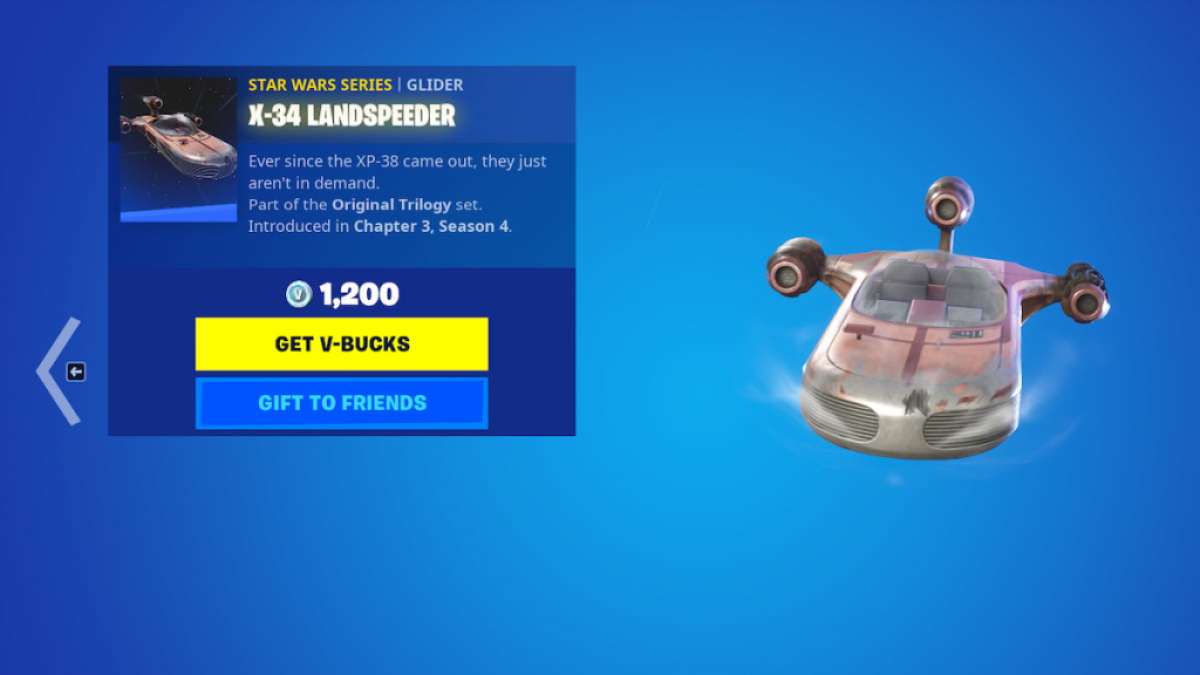 Yes, players can purchase Luke Skywalker's X-34 Landspeeder Glider separately for 1,200 V-Bucks. The X-34 Landspeeder Glider is also a part of the Luke Skywalker Bundle, which has five unique items and costs around 2,400 V-Bucks. While the bundle has a higher price, it has several other items like the Luke Skywalker Outfit, Training Remote Back Bling, Lil' Speeder Bike Emote, and Slugthrower Rifle Harvesting Tool.
That's not all, Junk Rifts have been unvaulted for Skywalker Week in the game, and this item has a chance to drop Luke Skywalker's X-34 Landspeeder. So if you are looking for innovative methods to defeat your opponent, collect a Junk Rift from ground loot, regular Chests, and Imperial Chests.
Related: How to get Millennium Falcon Back Bling in Fortnite
Luke Skywalker also comes with his friends from the Original Trilogy, as Leia Organa, and Han Solo are available in the Item Shop. You can purchase the Outfits separately or buy the Han Solo and Leia Organa Bundle for 2,500 V-Bucks. Complete all the Skywalker Week Quests to earn XP, and cut down opponents with the Lightsabers, which are now available in-game. Darth Vader's Lightsaber was also unvaulted, and you'll need to defeat him to acquire this weapon. Star Wars fans can recreate the iconic moment by playing as Luke Skywalker to defeat Darth Vader. If not Luke, you can always take Obi-Wan Kenobi and Kylo Ren to face off against Vader.
For more Fortnite guides, come check out Is Fortnite based on a true story? – Fortnite Backstory here on Pro Game Guides.