Reality Augments have become a significant part of Fortnite Chapter 4, giving you character special abilities to survive longer in the battle royale. Five new Reality Augments were added to the game in the latest update. You will discover these Augments randomly in-game, and after that, you can select the Augment to use in the match. Here are all the five new Reality Augments added in Fortnite v24.10 Chapter 4 Season 2. 
Fortnite Reality Augments List - All New Perks & How to Activate Them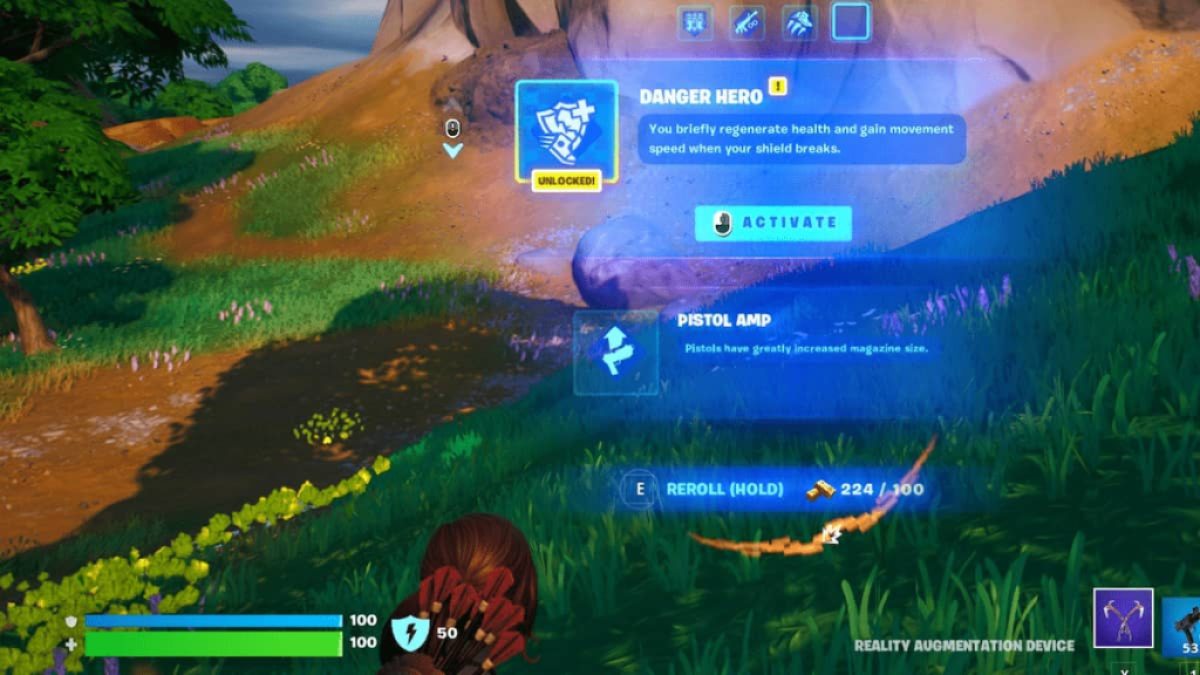 The v24.20 update brought several changes to the game, including the popular Spring Breakout event quests. Likewise, you'll be able to discover five new Augments that add more opportunities to outmaneuver the opponents in-game. New Augments will be added throughout the season, and we will update this article with new perks when they are released. Here are the five new Reality Augments and how to use them in Fortnite.
Rail Warrior
The new Rail Warrior Augment allows you to regenerate shields and health while using ziplines and grind rails. The Mega City location has several grind rails and ziplines scattered around the POI. With the Rail Warrior Augment equipped, you can ride on these rails to regenerate health and shields. The only downside for this Augment is that it won't work if you are out in the storm circle.
Aquatic Warrior
Aquatic Warrior is another new Augment that allows you to regenerate health and partial shields while swimming in water. You'll also be able to swim faster with this Augment, but it will not work outside the storm circle. As for viability, Aquatic Warrior isn't the best Augment in the game, and its usage is more or less situational.
Go For Broke
Go For Broke is a new Reality Augment that old-school Fortnite players will fall in love with. This Augment gives you a Charge Shotgun and the popular Flintknock Pistol. The Charge Shotgun was one of the best weapons in Chapter 2, although it was vaulted at the start of Chapter 3. On the other hand, the Flintknock is a pistol that can knock back enemies after you shoot them. This weapon's unique mechanic allows you to create distance between opponents. However, it is best used at close range, so you can ideally combine it with a Shotgun to eliminate enemies quickly.
Game Time
Game Time is the fourth new Reality Augment added in Fortnite Chapter 4 Season 2. You'll get a Pizza Party box and some Chug Splashes after activating this Augment. The Pizza Party consumable is brilliant for regenerating health and becomes highly useful in a team scenario. Each box has eight slices of Pizza, enough to heal an entire squad. It is best to destroy a Pizza Party box if you do not use it, as opponents can pick up the slices to heal themselves.
Springtime Blowout
Springtime Blowout is another new Reality Augment you can discover and activate in-game. This Augment gives you an Egg Launcher and Hop Eggs. If you want to complete the Spring Breakout challenges quickly, select this Augment to get the Egg Launcher easily. Hop Eggs briefly gives your character low gravity, allowing you to move rapidly around the map. These eggs function similarly to the Soaring Sprints Augment, and you can also store them in your inventory to use later on.
Want to see what's new in Creative 2.0? Check out our guides on How to play Project Era in Fortnite on Pro Game Guides.