The latest Fortnite update brought forth the Resistance Week 9 Quests to the game, and there are a few challenges that players have to complete to earn XP. These Quests are divided into various phases, and one of the challenges requires players to download personnel files from old Imagined Order Servers. To reach this stage of the Quest, players will first have to establish a device uplink near Command Cavern.
Where to establish device uplink at Command Cavern in Fortnite?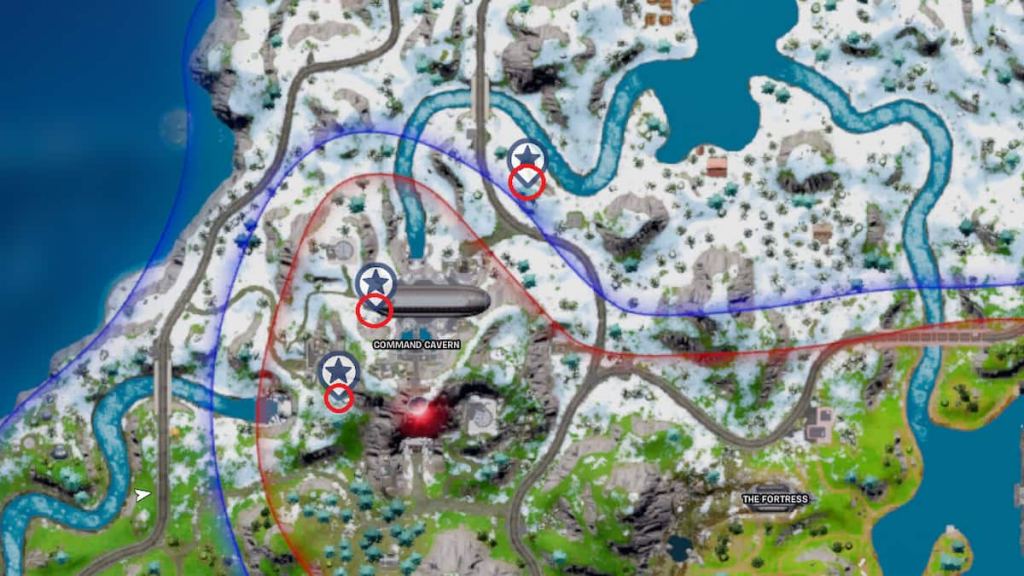 To start this Quest, players will have to land at Command Cavern and visit any of the locations marked with red circles in the map image above. Simply walk into the holographic communicator to establish the device location, and this will start the first stage of the Quest. We recommend players land at the device located on the northern side of Command Cavern to start the Quest quickly!
Related: All Fortnite Resistance Week 5 Quests Cheat Sheet and Guide
All old IO Servers locations in Fortnite
The old IO Servers are also located at Command Cavern, and players will simply have to interact with these machines to complete the Quest. You will find three of these Servers scattered across the POI. The first Server can be reached by jumping down in the wind tunnel located at the western half of Command Cavern. We recommend players to visit this one, as it is the easiest to find. The second one is located underneath the staircase that leads to the vault inside the cave of Command Cavern, and the third IO Server is located inside the eastern tunnels of the POI.
Wondering how to take part in the Zuri Tattoo contest? Check out How to get the Zuri outfit & enter the tattoo contest in Fortnite on Pro Game Guides.